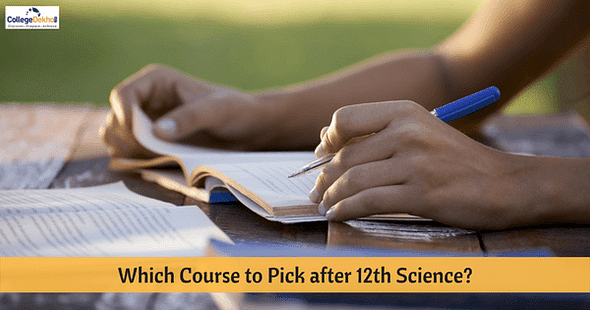 Having studied science in class 12 does not limit your options for higher education. The advantage of studying science is that most of the undergraduate courses will be open for you once you have successfully passed your board exams. Keeping aside B.Tech course and medical programmes, you can also pick Science courses like BSc (Hons.), B Pharmacy or go for courses in commerce, languages, business, etc.
One of the most common myths amongst students is that they are not eligible to pursue commerce or economics programmes after studying science in class 12. On the contrary, Science students are not just eligible but also perform well in programmes like commerce, accounts, banking, etc. if they have studied mathematical subjects in class 12th.
Also Read: CBSE 12th Result 2023
Following are some of the courses that you can pick after 12th Science apart from B.Tech and Medical:
Field
About the Course
Type of Programmes
List of Colleges
Science
A B.Sc. degree from a reputed college is as good as any other science degree. Good job options are available after pursuing a B.Sc. Students who are sure that they want to pursue masters' after B.Sc. can foray into the education sector.
Business and Management
Management and business studies is another bright option for science students as a BBA or BMA followed by MBA will provide with some of the best job opportunities in India.

Law and Humanities

Law is another programme that provides a broad bandwidth of opportunities. You will have the option to practice law and even work at corporate houses. Law studies also help in cracking exams like Company Secretory.
Commerce, Accounts and Banking
Commerce and economics are also two subjects that science students will find interesting as well as fruitful in terms of both job and higher education.

B.Com. (relevant fields like statistics)

Arts and Languages
Those of you who want to switch your field and study languages and arts can pursue the following courses.

B.A History/ Geography/ Political Science/ Sociology
Performing Arts
Language Courses (Foreign Languages are promising)

Medicine
If you don't want to pursue the conventional medical programmes, then courses like pharmacy and nursing offer great ROI of your education funds. After pursuing B.Pharma, you can either pursue higher studies or start your own medical store business. B.Sc. Nursing also offers some bright opportunities.

B.P.T Physiotherapy
Radiological Assistant Certification

Fashion Designing
If you have a skilled hand and are passionate about art and drawing, then fashion designing is probably one of the best fields for you offering a lot of opportunities in the corporate, entertainment as well as industrial sector.

Bachelor of Fashion Design and Technology
Furniture and Interior Design course
Bachelor of Design (Accessory)
Bachelor of Design (Leather)
Bachelor of Product Design

Hospitality and Tourism
Another good option if you are into travelling and want to work at the top travel agencies and hotels in the country. Jobs depend on the institute you are graduating from.

B.Sc in Hospitality Administration

Education and Teaching
If you are passionate about teaching then these courses can allow you to secure teaching and instructor jobs in colleges.

B.El.Ed. (Bachelor of Elementary Education, 4 years long course)
Primary Teachers Training course (can follow it up with B.Ed.)
B.P.Ed. (Bachelor of Physical Education)
Diploma in Yoga Education

Commercial Pilot Training
Commercial Pilot Training may be an expensive programme but offers very bright job opportunities. In order to undergo training, students have to clear Pilot Aptitude test and other medical examinations.
Merchant Navy
Merchant navy is another high paying field. Jobs opportunities are very bright at both offshore and on shore depending on the programme of study.

B.S. Nautical Technology
B.S. Marine Engineering
B.Sc. Nautical Science

Marine Engineering and Research Institute, Kolkata

Other degree/diploma programmes
Students can also opt for field-specific diploma programmes.

Diploma in Retail Management
Diploma in Hotel Management
Diploma in Education Technology
Diploma in Fire Safety and Technology
Diploma in Film Making and Video Editing
It is important that you choose your programme of study based on your interest and after thoroughly researching the course and its scope. Under-graduation is a stepping stone in every student's career, therefore the options must be carefully studied.
Make sure that you discuss your options with your teachers, parents and seniors before deciding. For advice on specific programmes, you can contact CollegeDekho experts.
All the best!