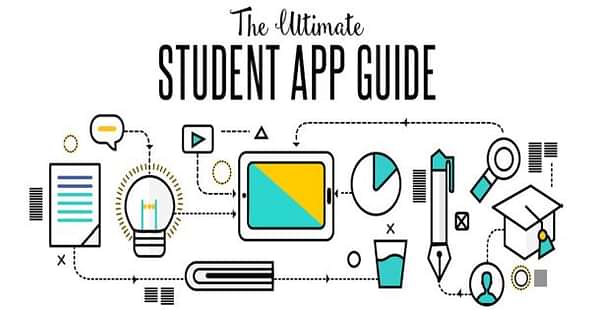 With mobile phones catching the attention in the daily lives of almost all the sections of the society, it has become a necessity and is not a luxury anymore. Students, who are about to get into college, or are pursuing studies, cannot imagine their day without it.
However, did you know that there are numerous utility apps that you can install on your mobile devices which will not only keep you updated with the latest happenings around but will also give a push to the enormous learning opportunities that a student can gain!
Following is a list of top 10 apps which a student must have on his/her phone. Do you have them on your phone?
News/ Newspaper Apps:
Keeping an app of any newspaper which you regularly read would be very beneficial for a student of any age. Not only would it keep you in touch with all the happenings in the world but with its notification option, you can also get the latest news at your disposal in no time. Some of the popular news apps are TOI, The Hindu, BBC News etc.
E-Wallet Apps:
In today's time, with demonetization having widespread effects, E-wallet apps can prove to be a life-saver. There are many E-Wallet apps available on Android, Windows as well as iOS, such as State Bank Buddy (Only if you have an account in SBI), BHIM, PayTM etc.
Cloud Storage Apps:
Students find these apps very helpful in storing their notes, assignments etc. Cloud storage apps provide large memory to each user and its data can be accessed online and can also be shared with others. e.g. Google Drive, One drive, Dropbox etc.
Dictionary Apps:
An app which, almost daily proves its worth, is any dictionary app. There are many kinds of dictionary apps available free of cost on all mobile operating systems. You can also find English to Hindi dictionary if required. Some of these apps are - English Dictionary by Livio, Oxford Dictionary etc.
Organizer Apps:
Don't forget any class, lecture, exam, even birthdays of your friends with these apps. Examples are Evernote, Day By Day Organizer etc.
Scientific Calculators:
These prove to be very handy for those students who do a lot of calculations or for those who are a bit weak at math. Some of these apps are HiPER, DESMOS etc.
Alarm Clock with Math/Puzzles:
A very effective type of app which ensures that you get up and recover you senses is the alarm clock with puzzles and maths questions. It gives you a puzzle/ question to switch the alarm off. E.g. Puzzle alarm clock by Wro claw studio, Math puzzles alarm etc.
Scanner Apps:
These kinds of apps let you create a PDF of any image, and with the help of auto fixing features in these apps, the picture looks like a scanned one. Some examples are Cam Scanner, Tiny Scanner.
CollegeDekho App:
With so much happening around in the education world and planning a fruitful career being the top priority for any individual - the CollegeDekho App is a one stop solution to all your academics and admission related queries. This app keeps you updated with all that is trending in the education world. You can choose the stream of your interest while setting up the app - and stay assured of receiving all related information.
Safety Apps:
Walking around the campus or returning home late, with these apps in your mobile, you can inform your friends and family. These apps have a default message ready to be sent along with your location anytime. It is direct, fast & secure. Hopefully, you will never have to use safety apps, but there's no harm in having them on your phone. Some of them are Women Safety, VwithU, Be Safe etc.
We hope these are helpful!
*The author of this article is Shivam Saklani. He is a former B.Tech (Electronics and Communications) student of THDC Institute of Hydropower Engineering and Technology, (Uttarakhand Technical University).