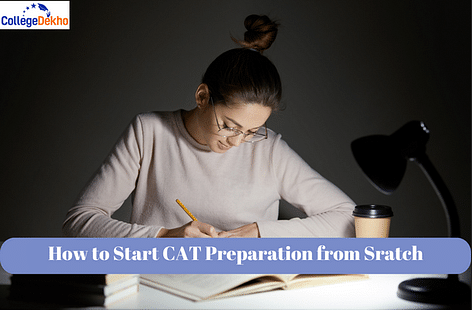 Starting your Common Admission Test (CAT) exam preparation from scratch can be a bit challenging. This year, the CAT 2023 exam was held on November 26, 2023. With over 2 lakh candidates every year, the competition is undoubtedly quite high but that's what makes it worth giving your best for. It certainly requires dedication, perseverance, and a lot of effort to improve your fundamentals.  

But before you begin, ask yourself if CAT is your gateway to get enrolled in one of the top MBA colleges in India. If yes, an optimistic attitude, good strategy, and adjusting your game plan on the basis of your progress can go a long way toward scoring high on the exam. Read on to explore the answer to 'How to start CAT preparation 2023 from scratch?'
Also Read:
Understanding the CAT Exam Pattern 2023
The CAT exam for the year 2023 would follow a similar exam pattern to previous years. Here's an overview of what you can expect from the CAT Exam in 2023:
| Section | Total Questions | Total MCQs (With Negative Marking) | Total Non-MCQs (Without Negative Marking) | Time Limit |
| --- | --- | --- | --- | --- |
| Verbal Ability & Reading Comprehension | 24 | 19 | 5 | 40 Minutes |
| Data Interpretation & Logical Reasoning | 20 | 15 | 5 | 40 Minutes |
| Quantitative Ability | 22 | 14 | 8 | 40 Minutes |
| Total | 66 | 48 | 18 | 120 Minutes |
How to Start Preparing for CAT VARC from Scratch
Preparing for the Verbal Ability and Reading Comprehension (VARC) section of the Common Admission Test (CAT) from scratch can be a challenging task but rewarding too. Your reading, comprehension, and language skills are assessed in this section. Here's a step-by-step guide on how to start your CAT VARC preparation from scratch:
Understand the CAT VARC Syllabus: The CAT VARC section includes a wide range of topics such as English Usage or Grammar Vocabulary Based (Synonyms/ Antonyms), Fill in the blanks, Sentence Correction, Cloze Passage, Jumbled Paragraph, Meaning-Usage Match and so on. Without having a basic idea of the same, starting with your preparation would not be that effective.
Assess Your Current Skills: Once you have gathered some sort of familiarity with the CAT VARC syllabus, earmark some time to simply identify your current strengths and weaknesses. For instance, if you think you are good at RCs, practice more of them but don't ignore the rest of the topics. 
Reading Habit Formation: The best trick to ace the CAT VARC section is to form a reading habit which can be done by reading newspapers and editorials on a daily basis. Also, remember, it only takes 21 days to build a habit. So, get on with it right NOW!
Vocabulary Building: Yes, reading newspapers will help build your vocabulary but it will take time. So, the quickest way to go about it is by picking up vocabulary books like 'The Vocabulary Builder Workbook'  by Chris Lele, 'Word Power Made Easy' by Norman Lewis, and likewise. 
Also Read: How to Prepare for CAT VARC
How to Start Preparing for CAT Quant from Scratch
Preparing for the Quantitative Aptitude section of the CAT exam from scratch can be challenging, but with a structured plan and dedication, you can achieve anything. Here are the steps on how to start preparing for CAT Quant from scratch:
Start with the Basics: Quant can undoubtedly be called the 'toughest section in CAT' for many aspirants. However, those with a strong foundation do have an edge. Those who are beginners must ensure to have their basics sorted before moving on to the CAT Quant syllabus. 
Identifying the Most Important CAT Quant Topics: Previous year CAT papers tell us that Arithmetic, Algebra, Modern Maths, Number System, Geometry and Mensuration form the base of the CAT 2023 QA syllabus. Make sure your concepts are clear when it comes to these topics. 
Create a Study Schedule: Almost no one can crack Quant without having a well-thought-out schedule. Chalk it out based on how much time you have on hand and divide it into the topics that you need to cover. 
Practice Regularly: Practice, practice and practice! Every CAT topper would tell you the same thing — the only way to ace this section is by thorough and regular practice. This can be done using CAT previous year question papers, sample papers, and mock tests. 
Learn Crucial Formulae: CAT Quant prep would definitely require you to learn a long list of formulae. However, learning just around 50+ more important formulas would do wonders. 
Work on Time Management: This section is solving as many questions as possible within the given amount of time. Hence, speed becomes a critical factor for Quant preparation. So, make sure to focus on it while taking timed mock tests. 
Also Read: How to Prepare for CAT Quantitative Ability (QA) 2023
How to Start Preparing for CAT DILR from Scratch
Preparing for the Data Interpretation and Logical Reasoning (DILR) section of the CAT exam from scratch can be a challenging but achievable task if you plan everything perfectly. Here are the steps to help you get started:
Utilization of Time: For CAT DILR, you need to be smart and see how you can make the most out of the given time. But, don't forget to pick the right questions. If you do both of these, you have almost won the game.
Question Selection: Identify which sets to solve and which not to solve. The sets in CAT DILR are easy, moderate or difficult and therefore, selecting the right sets is crucial.
Find Out Template Questions: This section requires you to get used to the different question templates that IIMs usually stick with. The usual Bar graphs and pie charts will get you acquainted with the section and give you a perspective on the ways you need to look at data sets.
Solve Puzzles with Standard Templates: Grid puzzles, Einstein puzzles, etc. are some of the puzzles with set templates. They will help you find that constraint to answer two questions and look for a good starting point.
Take As Many Mock Tests As Possible: The tricks to solve DILR questions come with experience and that can be achieved only through mock tests. You get to know what NOT to do in the exam. 
Also Read: How to Prepare for CAT DILR 2023
Finally, it may seem like a difficult task to begin preparing for your CAT exam from scratch but with the right attitude, resources, and dedication, you can become an excellent candidate.  Stay on track, practice regularly, seek guidance if necessary, and keep the end goal in mind. The CAT exam is not only a test of knowledge, it's an assessment of your determination, strength, and ability to solve problems. Let's get going today and believe in ourselves, and who knows you may be on your way to an amazing management career soon. Good Luck!

Related Articles: