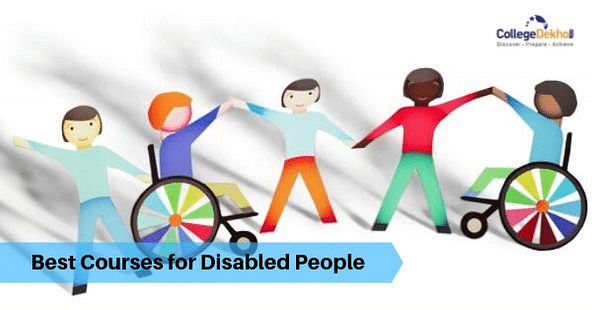 According to the Indian Census of 2011, 45% of the total disabled people residing in India do not have exposure to education among which, most of the people live in rural areas. Bringing the disabled people under the roof of higher education has been a challenge for both the central and state governments. Differently-abled people have all the equal rights as a normally abled person in India but in many cases, the people are subjected to discrimination, bias and harassment in day-to-day life. Alongside with awareness, the disabled people must come forward for higher education and find a way to self-sustain in his/her life for breaking the misconceptions still prevailing in the society.
Among the 121 crore population of India, 2.86 crore people are recognised as Person with Disability (PwD). For people who have disabilities, many technical and practical courses may not be suitable for them but there is an array of courses in commerce, business, creative skills sectors which a PwD category person can take up for higher studies.
Rights for Disabled People in Indian Constitution - Person With Disabilities Act 2016
This Person with Disabilities Act of 2016 ensures human rights to the people who have disabilities and recognises 21 different kinds of disabilities which are at par with the international standards. Autism, Parkinson's disease, Cerebral Palsy and Muscular Dystrophy and many more are recognised under this act. Under this act, any kind of discrimination and refusal of rights to a person with a disability is a punishable offence.
Indian Disabled Population Statistics - Education and Employment
People with disabilities (PwD) are either bound in a corner in the rural and backward areas or treated inhumanly which further worsens their condition. In many cases with autistic and mentally ill individuals, they're assumed to be possessed by evil and then, taken through a different course of cures which is no less than torture.
Thus, engulfed with superstitions and other ill-practices, the disabled population in India lags behind in terms of education, employment, rights and social status, some statistics show alarming concerns as well.
The prime reasons behind this attitude are the lack of knowledge among people regarding disabilities. Due to the lack of facilities such as ramp access and other disabled-friendly infrastructure, people with disabilities barely have any accessibility to public areas such as schools, colleges markets, and other public places.
The above charts confirm that the country has not turned very disabled-friendly in terms of facilities and social acceptance. Only 8.5% of the total disabled population in India graduate with a bachelors degree, 72% of them are not employed while among the non-disable population, the employment rate is 44%. While the literacy rate of India 73%, the disabled population's literacy rate is only 43%. Expert studies show that GDP may take a dip by 5% for a country which does not involve Disabled people in its economy.
Best Courses for People with Disabilities in India
India needs massive work and improvement in conducting skill-oriented courses for disabled people. Following are some of the courses which physically disabled people can opt for when it comes to career. The following courses involve less physical activity but require a person to have creative and analytical skills. The courses are listed below:
Management and Accounting
Commerce, accounting, banking and management streams are very efficient for people who have disabilities. A job of a manager, accountant etc is not does not require any physical work as such but requires a lot of analytical skills. Many disabled people join work as accountants and also work in banking roles in various financial sectors.
Coding and Development
Aspirants who have a niche for coding and development work can take up Computer Science Engineering or Computer application (BCA, MCA) courses. In the current world of smartphones and the internet, good developers are highly valued. The aspirant can also be recruited by international agencies.
Graphic Designing, Animation and VFX
Graphics designing and animation are the budding fields in India. There are also growing prospects for animation and VFX courses as well as high prospects for VFX artists. A VFX artist, animator and graphic designer must be very creative and have that visual prospect of thinking out of the box.
Fashion Designing
Designing courses are very popular among the students who aspire to be in creative fields in work. The students can take up B.Des in Fashion Designing, M.Des in Fashion Designing etc courses. There are many good centralised institutes as well for fashion designing. NIFT institute is a good option for those students.
However, people with disabilities should not confine themselves to the above-mentioned courses only as there is a lot to explore. Disabled people have become pilots, singers, engineers, managers, filmmakers, journalists around the world. There is hardly one profession where people from the specially-abled community did not leave a mark. We wish all the success to the people who dare to dream and are not bound by excuses.
Stay tuned to CollegeDekho for more article and updates