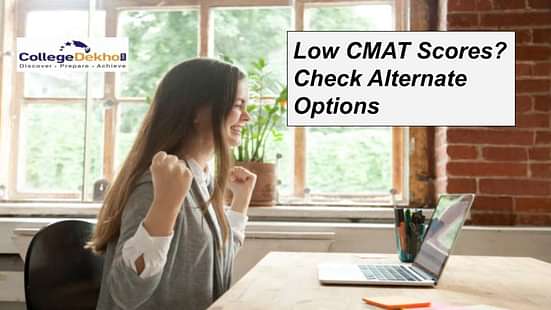 Didn't Score Well in CMAT 2023? Not scoring well in CMAT can be heartbreaking for candidates seeking MBA admission into top B-Schools in India. Candidates scoring well in CMAT become eligible for MBA courses offered by CMAT participating colleges, but those who didn't score well can still look for other options after the announcement of CMAT Result 2023. To perform well in CMAT, one must aim to score between 290-340 out of 400, which corresponds to a CMAT percentile between 90 to 99. The dream of pursuing a management course doesn't end with a low CMAT score. Candidates can consider seeking admission into reputed MBA colleges accepting low scores in CMAT or offering direct admission. One can even appear for other MBA entrance exams and score well in them to get admission into one's desired college.
CMAT is one of the popular management entrance exams, and thousands of aspirants appear for the exam to target the best management institutions. However, if test-takers cannot secure a good rank in the CMAT 2023 must not lose hope! They can choose from the list of alternatives given in detail below if they could not attain a good rank in CMAT.
Also Read:
Alternate Options if You Didn't Score Well in CMAT
Test takers must look at the list of options available to pursue if they didn't score well in the CMAT without giving up on their career aspirations in the management field. Check out the alternate options if you have a low CMAT score.
1. Appear for Other Management Exams
There are several management exams held every year to help aspirants get admission into renowned institutes. Aspirants with low CMAT ranks can appear for other exams such as Management Aptitude Test (MAT), Xavier Aptitude Test (XAT), IIFT exam, KIITEE Management, Symbiosis National Aptitude Test (SNAP), AIMS Test for Management Admissions (ATMA), and NMAT By GMAC. Selection through any of these key exams will help aspirants get admission and provide enormous opportunities in the field of management.
2: Get Admission into Institutes Accepting Low CMAT Score
Candidates can also look for institutes that accept low CMAT ranks. These institutes also provide the best management knowledge to the aspirants.

3. Opt for Alternative Courses
Aspirants with low CMAT scores can enroll themselves in different management online courses available on several e-platforms. Those who have pursued these courses can get an added advantage in admission to other management colleges. Moreover, if candidates have any certification from IIM, then it is always considered a positive factor that makes them stand out in the crowd.
4. Take Direct Admission
Several Management institutes/colleges in India offer direct admission to aspirants without any entrance test. Candidates are selected and given admission based on their qualifying scores and merit list. Those who didn't wish to appear in the management exams can apply to such institutes providing direct admissions. To test the aspirant's potential, some institutes might also conduct the aptitude test and PI round.
Also Read: List of Colleges that Accept CMAT 2023 for Admissions
5: Get Enrolled in Integrated Management Program
Students also have the option to get themselves enrolled in the Integrated Management Programme (IPM), which can be pursued right after completion of class 12th. Aspirants who wish to take this alternative will be able to study this five-year integrated program and have the benefit of holding two degrees. Candidates right after their 12th can appear for entrance exams like JIPMAT and GMAT to get admission to several IIM courses and programs.
6: Improve your Preparation Strategy and Appear Again
Aspirants must take note of a few things if they are planning to appear for CMAT again next year. Candidates must list down the questions they were not able to attempt this year and identify the section they found most difficult to attempt. They must start working more on the weaker areas and must refer to good study material. Therefore, an improved CMAT preparation strategy will help you crack CMAT this time.
Also Read: CMAT 2023 Preparation Strategy
Other MBA Colleges Accepting CMAT Scores
Test takers must also look at the other MBA Colleges accepting CMAT scores in the table mentioned below.
| College Name | Total Fees |
| --- | --- |
| | INR 71,000 |
| | INR 1,75,000 |
| | INR 50,000 |
| | INR 1,95,000 |
| | INR 2,38,000 |
| | INR 50,000 |
| | INR 3,08,000 |
Candidates can also check out the articles mentioned below to know more about the CMAT exam.

Related Articles:

We hope this article will help you in deciding which alternative to select if you have scored low on CMAT. For admission-related details, aspirants can fill out the Common Application Form (CAF) and avail of free counselling from our experts. For any queries, students can write to us through the Q&A Zone or call the toll-free student helpline number 1800-5729877.Stay tuned with us for all the latest updates!