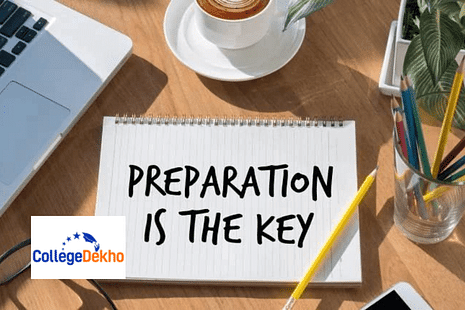 How to score 80 percent in class 10? Is probably one of the most genuine concerns for every class 10th board exam appearing students. Class 10th board exams are the first important major exams that will help in choosing streams and henceforth determine one's future career. As the class 10 board exams are around the corner, students must be working very hard, and for longer hours to ace their board examinations. However, scoring 80 percent in the class 10 requires smart work as well along with dedication and sincerity. 
The Class 10 board exams 2024 will be conducted from February to April 2024, and the practical exams will be held in January 2024. Most of the boards except CBSE and a few state boards will release the class 10th time table 2024 in December/ January 2024. Students can go through the following strategies and study with full concentration to obtain 80 percent in class 10 exams.
Tips to Score 80 Percent in Class 10?
It is quite difficult to cover the entire syllabus within a limited time. However, students need to complete the syllabus as soon as possible. Hence, a strategic approach is necessary for the students to score 80 percent marks in the exam. Here are some of the tricks for the same:
1. Make an organized schedule
Prepare an effective study plan and maintain it till the end of the exam. Set aside a dedicated time to cover the syllabus of each subject. Divide time equally among the subjects. Dedicate time more to the difficult topics/ subjects. Study for at least 7-8 hours daily, taking small breaks in between. You will find yourself better prepared for the exam.

Also Check CBSE 10th Date Sheet 2024
2. Give yourself a deadline
Divide the study plan into manageable chunks and set small targets for yourself. Be determined to complete a topic/ chapter within a time limit and follow it for each subject. This will help you in completing the class 10th syllabus on time, you will also learn to manage time and will get time for revising.
3. Get well acquainted with the syllabus
Know your course syllabus along with the exam pattern very well at the beginning of the academic year. The syllabus acts as a guide, and a course planning tool to set goals. You will be able to know about the important sections of your syllabus, marks distribution, and types of questions asked in the exam.

Read More CBSE Class 10 Syllabus 2024
4. Evaluate your preparation
Self evaluation is another important point in the preparation of class 10th board exams. You can beat yourself in every stage by self assessing yourself. This will help you identify the areas where you are lagging behind in the preparation and need to work more. You can basically track your progress.
5. Prepare small notes
While studying, make a habit of jotting down all the important definitions, laws, equations, properties, formulas or other highlighted information in your notebook. Before the exams, it will help you save a lot of time and energy by allowing yourself to recall the important concepts more quickly rather than finding them in the book.
6. Follow the Pomodoro technique (If needed)
If you are comfortable with studying in small sessions, you can plan your schedule as per the Pomodoro technique. Meaning, you can study for 25-30 minutes at a stretch and take a 5-10 minutes break. Repeat this four times, and take a longer break. Having a longer break can accelerate the urge to study more and in a fresh mind.
7. Revise your work daily
Revising the chapters/ topics will help you gain more confidence in your preparation. After you complete the entire syllabus, make sure that you have adequate time to revise the chapters before appearing for the class 10 exams. This will strengthen your memory.
8. Solve previous year question papers
After completing the class 10th syllabus, make a habit of practicing the previous year question papers or sample papers. Solve them within the given time and on a regular basis. You will have a real time experience before the exam and this is an effective way of revising the syllabus. You will also get to know the typologies and difficulty level of the questions that are asked in the exam.

Download CBSE Previous Year Question Papers Class 10
Preparation Tips for Class 10 English
Some of the preparation tips for class 10th English are as follows:
First and foremost students are advised to complete the books recommended by the respective state boards, and for CBSE, follow the NCERT books. Apart from that, you can follow additional reference books for English for comprehensive syllabus coverage.
To improve your writing skills section, you must make a habit of reading newspapers, novels, and other informative blogs, and magazines. This will allow you to enhance your vocabulary.
In the reading section, students have to read the unseen passages and answer the questions related to them. This section is scoring if they can read the passages carefully. Therefore, practice one or two reading comprehension every day prior to the exam.
Another scoring section is grammar. Students should practice grammar on a regular basis. Also, practice letter writing, articles, essays, poster making etc daily.
Preparation Tips for Class 10 Mathematics
Apart from solving the sums from the given exercises, students are advised to practice all the examples. Try to solve mathematical problems from other standard reference books as well.
Practice mathematics on a daily basis as practice is the mindless repetition of rote tasks. It will enable you to remember the concepts for a long term.
Familiarize yourself with the formulas. Maintain a diary to note down all the formulas, and theorems and memorize them by practicing. It will also help you give a quick revision before the exam.
Connect with your classmates or teachers if you are facing any difficulties while solving a problem. 
Work on managing time. Try to complete a sum within a limited time, and do not waste more time if you get stuck with a difficult sum in the exam. Try it after you finish the paper.
Preparation Tips for Class 10 Science
Class 10th science consists of Physics, Chemistry and Biology. Some of the basic guidelines for preparing the subject effortlessly are:
Get your basics clear in Physics, Chemistry and Biology. In Physics, solve example problems to memorize the important formulas. Emphasize on the topics like Newton's laws of motion as questions can be expected from them. 
In Chemistry, create a chart of the periodic table and go through it every morning. Learn tips and tricks to solve the chemical equations.
Memorize the applications based on acids, bases, and salts in everyday life. Additionally, focus on the carbon compounds and their nomenclature containing functional groups.
In Biology, students must practice diagrams that are marked important by the respective boards/ schools. It is advised to add a neat labeled drawing while writing the answers for scoring well.
Preparation Tips for Class 10 Social Science
Class 10 Social Science is a theoretical part in the examination. It includes History, Geography, Economics and so on. 
Prepare notes for each of the chapters. Solve the book exercises and get them corrected by your teachers or experts.
In Geography, try to give diagrams to the answers where you find it can be added. Practice map pointing as it can get you full marks.
Make a notebook for writing all the important dates and events in History. It will help you revise before the exam.