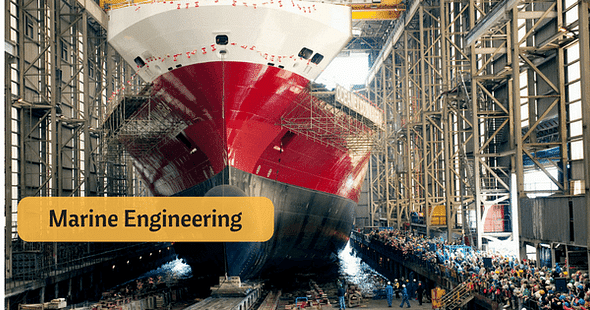 Just as plenty latest engineering courses that have gained popularity among the youth of the country, Marine Engineering is one such course among engineering aspirants as it offers some of the brightest career opportunities. The course not only opens up your opportunities to work abroad but also ensures that you get a great starting salary.
A career in marine engineering is challenging as well as exciting. The job can be demanding for those who work onshore but is an exciting opportunity if you love seas and oceans. It is also possible for marine engineers to work offshore. Here's all you need to know about a career in marine engineering.
Marine Engineering Course Eligibility:
In order to pursue Marine Engineering, you must have studied Physics Chemistry and Mathematics till class 12. Diploma courses can be pursued after class 10, having pursued minimum 50% marks in the board exams.
Also Read:Find out all about B.Tech Lateral Entry Programme after Diploma
About Marine Engineering Course:
The marine engg course teaches aspiring engineers how to design, develop and construct nautical equipment. You will be prepared to perform tasks in various industries like shipping, steel industry, ship manufacturing, power sector, consultancy firm, manufacturing sector, etc. Following are the type of courses in Marine Engineering.
Types of Marine Engineering Degree Courses:
Automatic Radar Plotting Aids (ARPA)
B.Tech. Marine Engineering
B.E. Marine Engineering
B.S. Nautical Technology
B.S. Marine Engineering
B.Sc. Nautical Science
Types of Marine Engineering Diploma Courses:
Diploma in Marine Engineer Conversion Course (GEC)
Diploma in Marine Electrical and Electronic Engineering
Diploma in Nautical Science
Diploma in Merchant Navy
Entrance Exams for UG Marine Engineering Programmes:
| Name of the Exam | Registration Process | Date of Exam |
| --- | --- | --- |
| JEE Mains | December 2017 to January 2018 | 8 April 2017 (Offline Exam) 8 and April 2017 (Online Exam) |
| JEE Advanced | April 2018 to May 2018 | May 20, 2018 |
| AICET | Until January 2018 | November 2017 onwards |
| IMU CET | December 2017 | January 2018 |
| MERI Entrance Exam | To be available soon | To be available soon |
Top Marine Engineering Colleges in India:
Indian Institute of Maritime Studies
Maharashtra Academy of Engineering & Educational Research
College of Engineering, Anna University
Annamalai University
University of Madras
Job Opportunities and Salary after Marine Engineering:
Jobs for marine engineers are available in both public and private sector. Shipping companies, ship building and designing firms, engine production firms, navy and research organizations are the sectors where marine engineers can work. One can also apply for on-deck opportunities such as a third assistant engineer or fourth engineer.
Also Read:Non-IT Jobs with Salaries for B.Tech Students
After pursuing a Marine Engineering Degree, you will be eligible to work for both domestic as well as international companies. The average salary of a Marine Engineer is Rs.11 lakh per annum.