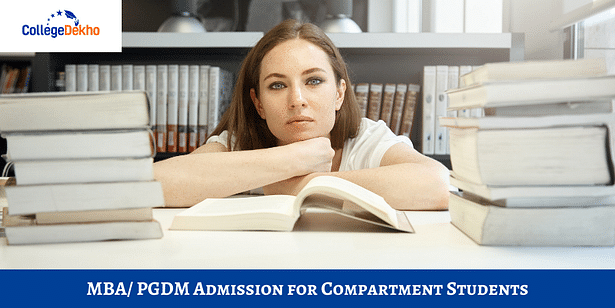 Since MBA is one of the most sought-after and regarded courses in the country and in the world, every graduate, for once, may think of pursuing it to give a push to his or her professional career. While there are students who make it to the MBA colleges on the basis of their performance at the undergraduate level as well as in the entrance exams, there are others who think they cannot pursue it because they have been unable to clear all the UG level exams at the college or university level.
A common question that comes up in the minds of a lot of people is - Am I eligible to get admission in MBA/PGDM with compartment? In this article, we are going to talk about the eligibility conditions for MBA courses for students with a compartment or those who have not been able to clear all the undergraduate exams or has a 'back' in a few subjects.
Also Read: What is Better: MBA Distance Learning or Online MBA or Regular MBA?
MBA/PGDM Eligibility Criteria for Compartment Students
Candidates who are interested in pursuing an MBA course shall have cleared all the exams at the UG level and should have an aggregate of at least 50% in all the subjects. This percentage criteria, however, may differ from college to college or university to university that offers MBA admissions. It is advisable to check the detailed eligibility criteria of each of the colleges that you are targeting well in advance.
MBA/PGDM Admission Process for Compartment Students
Additionally, it is important to note that if you are sure of pursuing an MBA from a regular college in India or anywhere else in the world, you can apply for MBA entrance exams on the basis of the colleges that you wish to target. Some popular MBA entrance exams in India are the Common Admission Test (CAT), Xavier Aptitude Test (XAT), Common Management Admission Test (CMAT), Management Aptitude Test (MAT), AIMS TEST FOR MANAGEMENT ADMISSIONS (ATMA), etc. Even if you qualify in the MBA entrance exam, you will be offered confirmed admission only after you clear your compartment exams, else your admission will be void. Some colleges even roll out conditional admission offer letters which clearly state that the candidate must submit his/her qualification proofs, mark sheets, and provisional letters by a certain date, after which their admission is confirmed. Hence, a student with a compartment at the UG level will have to first clear the exams and only then, he/she will be able to pursue the MBA or PGDM course at any regular college. If you wish to learn about the difference between PGDM and MBA courses, please check here.
Alternative Options for Candidates with Compartment
In a case, where you are not able to clear your compartment exams and still wish to pursue an MBA, you can do so, but not from a regular college. Check out some alternative options for MBA and PGDM for compartment students below:
1. Distance MBA/ PGDM Courses:
Distance learning MBA and PGDM courses are a good option in this case. There are many distance education universities and colleges in India that offer MBA and PGDM courses where a candidate can also opt for an area of specialization. The fees for distance MBA colleges in India is also affordable and it can give you the advantage of working side-by-side. Check complete details of distance MBA here.
2. Online MBA/ PGDM Courses:
With so many technological advancements happening all around us, education and learning are no longer limited to classrooms. Anyone who wishes to seek knowledge about something and everything can do so at the ease of a click. There are many online MBA and PGDM courses that are available on offer from good management schools across the country and on other ed-tech learning platforms which you can explore if you really wish to do an MBA/PGDM to enhance your career prospects. Learn more about the best online MBA and PGDM courses here.
Also, since age is no bar in case of pursuing MBA courses, it is advisable you clear your compartment exams first and then focus on taking on another degree course such as MBA and PGDM.
Top Colleges Offering Distance MBA in India
The table provided below contains the list of some well know MBA Colleges in India that offers distance education. You can apply to these colleges by filling our Common Application Form.
| | |
| --- | --- |
| College | Fee(Annually) |
| | INR 28,900 |
| | INR 20,000 |
| | INR 30,000 |
| | INR 72,500 |
| | INR 27,000 |
| | INR 70,500 |
| | INR 1,19,000 |

Candidates may also check out the articles mentioned below to learn more about MBA admissions!
Related Articles:
If you want to know more about MBA admission, you can ask questions in the Collegedekho QnA zone.  If you want admission counselling, you can fill out our Common Application Form or call on our toll-free number 1800-572-9877.