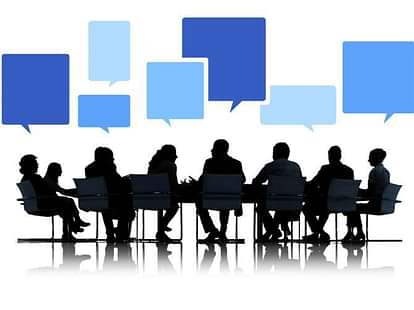 It is the MBA season and one of the crucial parts of the same is to be well prepared to crack any national of international level MBA entrance examination. However, even if you are able to shine in terms of aptitude and logical thinking, the key to admission is how you present yourself or what kind of a personality you possess.
The most slippery stair to the gate after which stands a reputed college of your dream is a group discussion. Personality and spoken skills are judged very closely and carefully during a group discussion. Being manipulative and a chatterbox does not take you very far in a group discussion but being simple and clear does. Students usually think that success in a group discussion is directly proportional to for how long you can speak. But in reality, it is directly proportional to how good you can speak. So do not be confused and do not try to use the wrong methods to reach the right place. CollegeDekho is here to tell you the most basic and important things you need to take care of to excel in a group discussion or GD. Have a look!
Be Presentable
MBA is one of the professional courses and it important that you look professional in terms of how you dress or what you wear. Nobody will take you seriously if you are in your trousers and T-shirt or if you look shabby. It is advisable that you wear formals and try to look alive and charming during the entire discussion.
Be Patient
You need to be patient during a group discussion as patience is the only quality that will help you listen to others. Raising your opinion and thoughts is absolutely necessary, but listening to others and hearing them out is equally important. Do not be arrogant and rude, try to give others a chance to speak. Try to learn something from the discussion as there is a very good chance that the other person is saying something that you may not be aware of. It is a great learning experience.
Be Clear and Precise
Speaking for a long time or speaking the most is not required in a group discussion. All that is required is to be clear and precise. You need to be simple and state your point in such a way that everyone can understand it. Being manipulative might not help you in a group discussion.
Be Open-minded

You need to be open-minded because there is a good chance that all the people in the room will have different point of views and they might not match yours. That does not mean they are wrong. So, you need to listen to others and logically analyse the whole discussion and use it to your advantage.
Be Yourself

In the end, just be yourself and try to enjoy the discussion. You will get to learn a lot and will get plenty of chances to show that you are a good candidate for the MBA programme.

These were a few tips and tricks that you keep in mind while facing a group discussion. It is not as hard as you think or as easy as you think. To ace the discussion you need to be present in the moment and be outspoken. You need to be rational, analytical and logical to win the hearts of the evaluators. Hope everything goes your way, Good luck and stay awesome.