XAT is considered as the most important MBA entrance exams after CAT. The exam is conducted every year for admission to the MBA/ PGDM programmes at XLRI Jamshedpur and many other well known B-Schools of India. In 2021, the exam is going to be conducted on January 3rd 2021. The registration process for XAT started on September 12th, 2020 and will continue till November 30, 2020.
Candidates who are appearing for the exam need to work hard in order to crack the exam. They are advised to focus on improving their problem solving and analytical skills. They can check the last minute tips for XAT 2021 provided here. Besides this, important exam day guidelines for XAT exam are also provided here.
Major Last Minute Tips for XAT 2021
Candidates are advised to not to learn any new topic or concept on the exam day. They are further advised to revise all the notes prepared by them as well as shortcut formulas for solving quantitative problems. Section-wise preparation tips for XAT 2021 are provided below. Candidates are advised to go through all the preparation tips of XAT provided below.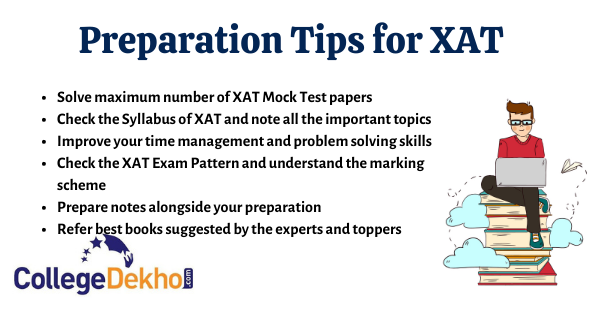 Section-wise XAT 2021 Preparation Tips and Exam Day Guidelines
For Quantitative Ability and Data Interpretation
Candidates should try to learn short cut techniques to solve the numerical problems quickly

They can check the previous years' questions papers of XAT to get an idea of what percentage of questions are asked from which section

They should note that if they are facing problems in questions from Algebra, Geometry or any other topic in Quant, they should skip the question 

Since 28 questions will be asked in this section, candidates should try to answer at least 15-20 to score well in the exam
Also Read: How to Prepare for CAT Quantitative Ability (QA) - Check Expert Advice, Tips and Tricks
For Verbal and Logical Ability
In this section, most of the questions will be asked from Sentence Correction, Critical Reasoning, Para Jumbles, Reading Comprehension and Sentence Completion (multiple blanks)

Candidates should focus on improving their vocabulary. This will help them understand the passage easily

Candidates are advised to solve the questions from Sentence Completion, Cloze test, Para Jumbles, Vocabulary before solving the Reading Comprehension

They can prepare their own strategies to solve the Reading Comprehensions
Also Read: Tips to Answer Logical Reasoning Questions in CAT: Strategy and Exam Pattern
For Decision Making
This section will contain Behavioral and Mathematical decision-making questions. In behavioural questions, a situation will be described and candidates will have to choose the answer according to the situation described in the passage

Candidates are advised to understand the situation carefully before choosing the answer
Also Read:How to Improve English for MBA Exams
For General Knowledge
This section is the highest scoring section in CAT exam

Candidates are advised to quickly and carefully attempt this section to score well
XAT 2021 Last-Minute Tips
Candidates should carry at least two copies of the XAT admit card while going to the exam centre. No candidate will be allowed to enter the examination hall without the admit card

Candidates are advised to visit the examination centre one or two times before the exam so they that they do not face any kind of problem on the exam day

Candidates should note that they will not be allowed to carry any other document except the admit card and ID proof inside the examination hall

Some of the documents that the candidates will have to carry on the examination day are Driving License, Voter ID, Passport, Aadhaar and PAN Card

Candidates can check the exam centre as well as exam timings from the admit card. Besides this, they should also read the instructions provided on the admit card
Also Read: XAT 2021 Response Sheet - Question Paper, PDF, Download
XAT 2021 Exam Day Guidelines
Candidates should reach the exam centre one or two hours before the allotted time. They can check the exam timings from the admit card

Since there will be negative marking in the exam, candidates should double-check their answers before choosing the answer

Candidates are advised to not to carry any kind of electronic gadgets like mobile phones, digital watches, calculators at the exam centre

Candidates should follow the instructions provided by the Invigilator. Apart from this, they should not talk with any other candidate while sitting inside the examination hall

They should not roam inside the examination hall unnecessarily
Also Read:CAT 2020 Exam Day Instructions - Check Rules, What to Carry, Other Guidelines
Important Instructions for XAT 2021 Computer Based Examination
Candidates will be provided with 5 choices for each question in the examination. They will have to choose one choice that they feel is correct

There is no sectional limit in XAT 2021 examination. Candidates can answer questions in any order

A timer will be provided on the upper right-hand side of the screen. Candidates can check the timer to know the time left to complete the examination

If the candidate is not satisfied with the selected answer, he can click on the 'Erase' button given at the bottom to unmark the answer

Candidates can bookmark a question if they wish to review the question. 
Also Read:Tips to Improve GK for MBA Entrance Exams: Best Books and Preparation Tips
Status of Questions in XAT 2021
Check the table provided below to know the status of questions in XAT 2021
| | |
| --- | --- |
| Colour | Status |
| White | Unanswered yet |
| Green | Answered |
| Purple | Answered & Marked for review |
| Yellow | Unanswered & Marked for review |
Exam Strategy of XAT 2021
Candidates should note that there is no fixed number of questions that the candidates will have to answer to score good percentile in XAT Exam. They should try to solve more than 60% of the questions to score well. They can check the exam pattern of XAT 2021 provided below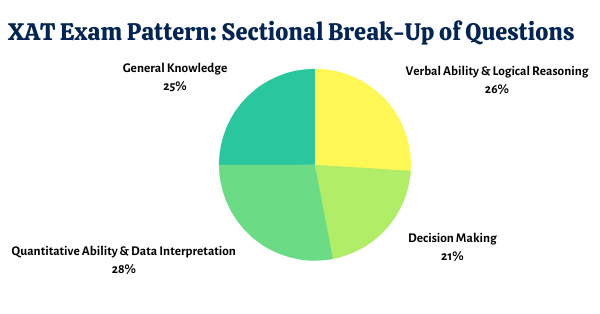 | | |
| --- | --- |
| Total Number of Sections | 4 |
| Name of Sections | Decision Making, Verbal and Logical Ability, Quantitative Ability and Data Interpretation and General Knowledge |
| Total Questions | 100 |
| Total Time allotted | 180 Minutes |
| Marking Scheme  | 1 Mark for each correct answer and 0.25 (1/4) for each incorrect answer |
XAT 2021 admit card will be released on December 21, 2020. Candidates can download the admit card after logging in to the official website of XAT. Those who have any query related to XAT exam can ask questions on the Collegedekho QnA zone. Apart from this, those who need admission related guidance can fill our Common Application Form.