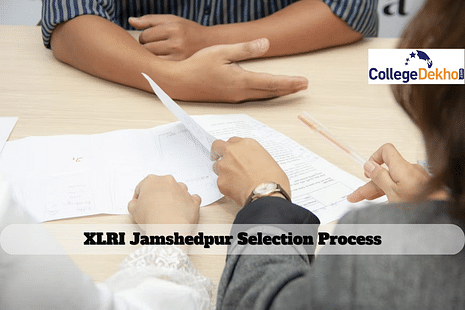 XLRI Jamshedpur selection criteria 2023 include qualifying for the XAT (Xavier Aptitude Test) or GMAT, getting shortlisted for the selection rounds, and finally getting selected in the merit list.  XLRI Jamshedpur is one of the premier B-Schools in India and offers an excellent PGDM course. It has been known for its globally-recognized education as well as for the outstanding performance of its students in case studies. In order to be a part of the XLRI admission process 2023, it is essential to take XAT or GMAT.

XAT 2023 exam was conducted on January 8, 2023, and the result has been declared on January 28, 2023. Test-takers can go through the links given below to download their XAT scorecard 2023 and check the XAT toppers list 2023:

After the result declaration, the XLRI admission process 2023 will begin. XLRI Jamshedpur will evaluate the performance of candidates in two phases and those who qualify will get admission to the various PGDM courses. XLRI defines a minimum cutoff for XAT that a candidate must clear in order to clear phase one. The course-wise XAT 2023 and GMAT Cut Offs for 2023 batches will be released in online mode on the official website (xatonline.in). Candidates who clear the sectional, as well as the overall cutoff, will be called for the second phase of evaluation.

Candidates who appeared for XAT 2023 exam must go through the detailed XLRI Jamshedpur admission criteria 2023 provided below to understand every stage they have to go through after qualifying for the exam.
XLRI Jamshedpur Admission Dates 2023
Check the table provided below to know the important dates for XLRI Jamshedpur admissions:
| | |
| --- | --- |
| Events | Dates |
| XLRI Admission Application 2023 Start date | August 10, 2023 |
| Last Date to apply for XLRI Admission (Apply through XAT) | December 11, 2023 |
| XAT 2023 Exam Date | January 8, 2023 |
| XAT 2023 Result Announcement | January 28, 2023 |
| XLRI Jamshedpur Cut Off 2023 | TBA |
| XLRI Shortlist Announcement for Final Selection Round 2023 | TBA |
XLRI Jamshedpur Selection Criteria 2023
The following are the XLRI selection criteria 2023 for PGDM courses:
| | | |
| --- | --- | --- |
| Course | Phase 1 | Phase 2 |
| PGDM | Candidates have to clear the minimum cutoff (sectional as well as overall) of the XAT entrance exam. | A candidate has to clear the 30-minute Group Discussion (GD) round consisting of 8 to 10 participants and Personal Interview (PI). |
| PGDM (GM) | Candidates have to clear the cutoff of either XAT or GMAT. | Shortlisted candidates will be called for Personal Interview (PI). Interviews are also conducted through G-talk/Skype for overseas candidates. |
| PGDM (BM), Part-Time (JSR) | Candidates have to clear an aptitude test or provide valid scores of other credible MBA entrance exams. | Further, candidates are selected on the basis of their performance in Personal Interview (PI) round. |
| PGDM (HRM) | Selection in the first phase will depend upon a candidate's performance in XAT. | Candidates will then be called for Group Discussion (GD) basis which they are shortlisted for the course. |

Note: XLRI Jamshedpur has a standardized selection process and judges students based on several components such as XAT Score, Performance in GD/ PI rounds, past academic performance, and work experience. Specific weights have been allotted for every component to evaluate the overall score of the student. Earlier essay writing was also the part of XLRI admission process but it was removed in 2018. 
Also Read: What is a Good Score in XAT 2023?
XLRI Jamshedpur Selection Criteria Components 2023
XLRI selection criteria 2023 components for PGDM admissions 2023-25 are listed below:
| | |
| --- | --- |
| Component | Weightage |
| XAT Score | 60% |
| Group Discussion/ Personal Interview | 25% |
| Essay, Academic Profile, GK, Video, Work Experience | 15% |
XLRI Jamshedpur Selection Weightage Highlights
The weightage of the components can be changed by XLRI after analyzing the PI and GD data.
The final admission merit list is prepared on the basis of the total scores in the above-mentioned components.
The bottom 10% of the selected candidates' GD and PI scores may not be considered for the final merit list irrespective of scores in the other components.
​​​​XLRI Jamshedpur Selection Criteria: XAT 2023 Cut Off
XLRI Jamshedpur will release the XAT 2023 Cut off for its PGDM-BM and PGDM-HRM courses after the result declaration. The minimum XAT 2023 cutoff required to clear the first phase of XLRI admission process will be updated here.
XLRI Jamshedpur XAT 2023 Cut Off for PGDM-BM (Expected)
| | | | | |
| --- | --- | --- | --- | --- |
| Category | VALR Percentile | DM Percentile | QA Percentile | Overall Percentile |
| Male | 76 | 74 | 83 | 94 |
| Female | 70 | 70 | 75 | 92 |
XLRI Jamshedpur XAT 2023 Cut Off for PGDM-HRM (Expected)
| | | | | |
| --- | --- | --- | --- | --- |
| Category | VALR Percentile | DM Percentile | QA Percentile | Overall Percentile |
| Male Engineering | 80 | 75 | 80 | 93 |
| Female Engineering | 75 | 68 | 74 | 90 |
| Male Non-Engineering | 80 | 75 | 73 | 90 |
| Female Non-Engineering | 75 | 68 | 74 | 87 |
XLRI Jamshedpur GMAT Cut Off 2023
The minimum expected cutoff for candidates applying through GMAT (Graduate Management Admission Test) is as follows:
| | |
| --- | --- |
| Course | GMAT Cutoff Score |
| HRM | 710 |
| BM | 730 |

Apart from XLRI Jamshedpur, there are other MBA colleges that accept XAT 2023 scores as well. If you have any doubts related to XLRI admission, you can ask questions at the Q&A zone.

Related Articles: