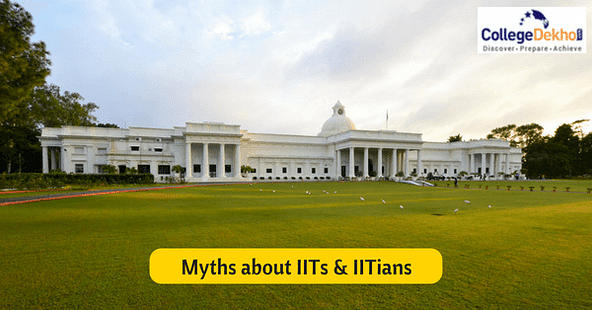 It would be an understatement to say that more than half of the engineering aspirants in the country, who pass out of class 12th, wish to make it to the premier engineering institutes of the country i.e. the Indian Institutes of Technology (IITs).
Every year, about 12 lakh candidates attempt to qualify JEE Main exam to step an inch closer to the next level of IIT admissions through the JEE Advanced exam. While appearing for the toughest engineering entrance exam - JEE Main, it is only 2.2 lakh students who qualify and get a chance to make it to one of the IITs.
So ever wondered what goes on in the minds of students who wish to make it to the IITs? Is the volume of students appearing for the entrance exam for IITs surrounded by any myths? Are they aware of some of the facts about the IITs or not?
Through this article, we have tried to uncover some of the common myths about IITs that students may have fallen for.
Common Myths about IITs:
Some of the common myths about the Indian Institutes of Technology are elaborated below. Read on to learn about it.
1. JEE Advanced is Impossible to Crack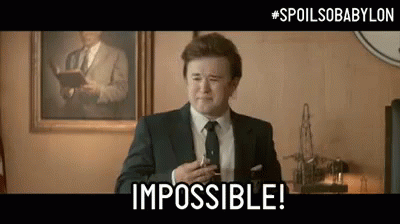 GIF Source: Tenor
The fact that JEE Advanced is an impossible exam to crack is among the biggest myths about IITs. Even students who are unable to perform at the +2 level can crack the exam if they approach it with the right strategy and preparation. One can definitely emerge successful in the JEE Advanced exam with the right planning and execution. Students often get demotivated even before preparing for the exam because of the hype created about the difficulty level of the exam. With the right guidance, study plan, and timely preparation one can qualify for JEE Advanced and secure a seat in one of the IITs. A candidate must be well-versed with the JEE Advanced exam pattern and should use these JEE preparation tips to focus on the exam.
2. IITians Study 24/7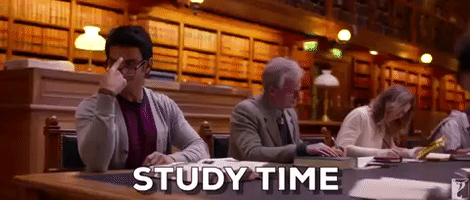 GIF Source: Giphy
IITs, being the premier engineering institutes of the country, there is no doubt that it involves a lot of studies to be a part of it. But that does not mean that the students who are studying in IITs are under pressure all the time. All the test series, assignments, exams, and vivas are well-planned keeping in mind the capacity of students. IITians often come across as bookworms and someone whose life only revolves around books. However, some of the popular stand-up comedians, singers, actors are from IITs itself. The institute does not only focus on academics but also believes in extracurricular and sports activities.
3. Ragging at IITs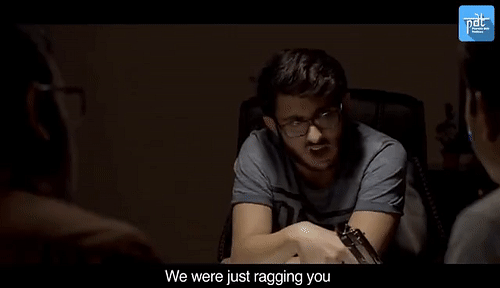 GIF Source: Gfycat
A few years back, ragging was popular at the some of the IITs. But with changing times and with the Supreme Court considering it a criminal offense, ragging has been banned at IITs and all other educational institutes. IITs strictly prohibit ragging on its campuses. They have also come up with anti-ragging cells so that any student who requires help can approach them.
Also Read: JEE Advanced Aftermath: 7 Reasons Why Students Fail in IITs
4. IITians are the Highest Paid Individuals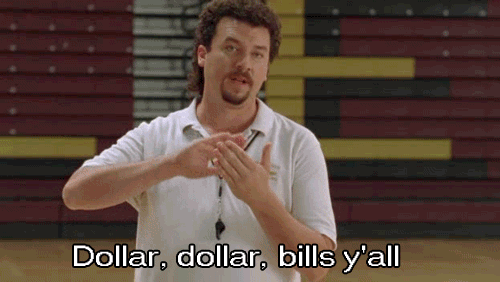 GIF Source: BuzzFeed
The fact that IITians are the highest paid when it comes to jobs and salaries drawn by them, is another myth that surrounds the IITs. Salaries offered to IIT graduates are much lesser than perceived. The media only talks about top packages which are only offered to a few. Not all IIT graduates are offered such high salary packages. Around 40% of the students are offered an average salary package of Rs. 4 lakh to Rs. 8 lakh per annum. Most of the people forget that salary packages do not depend upon the brand name but on one's own capabilities and knowledge in a certain field/job.
5. IITs Offer 100% Placement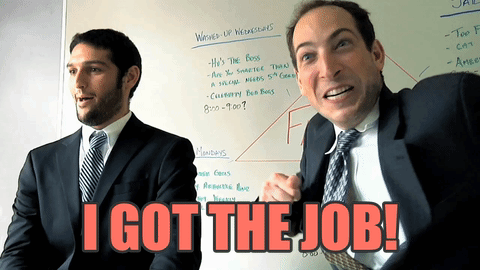 GIF Source: Giphy
100% placement at the IITs is one such myththat has been around for years. Not every graduate from IIT walks out with a job offer in hand. Recruiters who visit the IIT campuses during the placement season do not consider the JEE rankof a candidate or the academic grades secured by them while at the institute. Students have to fit in professionally with the recruiting company and are required to possess the necessary skill set to get a job. Therefore, in such a competitive world, it is indeed a myth that IITians get placed easily on the basis of the institute brand name and that they get fat pay cheques.
6. Commerce and Art Students Cannot Study at IITs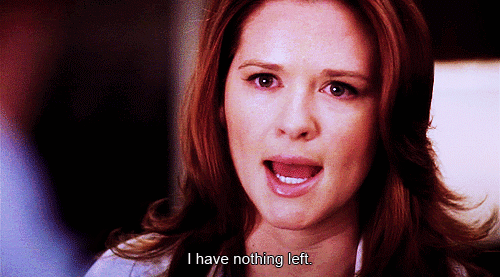 GIF Source: Odyssey
Only science background students can study at IITs is a total myth. Many IITs offer a variety of courses that a commerce or art student can take up. One such popular course for commerce and humanities students is the five-year integrated M.A.course at IIT Madras in streams such as English Studies, Development Studies, and Economics. Non-science students can also live their dream of being a part of one of the IITs and live life the IITians way.
7. Only Candidates Who Take Coaching Can Get into IITs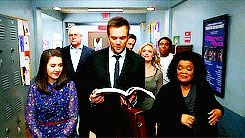 GIF Source: Giphy
Many IIT aspirants and even parents believe that it is impossible to crack JEE Main and JEE Advanced without seeking guidance from a coaching institute. While it is true that lakhs of students enroll for specialized coaching classes at renowned institutes, it is not the only way to make it to the IITs. There have been examples of students in the past who have cracked the JEE Advanced exam by preparing by themselves. Many aspirants from rural areas have cracked the JEE and proved that with a dedicated mind and hard work nothing is impossible. Further, apart from being one of the most common myths about IITs, it is also one of the most debated topics.
From the past few years, coaching classes have become a trend. There is no doubt that they do provide guidance to students but it is a time-consuming process with a large number of students in class with no personal attention. Further, there is no guarantee that if one joins coaching classes they will crack JEE. Coaching institutes can only offer support and study material but the hard work, effective management and focus have to be put in by the students themselves.
Also Read: How to Get Admission in M.Tech Courses at IITs, NITs Without GATE Score
8. IITians Do Not Have a Social Life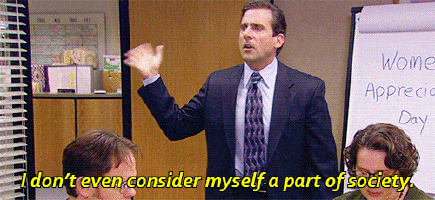 GIF Source: Odyssey
Whenever we think of IITians, we often picture them as nerds who do not have any social life. But this is the biggest misconceptions about IITs and its students. IITs are well-known for their cultural fests such as Mood Indigo - IIT Bombay, Saarang - IIT Madras, Rendezvous - IIT Delhi among others that give its students a chance to interact with others and maintain a social life of their own.
These cultural fests provideIITians with an opportunity to connect to a large number of people, communities, companies etc. belonging to different sections of the society. Through these fests, students also get a chance to showcase their talent and grow their business and social network.
9. IITians Do Not Prefer Domestic Packages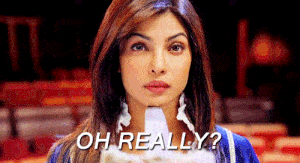 GIF Source: The DailyMoss
Another myth that revolves around the IITs is that they do not prefer domestic jobs as they do not offer fancy salary packages and perks. On the contrary, it is observed that a majority of IIT graduates prefer working for Indian industries rather than abroad.
Also Read: All you need to know about IIITs: Selection Details, Fees and Scope
10. There are No Girl Students in IITs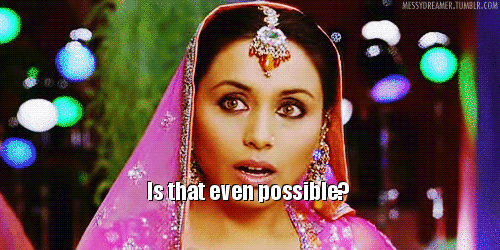 GIF Source: TopYaps
It is true that the number of female students in IITs is lower as compared to the male counterparts. However, the fact that IITs are working very hard to improve the gender ratio in their campuses is something which must also be considered. As per the new bill which was recently passed, IITs will offer 779 supernumerary seats for a female candidate this year and increase the number of female students by 20% at IITs by 2021. Also, there has been a significant increase in the number of girls studying in IITs. Many institutes have put a special focus on reaching out to female students by setting up a special helpline for them as well.
We hope this article will change your opinion about IITs and IITians in general in a positive way!