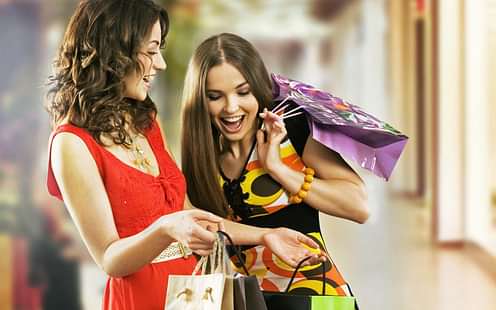 And who doesn't like shopping???
Be it a girl or a boy, a student or a professional, shopping for something new and trendy is always in the trend. College students go crazy if they find a new shop that attract them with all new and jazz items. Delhi has some of the most vibrant shopping corners where college students can easily afford to and spend a good time in shopping.
Let us see those shopping corners where you can point out college students on any day in a week.
1. Lajpat Nagar Lajpat Nagar invites everyone with its amazing street shopping essence. It comprises of good quality stuff for both men and women. There are Branded shops in the market as well. Along with clothes, shoes, jewellery, golgappe, there are stalls for stolls, capri and jhumka as well.
2. Kamla Nagar This is the heart of North Campus. Every shopaholic would have heard about Kamla Nagar. Kamla Nagar is popular for its street shopping as well as Brands. Rompers, jackets, kurtis, shirts, shoes among other stuffs could be easily found here.
3. Janpath Janpath market is famous for its location which is at the heart of Delhi. This market calls you for its street market and the quality stuffs which are available at easy bargained rates. Bunch of students gather here everyday except on Mondays when the market is closed.
4. Sarojini Nagar Sarojini Nagar and who wouldn't have heard about in Delhi! Especially students who love shopping and those long sessions of bargaining with the shopkeeper. Sarojini offers you with every new trends of style in the market.
5. Karol Bagh Karol Bagh is located in the midst of hustle bustle of life in Delhi. Located very near to central Delhi, this market welcomes all strata of the society with its fabulous shopping spree. Street markets along with popular brands and food joints are available that no student can ever say No to.
6. Sadar Bazaar-Gurgaon/Delhi Sadar Bazaar market is located both in Delhi as well as in Gurgaon. Here, one can find every item that one needs. To start with cutlery, grocery, home décor, food, footwear, clothes, jewellery among others and that too at reasonable rates is hard to find somewhere else especially in the capital.
7. Daryaganj Located in Old Delhi, this market is quite popular among students because of its reasonable rated books and second hand copies of every author and publication that a student might need to study. This market is similar to that of College street in Kolkata.
8. Delhi Haat Delhi Haat is famous for its shopping essence and along with it, the all time favorite kitchen stalls from the major states of India. Students can be usually spotted on any of these stalls in a group.
Enjoy shopping to your heart's content but be wise to choose the best quality from the slot.