With lakhs of students competing every year to enter the top management schools in the country, the right CAT preparation and a tactful strategy are the need of the hour to qualify in the most popular MBA entrance exam this year.
The Common Admission Test (CAT) is a national-level management entrance exam, which is conducted by the Indian Institutes of Management (IIMs) every year on a rotation basis. CAT 2021 will be conducted by IIM Indore. On the basis of CAT 2021 scores, successful candidates get admission in top business schools and management institutes across the country. Get the Latest CAT News and Updates here!
If you are preparing to take the Common Admission Test (CAT) this year, then we are sure that doing some of the following things will make your life a lot easier in the run-up to the exam.
How to Prepare for CAT 2021 - Tips and Tricks
Follow the points mentioned below to enhance your CAT 2021 preparation and head towards a better score.
1. Analyse Your Strengths and Weaknesses:
Your strengths and weaknesses in terms of the CAT 2021 syllabus or CAT 2021 exam pattern will largely determine your success or failure in the Common Admission Test. If you are aiming for CAT 2021, then you must start identifying and analysing your strengths as well as your weaknesses.
Analysing will help you:
Identify the areas where you lack and need to work.
It will also help you identify your strong points that you may use to your advantage.
Make changes in your approach to the exam.
Improve your preparation plan.
Therefore, you must focus on self-analysis to gain a better understanding of your ability to crack CAT 2021 examination.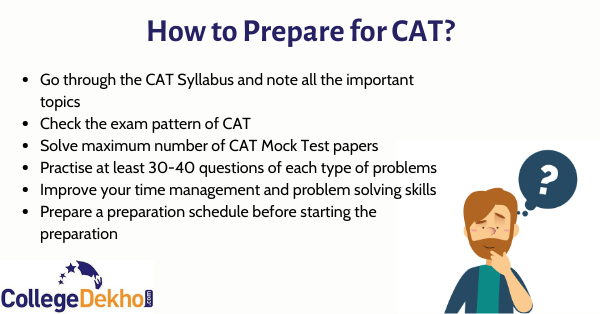 2. Know the Exam Pattern Well:
In order to have the right plan for preparation, you must have a proper understanding of the CAT 2021 Exam Pattern. Without knowing the examination pattern well, it is quite possible that you will end up covering topics that may not come in the exam at all.
CAT 2021 consists of three sections:
Verbal & Reading Comprehension with 34 questions.
Data Interpretation & Logical Reasoning with 32 questions.
Quantitative Ability with 34 questions.
Here are the sections of CAT 2021 and the time allocated to each section.

For Verbal & Reading Comprehension Section of CAT 2021:
Diverse reading is a must.
Inference based questions must be practised thoroughly.
Focus on language and comprehension skills.
Also Check: CAT Previous Year Question Papers
For Data Interpretation & Logical Reasoning:
Try to build up your speed of doing calculations.
Practice puzzles, Venn Diagrams & Cubes, Deductions & Logical Connectives.
Develop an ability to analyse and understand complicated data.
Also Read: CAT 2021 Question Papers and Solutions: Previous Years' Question Papers of CAT
For Quantitative Ability:
Understand the basic concepts of every topic.
Be thorough with all the formulas.
Solve at least 30-40 questions daily (CAT level).
3. Practice More to Improve Speed & Accuracy:
If you are appearing for CAT, you would know that the syllabus of the Common Admission Test for MBA is quite vast. So, what becomes important here is to increase your speed and accuracy with which you will solve the paper. You may know how to solve a particular question in CAT, but how quickly and accurately you attempt that question will make all the difference. You must remember that speed and accuracy can be gained only through continuous practice and clear concepts.
Also Read:Tips to Answer Logical Reasoning Questions in CAT: Strategy and Exam Pattern
You must make it a point to practice in an exam type of environment as much as possible. Additionally, you must also start implementing techniques that you feel will save you time on the day of the exam, thus giving you an edge over your competitors.
4. Be Thorough with Your Fundamentals:
A major requirement for cracking CAT 2021 is to strengthen your understanding of the basics and fundamentals. Most of the students try to maximize their scores by mugging up the syllabus, which creates a lot of misunderstanding. Therefore, CAT aspirants must prioritize the topics and start from scratch to be able to handle the question paper better. With a strong foundation, you will have in-depth knowledge of the topics and therefore it will be easier for you to solve the trickiest of questions. A month before the exam, you should do a thorough revision of the basics to secure a high score.
5. Solve Maximum Mock Tests/Sample Papers:
Preparation for CAT 2021 is incomplete if you are not solving and practising mock tests on a regular basis. Solving various kinds of sample papers and mock test series will not only help you become familiar with the pattern and marking scheme, but you will also get a better picture of your problem areas and where all you can improve. CAT 2021 Mock Test are prepared while keeping in mind the actual paper, and this is why they are a great source for analysing the difficulty level of the CAT paper.
6. Effective Time Management:
Your success in CAT 2021 will depend largely on your management of time. While preparing for CAT 2021, you must allocate sufficient time to each and every topic. In order to manage your time well, it is indeed necessary to prepare a strategy that will help you to:
Organize and plan your day wisely
Prioritize your weak areas and topics
Analyse your requirements
Avoid procrastination
Also Read: Common Mistakes to Avoid During CAT Preparation : Tips and Strategies
Time management is the key to crack any entrance exam and the same goes for CAT 2021. You should, therefore, keep this pointer in your mind from the start in order to have the best results.
7. Prepare and Adhere to Your Schedule:
While preparing for entrance exams, many students make a study plan but fail to execute it. As a result, their desired results are not achieved. If you are aiming to crack CAT this year, implementing your study plan should be your topmost priority. You must remember that sticking to your study schedule is as important as creating one. Therefore, once your study plan is in place, try sticking to it, as it will help you stay on track.
8. Don't Stress and Overburden Yourself:
Preparing for entrance exams can be an extremely stressful period for many students. Try and avoid taking too much stress, as it will not only hamper your exam preparation but will also negatively impact your performance on the exam day.
You should try to be systematic with your study plan in order to avoid overburdening yourself. For instance, if you get stuck on a certain concept or a topic, getting stressed will not help you much. Instead, you must reach to your friends or mentors to help you out. It is well understood that stress may not be completely unavoidable during your exam preparation, but you must try and stay positive to keep yourself calm and relaxed.
Preparation Tips for CAT 2021
Check the articles provided below to know some preparation tips of CAT 2021:
After giving CAT 2021, you can get an idea of your score through the CAT 2021 percentile predictor. You can use the  CAT 2021 college predictor once the CAT 2021 results are declared to know the colleges in which you might get admission. For admission related assistance, fill our Common Application Form or call on our toll free number 1800-572-9877. If you have any question regarding the CAT exam, you can ask it on the Collegedekho QnA zone. ​
CAT exam is a hard nut to crack and requires rigorous preparation. With these suggestions, you can try to put your best foot forward.
Remember, cracking CAT is not just only about hard work but about staying motivated and giving your best shot on the D-day!