Many working professionals choose to go for a Master of Business Administration (MBA) course after gaining some years of experience and rightly so. Having some work experience before taking up an MBA course provides students with a different perspective, which helps them attribute their learnings in the course to practical scenarios better than a fresh candidate might be able to.
Well, it is just not possible to talk about MBA admissions in India without talking about CAT. The Common Admission Test (CAT) is one of the most taken MBA entrance exams in India. Over 2 lakh aspirants sit for the exam each year and try their hand at getting into the MBA courses of the top management colleges in India. For 2022, the CAT exam will be conducted on November 27, 2022.
Many aspirants start preparing for CAT while working a full-time or part-time job. However, simply because of the level of difficulty and the sheer amount of competition for the exam, it can get difficult to juggle between a full-time job and giving enough time to study for CAT. In this article, we have provided the best tips for working professionals preparing for CAT 2022.
CAT 2022 Preparation Tips for Working Professionals
As a working professional, you will have some limitations when preparing for CAT. You will not be able to spare as much time and effort as an aspirant with no other responsibilities. Therefore, it becomes very important to play to your strengths and work smartly. Given below are some very important tips you should keep in mind when preparing for CAT 2022, along with a job.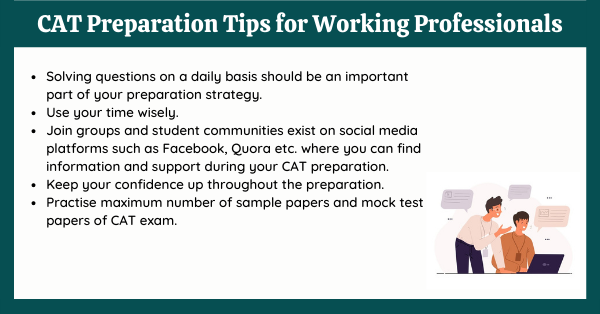 Practice Practice Practice
It is very difficult to overstate the importance of practice when preparing for CAT. Solving questions on a daily basis should be an important part of your preparation strategy.

When selecting the best books for CAT preparation, you should look for books that provide sample question papers, previous year question papers with solutions, and mock tests.
Use Your Time Wisely
Finding time to study with an already busy work schedule can get tough. However, it can be done if you are wise about how to spend your time. Many professionals use their traveling time to prepare for CAT.

Professionals can often be seen spending 2-3 hours per day in travel and making short notes and studying during the metro ride. This helps you use this time to your advantage. It is important to develop the mindset to crack CAT and follow your schedule with due diligence.

Another important point is to not take too much on your plate. If you are preparing for CAT while working, you might have to pause some other activities where your time is spent. You must be ready to cut out the clutter and make time for preparation.
Also Read:CAT Score Vs Percentile Analysis 2022 - Check Details Here
Make Social Media Your Friend in CAT Preparation
Many groups and student communities exist on social media platforms such as Facebook, Quora, etc. where you can find information and support during your CAT preparation.

Using online platforms, you can not only interact with a more diverse community of aspirants but it can also help you get in touch with other students and experts instantly from the comfort of your home.

You can also find good study materials and mock tests using these forums to aid in your study preparation.
Coaching and Targeted Study
Weekend classes online or in-person can give an excellent boost to your CAT preparation. You can learn question-solving techniques and tricks and find other aspirants to interact with. You can also use coaching to brush up on concepts in which you are weak.

The most important aspect that coaching brings is that it takes the mental pressure off to some extent. You basically outsource the task of theory learning to another individual who can do it professionally and, in most cases, quicker than you can at home.
Also Read:CAT 2022: Check Seat Reservation Policy at IIMs
Keep Your Confidence Up
CAT preparation while working can take a toll on your mind. It can get overbearing in the starting days and you may want to give up. However, it is important to keep your confidence up and keep going.

You may get demotivated by thinking that your preparation will not be enough and you will not get a good score. However, with the right attitude, correct preparation strategy, and discipline, you will be able to crack the exam.

Having an idol or a target IIM in mind while preparing can also help a lot to guide your efforts during CAT preparation.
CAT 6-Month Study Plan
Working professionals may not able to take out much time from their daily schedule for CAT 2022 preparation, however, coming up with a study plan and studying for 2-3 hours daily can help them crack the exam. Here is a CAT 6-month study plan that candidates with jobs can easily follow:
Month

Plan

Month 1 (June)

Start your preparation with Quantitative Ability and Logical Reasoning

Month 2 (July)

Continue with Quantitative Ability and Logical Reasoning and start Verbal Ability

Month 3 (August)

Finish Quantitative Ability and continue with Verbal Ability

Month 4 (September)

Finish Logical Reasoning and Verbal Ability

Month 5 (October)

Start and finish Data Interpretation

Month 6 (November)

Solve previous years' question papers, take mock tests regularly, memorize formulas, and revise QA, LR, VA, DI
CAT 2022 Time Table
IIM Bangalore released CAT 2022 notifications on July 30, 2022. Here are important CAT 2022 events and dates candidates must be aware of:
CAT 2022 Events

CAT 2022 Dates

CAT 2022 Notification Release Date

July 30, 2022

CAT 2022 Registration Start Date

August 30, 2022 (10:00 AM)

Last Date of Registration

September 14, 2022 (5:00 PM)

CAT Application Form Correction Date

Fourth Week of September 2022

Mock Test Release Date

First Week of October 2022 

Admit Card Release Date

October 27, 2022

Official Tutorial Release Date 

First Week o0f November 2022

CAT 2022 Exam

November 27, 2022

Morning Slot: 8:30 AM to 10:30 AM
Afternoon Slot: 12:30 PM to 2:30 PM
Evening Slot: 4:30 PM to 6:30 PM

Answer Key Release Date

First Week of December 2022

Answer Key Challenge Process Start Date

First Week of November 2022

Final Answer Key Release Date

Last Week of November 2022

CAT 2022 Result Date

First Week of January 2023
Is it Possible to Crack CAT 2022 While Working?
This is one question that many CAT aspirants holding full-time jobs often ask themselves. It is also what prevents many from taking the first step towards CAT 2022 preparation. If you are one of those aspirants, you should probably take a look at the IIM Batch Profile data given below.
This is not just true for the recent data but for the previous year's IIM admissions as well. The majority of the students joining the PGP batches of IIMs have been students with prior work experience.
It just goes to show that yes, it is not only possible to crack CAT while working but a significant number of MBA candidates are already doing it. So, there is no reason that you cannot. Preparing for CAT while working mostly includes:
Also Read:Distance Learning Courses in Management: Colleges, Fees, Eligibility, Application, Selection
CAT 2022 Preparation Basics
CAT preparation can get overwhelming at times, due to which students tend to miss out on some basics that play an important role in their selection for the exam. Here are some CAT 2022 preparation basics working professionals must take note of:
When Is the Best Time to Start CAT 2022 Preparation?
As per the CAT preparation experts, 6 months is the ideal preparation time for CAT. Since CAT 2021 is scheduled to be conducted in November, the preparation for CAT should ideally begin in May or June 2021.
How Much Study Time Per Day Is Required for CAT?
Ideally, a 4-5 hour study schedule per day is enough for CAT preparation if you are following a 6-month preparation strategy. However, if you have a busy schedule, at least 3 hours of study per day is mandatory to crack CAT in 6 months. In this case, you can spare extra time to study on the weekends.
Whatever time and schedule you choose, the most important part would be to stick to it. Ensuring that you are not compromising with your CAT preparation daily is essential.
How Much Importance Does Practicing Have in CAT Preparation?
Regular practice is the key to cracking CAT. Some experts say that up to 80% of CAT preparation must be reserved for practice. Even if you want a more conservative split, you must dedicate 2/3rd part to practice and 1/3rd to theoretical study.
Taming the CAT while working is not easy but it is quite common to see working candidates shift out of their workplace and into an IIM Campus. You can also check these other related articles that will help you become a better aspirant for CAT.
If you have any doubts or queries, please ask them on the CollegeDekho QnA Zone. For admissions-related inquiries, fill out our Common Application Form (CAF) or call 18005729877 to talk to our counselor.