CAT Question Papers are the best source to prepare for the CAT exam. They not only help the candidates understand the exam structure but also help the candidates to know what type of questions they can expect in the exam. Since the Common Admission Test (CAT) is one of the most difficult management entrance exams, solving CAT Question Papers can help the candidates to ace the exam. Candidates can also utilize the CAT Previous Years' Question Papers to identify their strong and weak areas so that they can prepare their preparation schedule accordingly. 
The best part about solving CAT Question Papers is that you will get a variety of problems from all the sections. They will help in adding a final touch to your preparation and will strengthen your concepts. 
CAT Previous Years' Question Papers
Candidates appearing for CAT 2020 may download the previous years' questions papers of CAT provided below. They can click on the direct links provided with each year in order to download the question paper of that particular year.
| | |
| --- | --- |
| Year/ Shift | Direct Links to Download CAT Question Papers |
| CAT 2019 (Morning Shift) | |
| CAT 2019( Evening Shift) | |
| CAT 2018 (Morning Shift) | |
| CAT 2018 (Evening Shift) | |
| CAT 2017 (Morning Shift) | |
| CAT 2017 (Evening Shift) | |
Also Read: How to Crack CAT 2020 in 2 Months: Useful Section-wise Tips for Aspirants
How to Download CAT Previous Years' Papers?
You are advised to solve the maximum number of CAT question papers. All the question papers of CAT are provided on this page. You can download the question paper of 2019, 2018 and 2017 from the table provided above. Steps for downloading the question papers of CAT are listed below.
You can choose the CAT previous years' question paper from the table provided above

After that, click on direct link of that particular year

You will be redirected to the question paper

You can then download the question paper after clicking on the download button provided on the page

You can also take a print out of the question paper
Also Read: Important Topics for CAT 2020: Expected Subject-Wise Weightage
Advantages of Solving CAT Question Papers
There are many advantages to solving CAT question papers. Some of them are provided below.
The question papers of CAT will help you improve your time management skills. The total duration of the CAT exam has been reduced to 2 hours from 3 hours. You will have to work on your time management skills so that you can complete the exam on time. 

CAT question papers can help you to analyse your preparation. You can solve the question papers to know which section requires more preparation.

Solving question papers of CAT can help you develop shortcuts to solve the same kinds of problems quickly. 

CAT question papers can help you practise a maximum number of questions papers from a topic. 

One of the major advantages of CAT question paper is that it helps in understanding the difficulty level. The previous years' question papers will give you an idea of the difficulty for each topic mentioned in the syllabus of CAT 2020.

While solving a question paper of CAT, you will face problems randomly. This will help you be prepared for each type of question.

Some of the topics such as Critical Reasoning, Data Interpretation, Reading Comprehension require a lot of practice. You can solve questions from the previous years' question paper of CAT to have more practice questions for these kinds of concepts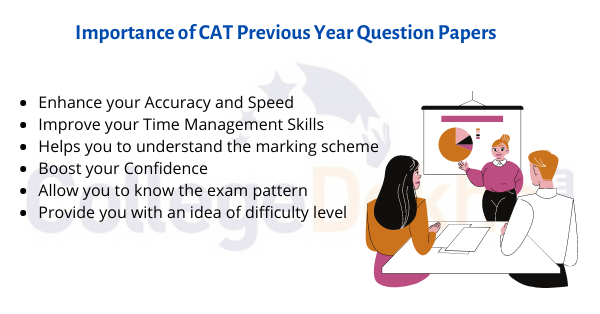 When Should I Begin Solving Previous Years' CAT Question Papers?
There is no fixed time for solving question papers of CAT. You are advised to start solving question papers as soon as possible. You can either solve the section-wise or topic wise question papers. Those who are not good at any particular topic or section may download the section-wise question papers from the internet and start solving it. It will help you to strengthen your concepts. You are further advised to analyse what mistakes you have made and try to work on them.
Also Read:CAT Predicted Question Paper 2020 - Important Topics, Chapters, Analysis
Who Should Solve CAT 2020 Question Papers?
All the CAT aspirants are advised to solve question papers of CAT 2020. The question papers will be beneficial for the candidates who are appearing for the CAT exam for the first time. They can download the question papers to know what type of problems they can face in the exam. Besides this, it will also help them to get an idea about the time required to solve each type of question. 
Changes in the CAT 2020 Exam Pattern
As per the updated exam pattern of CAT 2020, you will get 40 minutes to answer each section. The maximum time allotted for the exam is 2 hours(earlier it was 3 hours). Besides this, the exam will be conducted in three sessions, morning shift (8:30 AM – 10:30 AM), afternoon shift (12:30 PM – 2:30 PM) and evening shift (4:30 PM – 6:30 PM). Marking scheme of CAT 2020 will remain the same as that of previous years' edition of the CAT exam. 


Preparation Tips for CAT 2020
You are advised to plan a schedule before starting your CAT preparation. You can go through the syllabus of CAT to know all the topics that will be covered in the entrance exam. After that, you can start your preparation according to the schedule. You can solve CAT 2020 mock test papers to identify your strengths and weaknesses. Some of the articles provided below will help you know some preparation tips for the CAT entrance exam.
CAT 2020 will be conducted on 29th November 2020. The CAT 2020 Admit Card has been released on 28th October 2020. Candidates may check their exam centre and exam day guidelines from the CAT 2020 Admit Card. Through the CAT 2020 college predictor and the  CAT 2020 percentile predictor, candidates can get an idea of the percentile they will score and the colleges which can call them for admission. Those who have any query related to CAT 2020 exam can ask questions on the Collegedekho QnA zone.
For admission-related assistance, call on our toll-free number 1800-572-9877 or fill our Common Application Form.
All the Best for CAT 2020!