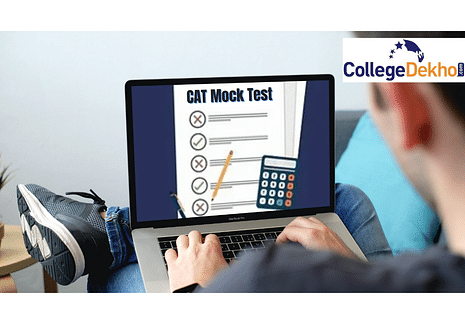 Importance of CAT Mock Test During Preparation: CAT mock tests are an integral and invaluable component of your CAT preparation. IIM Lucknow has activated the CAT 2023 mock test links for different categories along with the CAT 2023 Mock Test Navigation Guide to help candidates access the online mock test and become familiar with the instructions, features, and procedures of the Computer-Based Test.
If you are appearing for the CAT 2023 exam, you must attempt at least 10-15 CAT 2023 Mock Test tests before the real exam to get an understanding of your preparation level. The questions asked in the mock test are generally taken from the CAT previous year question papers. These mock tests will give you an insight into the actual CAT syllabus 2023, exam pattern, and marking scheme. Moreover, you will be able to identify your weaker areas and can work on them to ensure you are all set to crack the CAT 2023 exam.
The CAT 2023 exam has been conducted by IIM Lucknow on November 26, 2023, in three slots in 155 test cities across India. More than 2 lakh candidates are expected to appear in the exam. With the number of CAT aspirants increasing every year, the competition to get admission into IIMs and other popular management colleges is on the rise. Candidates must leave no stone unturned to ensure they give their best performance on the day of the exam. Taking CAT Mock Tests is probably the most important aspect to feature on your checklist for CAT 2023 preparation. Read further to know everything about the importance of the CAT 2023 Mock Test.
Also Read: Important Topics for CAT 2023 Algebra and Modern Maths
Official CAT 2023 Mock Test: Important Links
Candidates must check out the links related to the CAT 2023 mock test mentioned in the table below: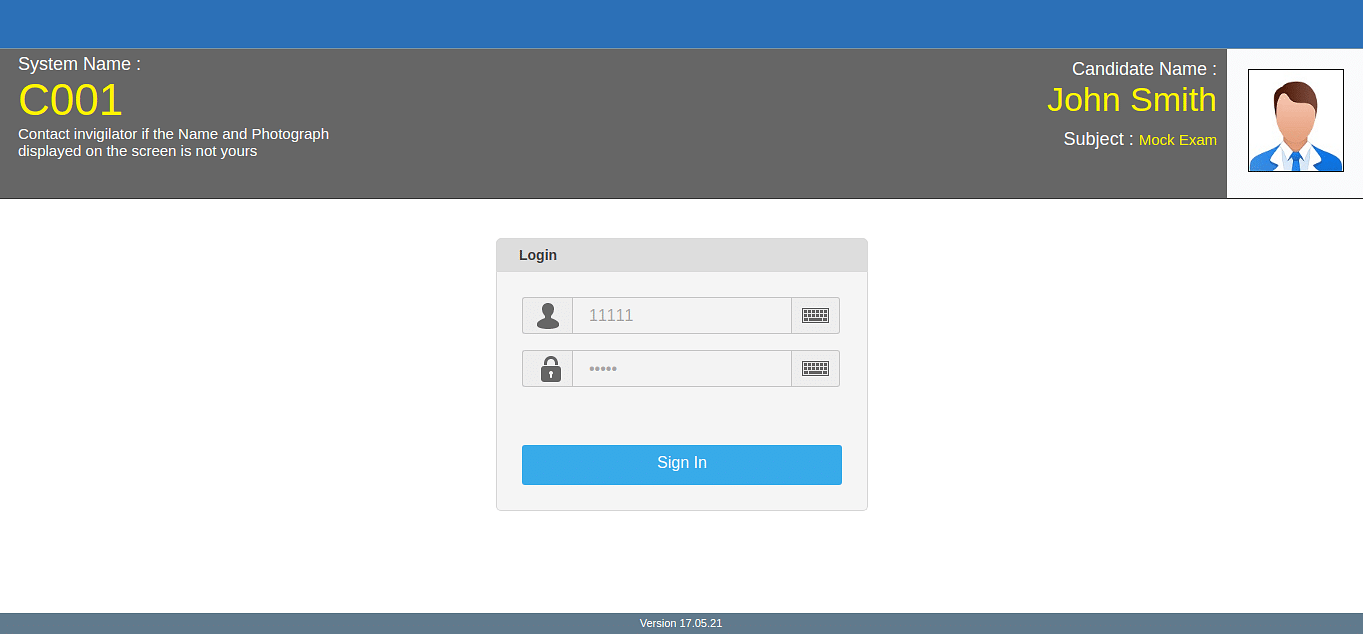 What is CAT 2023 Mock Test?
Mock tests are useful learning resources for candidates preparing for the CAT 2023 exam. A mock test is a close replica of the actual CAT exam 2023, which gives you a fair idea of how to approach CAT 2023 question paper. It works like a practice test that you take before the exam day to become familiar with the exam pattern and the marking scheme. Also, you get an idea of the format and the type of questions to expect in the examination.
Also Read: How to Start CAT Preparation 2023 from Scratch
CAT 2023 Official Mock Test: Key Features
The CAT mock test 2023 is the most reliable method of tracking performance and comparing your performance to that of other CAT applicants. The CAT mock exam 2023 must be approached by candidates in the same way as they would the CAT 2023 actual exam. The benefit of taking practice tests and mock exams is that you have several opportunities to switch up your exam strategy and see which one yields the best results. You must, however, always take the most recent mock exams, created using the most recent exam style and grading scheme. The CAT 2023 official sample test, which can be obtained on the CAT 2023 official website, is the most obvious option for CAT practice exams. Here is the test pattern followed by the CAT mock test 2023.
Particulars

Details

Types of Questions

MCQ and Non-MCQ (TITA)

Total Number of Questions

66

Exam Duration

2 hours (40 Minutes Per Section)

Total Marks

198

Examination Mode

Online

Examination Language

English

Exam Charges

Free of Cost

MCQ Choices

4

Answer Status

Answered

Not Answered

Not Visited

Marked for Review

Other Features

Onscreen Calculator, Onscreen Timer

Why Take the CAT 2023 Mock Test?
CAT 2023 Mock Test will help you know the type of questions that will be asked in the exam. The best part of taking Mock Tests is that you get to know your strengths and weaknesses beforehand so that you can work on them accordingly. Besides this, there are many advantages to taking a CAT Mock Test paper, such as:
The mock test helps you become familiar with the exam pattern, which eventually builds up your speed and confidence to take the actual test later. You can become acquainted with the format of the questions, the topics included in the questions, and which areas are of greater importance than others by taking mock examinations. 
CAT is a time-bound exam with strict sectional time limits. Learning time management techniques is greatly aided by taking mock tests. A mock test allows you to see how much time you have to complete each section. 
Mock tests are a wonderful approach to familiarise yourself with the various types of CAT questions that you are likely to encounter in the CAT exam. You may begin to develop an understanding of how you can answer the questions in the least amount of time by taking frequent mock exams. 
It evaluates and assesses your overall performance over the course of your preparation. Mock tests provide a clear assessment of your current level of preparation. You can gauge your strengths and weaknesses, allowing you to focus your efforts on areas that need improvement. 
Students may identify their areas of weakness and make improvements with the help of mock tests. To enhance their performance in the CAT exam, it is critical for students to recognize and address their areas of weakness.

It improves your accuracy in solving various types of questions, which is important for the actual exam. CAT mock tests are an excellent method to boost confidence before the real examination. They facilitate the identification of weak points and offer a realistic test-taking experience. You may find out what you need to improve on and prevent surprises on test day by taking a mock test.
Also Read:CAT Predicted Question Paper 2023
When to Take CAT 2023 Mock Test?
It is recommended that candidates should analyze their CAT 2023 preparation regularly to know their preparation level. They should try to solve at least 1 to 2 CAT Mock tests in a week. However, the frequency of giving mock tests for the CAT exam 2023 should be doubled when just two or three months are left for the exam.
Candidates are further advised to give a mock test before starting the preparation for the exam so that they can know the exam pattern and structure. Solving the CAT 2023 Mock Test regularly will also help candidates build the necessary mental stamina to sit in the exam for 120 minutes.
Also Read: MBA Entrance Exams 2023-24 in India
How to Take CAT 2023 Mock Test?
The CAT 2023 Mock Test Navigation Guide provided above is extremely helpful in understanding how to take the mock test. Candidates can also check the following steps provided below to take CAT 2023 Mock Test:
Go to the official website of CAT 2023.

Click on the "CAT Mock Test 2023" tab

Enter your login details

You will be redirected to a page containing some instructions.

Read all the important instructions

Once done, click on the checkbox and Proceed

CAT 2023 Mock Test will then appear on the screen
Types of CAT 2023 Mock Tests
CAT 2023 Mock Tests are available in three different formats. You can either appear for Full-length Mocks, Topic-wise Mocks, or Sectional Mocks.
Full Lenght Mock Test: This type of Mock Test paper will cover all sections. The exam pattern of full-length mocks will be the same as that of the CAT exam. Candidates may appear for this type of mock test series once they have completed the whole syllabus.

Topic-Wise Mocks: This type of Mock Test paper is topic-specific. Candidates may select any topic for which they want to give the exam and then they can start answering the questions. This will allow the candidates to understand all types of questions that can be asked in the exam for that particular topic.

Sectional Mocks: Since the CAT exam is divided into three sections, this type of mock will help the candidates to analyze the performance for one particular section. The sessional mocks are beneficial for candidates who are not confident about any particular section.
Also Read: CAT vs CMAT, NMAT, XAT, SNAP & Other MBA Entrance Exams
CAT 2023 Mock Test Marking Scheme
Since the CAT 2023 Mock Test is a replica of the actual CAT 2023 exam, they will follow the same marking scheme of CAT. As per the CAT exam pattern 2023, +3 marks will be awarded for each correct answer while one mark will be deducted for an incorrect answer. The marking scheme of the CAT Mock Test is provided below.
| Type of Question | Correct Answer | Incorrect Answer |
| --- | --- | --- |
| MCQ | +3 | -1 |
| Non-MCQ or TITA Questions | +3 | 0 |

CAT 2023 Mock Test Pattern
CAT 2023 mock test pattern will be similar to the CAT exam pattern. Here's the number of questions asked in every section and the time allotted to them:
| CAT 2023 Section | No. of Questions | Time Duration |
| --- | --- | --- |
| Verbal Ability & Reading Comprehension | 24 | 40 Minutes |
| Data Interpretation & Logical Reasoning | 20 | 40 Minutes |
| Quantitative Ability | 22 | 40 Minutes  |
| Total | 66 | 120 Minutes |
A total of 66 questions will be asked in the CAT exam.

The duration of the CAT paper will be 2 hours. No extra time will be allotted.

CAT will be divided into 3 sections namely Data Interpretation & Logical Reasoning (20 questions), Verbal Ability & Reading Comprehension (24 questions), and Quantitative Ability (22 questions).

The maximum time allotted for each section will be 40 minutes.

Candidates will not be allowed to switch between sections.
Also Read:
How to Answer MCQs in CAT Mock Test 2023
The majority of the questions on the CAT 2023 and the official CAT mock test will be multiple-choice (MCQ) questions. Thus, it is crucial that aspirants know the correct method of using the CAT 2023 exam interface to answer the MCQs. Instructions on how to answer MCQs in the CAT mock 2023 are given below:
Candidates should select the correct answer bubble by clicking on the visible question number on the tray.

Candidates should only click on the "Save and Next" button if they are sure that their answer to a particular question is correct.

Candidates should click on the "Mark for Review and Next" button when they are unsure about their answer and wish to reconsider it later during the exam.

Answers will not be saved if candidates don't select any option.
CAT Mock Test 2023: Important Guidelines
The CAT 2023 mock test performance reflects how well aspirants will perform in the actual CAT 2023 exam. Some important tips for candidates for the CAT mock test 2023 are given below:
Don't spend too much time on a single question. Each question in the CAT exam 2023 should be ideally solved in three minutes.

Always double-check your answers before moving on to the next question.

Refrain from using the on-screen calculator for trivial calculations as they can be difficult to use. Practice doing mental maths for faster calculations and to save time during the CAT 2023 exam.

Before moving to the next section, check the status of all the questions on the right-hand side of the screen. Make sure all the questions are answered and no question is left un-attempted or "Marked For Review".

Make sure to use the Scribble Pad provided during the CAT 2023 exam for complex calculations.

Stick to your pre-planned CAT exam 2023 strategy while answering the questions to avoid getting stuck.
Solving mock tests helps you target the loopholes in your exam preparation so that you take timely action to be better prepared for the exam day. Cracking CAT 2023 exam will not be a big deal if you stick to the right preparation strategy and some of the tips mentioned above. So, hit the bull's eye, and give your best shot in CAT 2023!
Meanwhile, you can check some articles provided below while preparing for MBA Entrance Exams.
Related Articles:

If you have any doubts, you can consult the experts on the CollegeDekho QnA Zone. Besides this, if you need any admission-related assistance, you can call our toll-free number 18005729877 or fill out the Common Application Form. Stay tuned with us for more informative articles!