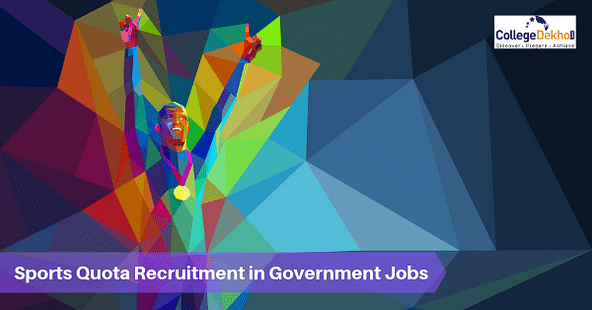 Sports quota is a very popular quota which exists in mostly all sectors of government jobs and academia. The aim of the sports quota is to financially support sportsmen in the country so that they get proper resources to represent themselves and their teams in various sports. Universities such as Delhi University (DU) Also Offer Admission Through Sports Quota.
If a person is a recognised sportsperson who has been given recognition by the Central or State Government, he/she is eligible for Sports quota jobs in both central as well as state governments. There is a list of accepted sports which has all the sports which will be recognised by the governments for sports quota jobs.
Sportsperson who represent the country in international events is given the top priority for appointment in sports quota. People who have represented the country in Asian Games, Federation Cup, South Asia Federation Games, World Cup, Olympics, Commonwealth Games, USIC Championship and many more sports activities are also given the priority for selection through sports quota in jobs.
Job Sectors in India Basis Sports Quota
Many job sectors in the central government and state government take sports quota seriously. Some government sectors where sports quota is present are as follows:
Indian Army
Indian Railways
State & Central Police Forces
Government Banks
Central and State Government Universities
The jobs mentioned are offered to the sportsperson to ensure job security for them and provide them with enough time to practice the sports activities they are engaged in. The job is given to ensure that they excel in their endeavour in sports.
Sports Recognised by Indian Central and State Governments for Sports Quota
There is a list of sports which the Indian central government and the state governments recognise. There are a total of 43 sports which are recognised by the government. The 43 sports are as follows:
Archery
Atya-Patya
Badminton
Ball-Badminton
Athletics (including Track and Field events)
Bridge
Carrom
Chess
Cricket
Basketball
Billiards and Snooker
Boxing
Football
Golf
Gymnastics (including Body Building)
Cycling
Equestrian Sports
Ice-Skiing
Ice-Hockey
Ice-Skating
Judo
Karate-DO
Kayaking and Canoeing
Handball
Hockey
Kabaddi
Rifle Shooting
Roller Skating
Rowing
Soft Ball
Squash
Swimming
Table Tennis
Taekwondo
Tenni-Koit
Kho-Kho
Polo
Powerlifting
Volleyball
Weightlifting
Tennis
Wrestling
Yachting
The candidates who are recognised sportsperson by the state in any of the above-mentioned sports are given recruitment directly in Group C and Group D level of staffs.
Sports Quota Jobs Eligibility Criteria
Different job sectors have different eligibility criteria which need to be met by the candidates who apply for jobs through sports quota. However, there is are certain common things which are similar in almost all sports quota admissions. Some of the common eligibility criteria for sportspeople are as follows:
Should have represented his/her state or nation in national or international sports events.
Represented his/her university in inter-university sports competition.
Or represented any state school team in inter-state school competitions organised by the All India School Games Federations.
Or awarded the National Award of Physical Efficiency under the Drive of National Physical Efficiency.
The slab-wise eligibility criteria are described below:
Grade Pay 2,400/2,800 Slab Eligibility Criteria
Should have passed bachelors degree from any UGC recognised university in India.
Should have participated in the Olympic Games.
Or participated in the World Cup Tournaments.
Or achieved at least the 3rd place in any of the Commonwealth Games, Asian Games or other World Championships.
Grade Pay 1,900/2,000 Slab Eligibility Criteria
Must have passed 10+2 level of studies.
Must have participated in any of Category B tournaments and achieved 3rd position at least in a category C championship or event.
Or participated in any of the Category B tournaments and achieved 3rd position at least in any of the Senior, Youth, Junior National Championships or National Games organised under the aegis of Indian Olympic Association.
Or participated in any of Category B tournaments and achieved 3rd position at least in All India Inter-University Championship organised by the Association of Indian Universities.
Or participated in any of Category B tournaments and achieved 1st position in Federation Cup Championships under the Senior Category.
Grade Pay 1,800 Slab Eligibility Criteria
Must have represented the country in any category C sports event
Or participated and scored at least the 3rd position in the Senior Category Federation Cup Championship
Or represented his/her state in any of senior, youth or junior category national level championships except Marathon and Cross Country.
Or secured the 3rd place at least in any Senior Category State Championship
Sports Quota Jobs Selection Process
The selection of the candidate under sports quota depends on many parameters as per which the candidate is evaluated by the recruitment officers. The parameters are as follows:
Merit (Written Test)
Sports Trial
Medical Test
Interview
The above-mentioned tests are conducted one after the other to filter out candidates for getting job sports quota. After the candidate has proven himself/herself successful in the merit and fitness activities, he/she is called for the final interview round basis which, he/she can get a job.
Also Read:Punjab Sports University to Begin Admission in September
Sports Quota Recruitment Order of Preference
Given below is the order of preference which exists for sports quota recruitment:
First Preference: The sportsperson who has represented the country in international events will be given the first preference. He must have a clearance certificate from the Department of Youth Affairs and Sports.

Second Preference: The next in the preference list is the candidates who have represented their State or Union Territory in Inter-States national sports events and won medal or recognition. The sports the candidate has taken part in must be recognised by the Department of Youth Affairs and Sports organised by Indian Olympic Association.

Third Preference: The third preference in the sports quota admission is given to the candidates who have represented a university in India in an Inter-University Sports event and have acquired the third position at least. The sports events must be organised by the Association of Indian Universities.

Fourth Preference: The 4th preference of sports quota recruitment is given to a sportsperson who has represented a state-school in national level inter-school competitions organised by All-India School Games Federation. The candidate must have won the 3rd position at least.

Last Preference: At last, if seats are still vacant, the candidates who have got national recognition at least in two physical efficiency drive nationally will be considered for recruitment.
Also Read:DU Entrance Exam For (B.Sc) Physical Education & Sports Sciences 2019 - Admission Process
The Human Resource Development Ministry (HRD) releases the sports quota recruitment notification from time-to-time depending on the availability of vacancies in government sectors. State government recruitment ministries also release sports quota recruitment notifications. The recruitment in Sports quota follows the same structure in central and state government entities.