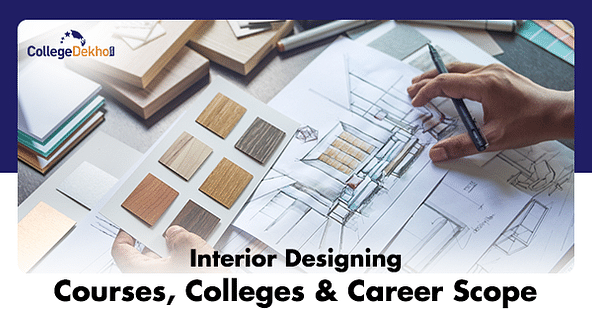 Interior Designing courses are popular choices for candidates who want to foray into the field of design. The rapid urbanisation has increased the demand for interior designers and interior designing courses as residential areas have been subjected to vertical growth and real estate owners want to accommodate the best designs in minimum space.
There are various domains of interior design courses that may vary from furniture designing, fittings, space utilization to management. With various universities now offering formal interior design courses, you can opt for either certificate, diploma or degree programmes after successfully completing class 12. Following are all the details that you need to know about interior designing courses
Skills required for Interior Designing Courses
In order to become a good interior designer, it is essential to have a creative thought process and to come up with new ideas.
The originality of concepts is another essential aspect that interior designers are supposed to possess.
Excellent drawing is one of the most important skills for this profession.
Good listening and communication skills are also required to understand the demands of the client with precision.
Interior designers are also required to be in touch with the industry requirement.
Type of Interior Design Courses
There are various colleges that offer interior designing programmes at the undergraduate level. You can also pursue masters in the same field. Make sure that you choose your specialisation carefully. Business design, landscape design, and residential designs are some of the specializations that you can choose from.
B.Design (Interior & Furniture)
B.A. Honours (Interior Design)
B.A. in Interior Design
B.Des in Interior Design
B.Sc in Interior Design
B.Sc Honours (Interior Design)
M.Sc in Interior Design
M.Des in Interior Design
Master in Interior Design
Diploma in Interior Designing
Bachelor of Interior Design
Although the courses mentioned above are the best way to foray into the field of interior designing, you can also pursue the field after graduating from the field of architecture, design, fine arts, environment planning, etc.
Interior Design Online Courses
With the expansion of the interior design industry, the job of an interior designer is becoming more popular now.  Getting interior designer jobs that come with a lucrative salary is not a dream now but it is a reality for many youths. A large number of youths are coming to this education sector who have adequate knowledge and industry-required skills. The contribution of the interior design courses is noticeable in this regard.
The demand for interior designing courses is getting high these days. And to meet the requirements of the education sector of interior design, numerous online platforms have brought different online courses. Some of them are tabulated below:
| Course Name | Duration |
| --- | --- |
| How to Use Color Like a Pro | 2 hrs |
| The Complete Sketchup and Vray Course for Interior Design | 11 hrs |
| How to Design a Room in 10 Easy Steps | 2 hrs |
| Design is in the Details: How to Accessorize Like a Pro | 3 hrs |
| How to Work with Interior Design Styles Like a Pro | 6hrs |
Interior Design Online Course Benefits
The interesting benefits that come with these online interior designing courses are as follows:
All the online courses in interior design are not very time consuming
Candidates can pursue the course at their comfortable place and time
Most of them are conducted on an hourly basis
And most importantly, the course fees of these online courses are very low
Interior Design Course Eligibility
The eligibility criteria of the interior design courses differ depending on their purpose, colleges, and target students. However, a general eligibility criterion is mentioned here for the interior design aspirants:
Candidates need to have (10+2 ) qualifications and a minimum of 50% marks at the same
Some colleges expect the candidates to have studied Physics and Mathematics as a compulsory subject at their 10+2
In colleges where the merit-based admission process is conducted, candidates need to have 80% marks in the previous exam to be eligible for the course.
For a diploma course in interior design candidates should have at least 50% marks in their 12th. Candidates of any stream can apply for a diploma course
Post graduate diploma in interior design requires a graduation degree with a minimum of 55% marks. Candidates must be graduated in the relevant stream
To pursue MA, MSc, and MBA courses in interior designing, a candidate should have passed the graduation degree from a recognized university and must score at least 55% to be eligible for the course
B.Des, BA, BSc in Interior design requires 10+2 qualification with 55% marks
Fees for Interior Designing Courses
The fees of interior designing programmes will depend on the type of course and the institute/ university where you are planning to get enrolled. Mostly private universities such as Amity University and Lovely Professional University charge more than the central universities and colleges. The fees of some of the popular design colleges are mentioned below:
| Name of Course | Name of Institute | Fees |
| --- | --- | --- |
| BA in Interior Design | Arch College of Design and Business | Rs. 60,000-Rs 4,00,000 |
| BDes in Interior Design | Chandigarh University | Rs. 10,000- Rs. 5,00,000 |
| B Design Interior and Furniture | Lovely Professional University | Rs. 1,20,000 (Per semester) |
| MSc in Interior Design | International Institute of Fashion Design | Rs. 20,000- Rs. 4,00,000 |
Also Read:Here's all you should know about the Career & Job Options in the field of Fashion Designing
Top Colleges for Interior Designing Courses in India
Here is a list of some of the best Interior Designing colleges in India.
Also Read:Here are Top 10 Colleges to Pursue Design in India
Job and Salaries after Pursuing Interior Design Courses
The interior designing industry is still on its way of development as people have not yet explored the field. There is a lot of scope for jobs once you have successfully completed a programme from one of the good colleges. With a sacristy of professional interior decorators, you can prove your mettle and get to work with some of the best firms in this field. Check some of the popular interior design job roles in the table below: 
| Job Roles | Key Responsibilities |
| --- | --- |
| Residential Interior Designers | Styles home as per clients' needs and recent trends. |
| Commercial Interior Designers | Styles workspaces like hotels, stores as per clients' needs and create an appealing visual effect in the space. |
| Lighting Designers | Work on lighting effects and create adequate lighting. |
| Kitchen Design | Work on kitchen interiors according to the customers' requirements |
| Exhibition Designers | Focuses on exhibition design, work on venue décor, floor management etc.   |
Salaries in this field depend on experience. However, graduates can expect to get an entry-level package of Rs. 10,000 to Rs. 15,000. With experience, one can expect the salary to reach up to Rs. 30,000 to Rs. 75,000. The average salary of an Interior designer in India is approx Rs. 3.2 Lakhs per annum. Salary of interior designer per month in some of the popular companies are mentioned below: 
| Company Name | Average Salary (Approx) |
| --- | --- |
| Urban Clap | Rs. 90, 979 |
| Design Cafe | Rs. 44, 270 |
| Home Lane | Rs. 90,000-100,000 |
| The Hub | Rs. 34,000 |
For more information on interior design courses, stay tuned to CollegeDekho!