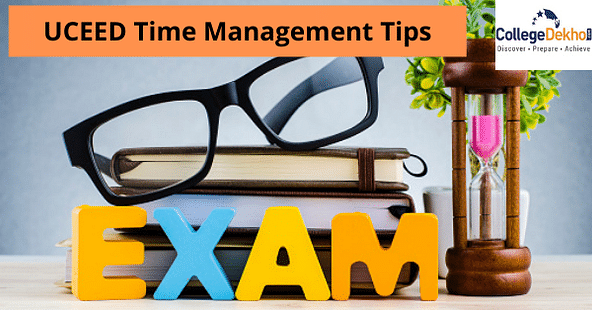 Managing time for an exam is always a tricky task. UCEED is one such design entrance exam that needs to be wrapped up within 3 hours. The exam consists of aptitude and reading comprehension questions which are highly time-consuming. It is crucial for an aspirant to be aware of the time management tips for UCEED 2023 to acquire maximum marks and get admission in one of the best colleges accepting UCEED scores.
Candidates need to be familiar with the exam pattern of UCEED 2023 and have a plan of action so that no question is left unanswered. Read ahead to find out the UCEED 2023 Time Management Tips that an individual must follow to finish the design exam on time.
Time Management Tips for UCEED 2023
Enlisted below are a few time management tips for UCEED 2023 that need to be followed in order to ace the exam.
Check the Exam Pattern
An individual needs to be familiar with the exam pattern of UCEED 2023, to understand the nature of questions. Knowing the format of questions helps in developing the right strategy to approach the questions. Candidates get an idea of the marking scheme and find out areas where they can fetch maximum marks.
Work on Speed and Accuracy
Speed and accuracy are two major factors that can be enhanced by solving sample papers, mock tests and previous year's question papers. Having the right speed can help an aspirant in finishing up the exam on time. Along with speed, an individual should also not compromise on accuracy as UCEED has a negative marking scheme.
Allot a Definite Time for Each Question
UCEED has 69 questions in total. Part A comprises 68 questions that need to be completed in 150 minutes. Remaining 1 question is a descriptive answer type and needs to be wrapped up in 30 minutes. Therefore, it becomes essential to have a fixed time frame for each question.
As per the calculation, an individual must keep 2 minutes aside for each question in Part A. In the end, an applicant will be left with 14-15 minutes which he/she can utilise for revision or re-examining the answers.
Prioritise UCEED Exam Sections
Recognise your weak areas and strengths and prioritise the exam sections accordingly. Starting off the exam with areas that reflect your strengths help in building confidence for the rest of the exam. It also helps in kick-starting the exam at a good speed. 
Also Read: Seat Allotment List of UCEED 2023
Concentrate on the Picture-Type Questions
UCEED often has a few picture-type questions that are easy to understand and solve. Candidates can focus on solving as many picture-type questions as possible as unlike puzzles, aptitude type and comprehension based questions, they are not difficult to solve and are good for building confidence.
Calm your Nerves
Keeping a check on your nerves is very vital to keep the mind calm and get a good score in UCEED. It is only natural to feel pressured and stressed on the exam day. Having faith in your knowledge and confidence in your preparation can help in dealing with the exam day jitters. Staying calm helps focus better which will further reflect in the performance of the candidate.
Revise Proficiently
Revision is the most underrated factor that can determine the final result of UCEED. Keep a notebook with important topics so that you can revisit them. 
Keep Some Time Aside for Reviewing the Answers
Evaluating or reviewing all the answers, in the end, is a wise way to ensure that no mistakes have been made. An applicant must keep at least 15 minutes aside for going back to the already attempted answers and rectify errors. UCEED is a computer-based exam and one can easily navigate back and forth between the unanswered questions and questions marked for re-checking.
Also Read: Counselling Process of UCEED 2023
 For UCEED preparation tips, go through the links provided below.
Stay tuned to CollegeDekho for more information on UCEED 2023!