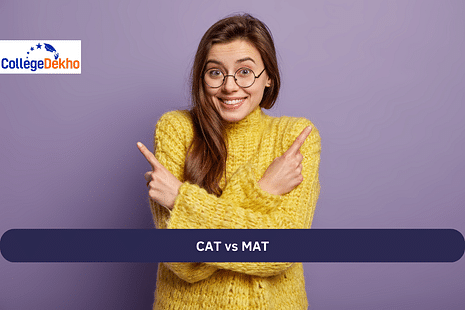 CAT vs MAT: CAT and MAT are the two most popular MBA entrance tests in India, Common Admission Test (CAT) along with Management Aptitude Test (MAT) will feature at the top of our conversation. CAT score has a premium value and is accepted by 20 IIMs & 1000+ reputed B-schools across the country. On the other hand, MAT is accepted by over 700 management institutes. Some of the top b-schools accepting MAT are GL Bajaj Institute of Management & Research, Dr. D.Y. Patil B School-Pune, ITM University, Christ University, JIMS Rohini, Amity University, OP Jindal Global University, Jain University, etc.
Even though it might seem like the two tests have an uncanny similarity in their syllabus, they are quite different in other aspects. However, CAT is difficult to attempt than MAT. Here, we will discuss the difference between CAT and MAT.
The biggest distinction as we divide into the CAT vs MAT discussion is the frequency of these exams. While the CAT exam is only conducted once every year, one can appear for the MAT exam 4 times a year. Understanding the distinctions between the CAT and MAT exams can aid you in placing your best foot forward.

Also Read: MBA Entrance Exams 2023-24
MAT vs CAT: Overview
Check the similarities and differences between the MAT and the CAT exams below:
MAT vs CAT Similarities
| | |
| --- | --- |
| Components | Details |
| Provides admission to courses, such as | MBA/PGDM |
| Level of Exam | National |
| Medium of Examination | English |
| Negative Marking | Yes |
MAT vs CAT Differences
Let's take a quick look at how CAT differs from MAT:
Parameters

CAT

MAT

Full-Form

Common Admission Test

Management Aptitude Test

Eligibility Criteria

Passing marks required in bachelor's degree

Bachelor's degree with a minimum of 50% mark

Who Conducts It?

IIM

AIMA

Frequency

Once every year [November]

4 times every year [February, May, September, and December]

Mode of Exam

Computer-Based Test (CBT) Only

Paper-Based Test (PBT)
Computer-Based Test (CBT)
Internet-Based Test (IBT)

Total number of Sections

3

5

Sections In Detail

Quantitative Aptitude (QA)
Data Interpretation & Logical Reasoning (DILR)
Verbal Ability and Reading Comprehension (VARC)

Language Comprehension
Intelligence & Critical Reasoning
Indian & Global Environment
Data Analysis & Sufficiency
Mathematical Skills

Total Questions

66

200

Exam Duration

120 minutes (2 hrs)

150 minutes (2.5 hrs)

Difficulty

Tough

Easier than CAT

Marking Scheme

+3 for every correct response & -1 for every incorrect response

+1 for every correct response & -0.25 for every incorrect response

Total Marks

198

200

Exam Fee

General & NC-OBC- INR 2400
SC/ ST/ PwD: INR 1200

One paper - INR 1950
Double Papers - INR 3100
Also Read: CAT vs CMAT, NMAT, XAT, SNAP & Other MBA Entrance Exams
MAT vs CAT: Who Conducts the Exam? 
Let us now find out who conducts the MAT and CAT exam:
MAT Conducting Body
The All India Management Association popularly known as AIMA conducts the MAT exam. It is the gateway for admission to 600+ Indian B-schools that provide PGDM/ MBA programs. The MAT exam is generally conducted in 3 formats: paper-based test (PBT), computer-based test (CBT), internet-based test (IBT).
CAT Conducting Body
For admission to PGDM/ MBA programs in top-tier management institutions of India like IIMs, the CAT exam is conducted once a year. It is conducted on a rotational basis by the different Indian Institute of Management (IIMs). Each year, one of the best IIMs is tasked with administering the CAT exam. CAT is an entirely computer-based test (CBT) that is widely regarded as the most difficult of all the MBA entrance tests. The CAT score has a premium value over other exams.
MAT vs CAT: Who All are Eligible to Appear for the Exam?
Here's who can be considered eligible for CAT and MAT exams:
MAT Eligibility
The MAT exam is a savior for people who did not perform well in graduation. The MAT exam is open to any graduate with a passing grade. There is no minimum age or percentage requirement for the MAT exam.
CAT Eligibility
To appear for CAT, there are certain requirements. Students must have a bachelor's degree from a recognized university/board. Also, they must have scored at least 50% aggregate or an equal CGPA. ST, SC, and PwD/DA candidates must garner at least 45% aggregate or its equivalent CGPA.
Also Read: List of Non-IIM MBA Colleges to Apply to Before & After CAT Exam
MAT vs CAT: Frequency of the Exam
The difference between MAT and CAT exam also includes the number of times they are conducted in a year. Explore the same below:
MAT Frequency
The MAT is administered four times a year, in the months of February, May, September, and December. The dates for IBT, PBT, and CBT tests vary, and candidates may select one or more exam modes. Exams in the CBT and PBT modes are administered in a single slot, whereas those in the IBT format are conducted in two slots. Candidates can select their preferred IBT slots.
CAT Frequency
Three sessions of the exam are held on a single day. The examination body assigns candidates their exam slots based on the receipt of the application.
CAT vs MAT Exam Pattern
The exam pattern of CAT and that of MAT is again different. Here's how:
MAT Exam Pattern
The exam paper for MAT typically includes questions from the Indian & Global Environment, Language Comprehension, Data Analysis, Mathematical Skills, Intelligence, along Critical Reasoning. The India & Global Environment section comes with GK questions and current affairs. The MAT exam paper contains 200 questions segregated into 40 each in various sections.
CAT Exam Pattern
Students who are attempting the CAT must answer questions from the Data Interpretation & Logical Reasoning (DILR), Verbal Ability & Reading Comprehension (VARC), and Quantitative Aptitude(QA) segment. Due to the raging COVID-19 pandemic, the exam period was shortened to 120 minutes (2 hours) and the number of questions was trimmed to 66 in CAT 2021 and the same pattern has been followed since.
Also Read: How Did the CAT Exam Pattern Change Over The Years?
MAT vs CAT: Exam Duration
Find out what is the difference between CAT and MAT exam duration:
MAT Exam Duration
In 150 minutes or 2.5 hours, candidates must answer all 200 questions on the MAT. There is no sectional time limit, so applicants can complete the paper in any sequence they choose. The India and Global Environment section scores are not taken into account when determining the MAT percentile, so candidates may choose to attempt it in the end or skip it entirely depending on their time constraints.
CAT Exam Duration
The CAT exam takes two hours or 120 minutes to complete. The time allotted for each section is 40 minutes. To complete the paper, candidates must proceed in the prescribed order, and the computer screen automatically advances to the next section when each section's allotted 40 minutes have passed.
MAT vs CAT: Difficulty Level
Find out the difficulty levels of both exams which are based on past year analyses. 
MAT Difficulty Level
Although the MAT has 200 questions, it is an easier exam compared to the CAT. The MAT questions range in difficulty from easy to moderate.
CAT Difficulty Level
CAT is one of the most difficult MBA entrance exams, despite having only 66 questions. Typically, the difficulty level of the exam is between moderate and high.
CAT vs MAT: Marking Scheme
Here's how CAT and MAT marking schemes differ. 
MAT Marking Scheme
There are a total of 200 marks on the MAT exam. Every right answer receives a +1 mark, while every incorrect one receives a negative marking of -0.25. When determining the final MAT percentile, the score from the India and Global Environment part is not taken into account.
CAT Marking Scheme
The total score on the CAT exam is 228. For every correct response, +3 marks are awarded, and there exists a negative marking of -1 point for each incorrect response. There will be no points deducted if a student chooses not to attempt a question. Non-MCQ questions do not carry any negative marking.

Also Read:
MAT vs CAT: Application Fee
The application fee for CAT and MAT also varies. Check out the same below:
MAT Application Fee
The MAT registration fee is Rs 1,950 for one paper (either CBT, PBT, or IBT). The fee for students who want to take two exams is INR 3100. 
CAT Application Fee
For the General and NC-OBC categories, the CAT exam registration fee is INR 2,400. The CAT registration fee is INR 1,200 for the SC/ ST/ PwD (DA) categories.
Top Colleges Accepting MAT Scores in India
In India, nearly 600+ MBA colleges recognize MAT scores. A list of universities that recognize MAT scores to enroll in their MBA programs is provided below.
Top Colleges in India Accepting CAT Score Apart from IIMs
What are the top 20 MBA colleges that accept CAT results in India apart from the IIMs? Well, they are listed below!
| | |
| --- | --- |
| School of Business, University of Petroleum and Energy Studies, Dehradun | |
| Mittal School of Business, Lovely Professional University, Phagwara | |
| Faculty of Management Studies (FMS), University of Delhi, Delhi | |
| Department of Management Sciences, Savitribai Phule Pune University, Pune | Institute of Management Studies, Banaras Hindu University, Varanasi |
| | |
| | |
| | |
| Prin LN Welingkar Institute of Management Development and Research, Mumbai | Indian Institute of Social Welfare and Business Management, Kolkata |
 Also Read: Best Time to Start Preparing for CAT 2023
Both the CAT and the MAT are national MBA entrance tests for management aspirants. The CAT is the most esteemed of all management entrance exams because acceptance into an IIM is likely the most significant stepping stone for the managerial aspirations of the candidates. Aspirants are frequently perplexed when deciding between the two because the management institutions available dependent on CAT scores vary significantly from those available based on MAT scores. As a result, it's critical to choose carefully between the two tests. The second most common admission exam for candidates seeking an MBA is the MAT.

By now, it should have become clear that MAT is easier than CAT. Because it is less challenging than the CAT exam, more students are registering to take the MAT. Candidates can opt to take the exam at their own pace because it is flexible enough to be offered four times a year. Although there is no such thing as simple or tough, your dedication to your goals will get you where you want to go. It is crucial that you choose your business school accordingly.

Let's hope that this article has quenched your thirst for knowing the difference between CAT and MAT. Stay tuned with us for more more such articles!
Related Links:

If you have any doubts or queries, please contact our experts in the CollegeDekho QnA Zone. For help regarding admission into MBA colleges, fill out the Common Application Form (CAF) or call our toll-free helpline number 1800-572-9877. Stay connected for more updates and news about CAT and MAT with us!