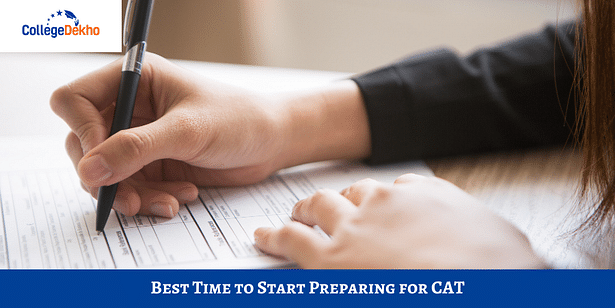 CAT aspirants are often curious regarding the best time to start preparing for CAT, especially when planning the preparation strategy for the exam. Many students and first time test takers tend to begin their preparation for CAT a year or even 2 years before giving attempting the actual exam. Although such an approach can be helpful for aspirants, especially first time test takers, but the ideal time to start preparing for CAT is different for every individual and depends on several factors.
The Common Admission Test, or CAT, is a highly competitive entrance exam conducted every year for admission to top management institutes in India, including the Indian Institutes of Management (IIMs). CAT 2023 exam will be conducted on November 26, 2023, but many aspiring management students have already started their preparations since the CAT registration 2023 started on August 2, 2023.

If a candidate wishes to achieve a high percentile score in the CAT exam, they must leave no stone unturned when it comes to CAT 2023 preparations. Since CAT is one of the most challenging entrance exams in India, taking into consideration the extreme competition, candidates must make sure they take every necessary step to make their preparation as effective as possible. With that being said, we will cover several aspects of the CAT preparation process including the best time to start preparing for CAT 2023 in the following article.
Also Read:
What is the Best Time to Start Preparing for CAT?
In order to know what is the best time to start preparing for CAT, aspirants must first identify their strengths and weaknesses and analyze how much time and effort they must invest to prepare for the CAT exam effectively. The best time to prepare for CAT is different for every aspirant, some aspirants need less time to prepare for CAT due to being proficient in one or all of the subjects assessed during the CAT exam. Others may need more time to prepare for CAT due to being unfamiliar with the CAT syllabus, thereby requiring more preparation time. 
It must also be noted that a sizeable chunk of the candidates who plan on appearing for the CAT exam are working professionals who have to balance their preparation time with their work schedule. During such a situation more time is required for preparation as candidates are not able to devote all their time to CAT. Therefore, candidates must take all factors into consideration and decide when it is the best time for them personally, to begin their CAT preparation.
CAT Preparation Strategy: Month-Wise
Even though different aspirants will start their CAT preparation at different times, candidates must follow a definite preparation strategy when preparing for the CAT exam. The CAT preparation strategy must cover every aspect of the exam and also help candidates test their preparation at regular intervals. Also, the preparation plan must be versatile enough to accommodate all types of preparation strategies regardless of the amount of time taken for preparation. That being said, candidates should take a look at the month-wise CAT preparation strategy provided below. This preparation strategy can be stretched to cover a longer preparation period or even shrunk to cover a shorter preparation period.
CAT Preparation Plan: Month 1
Assuming aspirants begin their CAT preparation at least 6 months before the exam, they should be beginning their preparation around June or July. In this stage of the preparation process, aspirants must focus on familiarizing themselves with the entirety of the CAT exam pattern, CAT syllabus and the basic concepts they are required to learn. The sole aim of aspirants must be to identify their strengths and weaknesses. During this time candidates should take at least one to two full-length mock tests to better understand where they stand when it comes to the CAT syllabus. Candidates must devote ample time to all three sections of CAT and divide their time between section-based revisions and preparation.
CAT Preparation Plan: Months 2 & 3
The aim of this stage of the CAT preparation is to completely understand and familiarize yourself with the CAT syllabus. This includes all the basic concepts, areas of study, all topics included in the syllabus, and every type of question that is asked in the exam. Candidates should approach this goal using a progressive method in which they must learn the Concepts first, then the Application of that concept, and finally test themselves on that particular concept. This method is also known as C.A.T:
Concepts: Learn and understand all the basic concepts and formulae included in the CAT syllabus.
Application: Try solving problems that utilize the concepts learned in the previous stage.
Test: Finally, test your knowledge of the concepts with the help of topic-based tests and sample questions.
CAT Preparation Plan: Months 4 & 5
This stage of the CAT preparation plan is a crucial step because it is at this stage that aspirants will be able to strengthen their strong areas and identify and improve their weak areas. In this stage, candidates must keep devising and experimenting with an examination strategy and incorporate new preparation resources in their schedule as well. Candidates must devote a sizeable chunk of time to the revision of topics and concepts during this time. CAT mock tests and practice exams are one of the most important aspects of this stage of preparation as these will help candidates make their examination strategy more effective.
CAT Preparation Plan: Month 6
The final month of the CAT preparation plan is very important for a lot of reasons. In this stage of the CAT preparation, candidates must not pressure themselves and start learning new concepts that may have been neglected during the previous months. In this stage, candidates should only take up topics for revision that they are intimately familiar with. Candidates must keep practicing mock tests and finalize their examination strategies. The key prerequisites for this stage would be to thoroughly analyze each component after each mock test, identify any problematic areas, work to fix these problem areas, and, most importantly, develop mental toughness.
Also Read:How to Use Calculator in CAT 2023
CAT 2023 Preparation: Things to Remember
Candidates have a wide range of options for CAT preparation. Having said that, candidates must go by a set of rules in order to make their CAT exam preparations effective. Check out the following preparation tips for the CAT exam:
Candidates must make sure to follow the most recent CAT exam syllabus and structure.
In order to thoroughly understand the CAT test pattern, aspirants must practice CAT question papers from previous years. Candidates may also develop exam strategies using the CAT tests from the previous year.
Candidates should focus more during their preparation of the most recent CAT themes.
Candidates are required to develop a test strategy that adheres to the CAT exam format. We are all aware that the syllabus is divided into three parts. These three CAT parts are Quantitative Aptitude (QA), Data Interpretation and Logical Reasoning (DILR), and Verbal Ability and Reading Comprehension (VARC).
Candidates must also learn from the best CAT preparation books. The finest publications help candidates obtain a sense of the kind of questions that will be asked on the CAT exam and how to answer each one.
It is wise to divide the CAT syllabus into many sections to make studying for the exam easier and faster.
CAT Best Coaching Institutes
Candidates must start preparing for CAT 2023 at the following coaching institutes.
CAT 2023 Preparation Guide
In order to prepare for the CAT exam, candidates must have every important tool at their disposal. That being said, candidates should take a look at the links mentioned below to aid them during their CAT preparation journey.
The best time to start preparing for CAT 2023 is now. With the exam being highly competitive and challenging, it requires extensive preparation and dedicated efforts to crack it. It is recommended to start preparing at least 6 to 8 months before the exam and to understand the exam pattern and syllabus. Creating a study plan, focusing on the basics, practicing with mock tests, building time management skills, and staying motivated are some of the key strategies that can help you prepare effectively for the exam. Remember to stay committed, work hard, and never lose sight of your goal. Good luck with your preparation!

Candidates should check out the articles mentioned below to learn more about CAT 2023!

Related Articles: 

Do you still have doubts related to the best time to start CAT 2023 preparation? Contact us through CollegeDekho QnA Zone or talk to our expert by giving a call at 1800-572-9877!