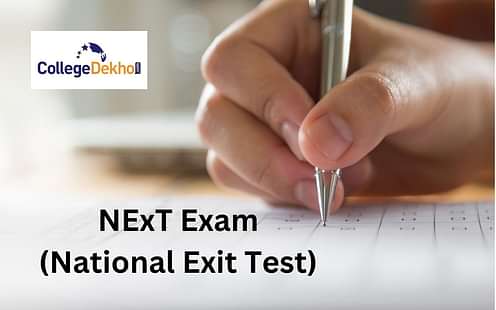 NExT Exam (National Exit Test) will be held in February 2028 for MBBS 2024 batch according to the academic calendar issued by the National Medical Commission (NMC) in its Competency-Based Medical Education (CBME) regulations 2023. Step 1 of the NExT exam is probably going to be conducted in August 2025. As per the latest update, NExT Step 2 is likely to take place in February 2026. Based on discussions between representatives of the Health Ministry and NMC, this conclusion regarding NExT exam has been made. Candidates must note that no official dates related to NMC NExT exam have been released till now. According to previous notifications, the National Exit Test will be conducted for MBBS final year students of the batch 2024-25, which indicates that NExT exam may be conducted in February 2028. On August 1, 2023, NMC released a Competency-Based Medical Education Curriculum (CBME) Regulation. 

NExt Mock Test 2023 was cancelled by NMC until further announcement. The registration fees for the NExT Mock Test will be refunded to the students fully. The mock exam was scheduled to be conducted on July 28 in order to give students an understanding of what to expect from the main exam. NExT or National Exit Test is a common exit exam conducted to promote meritorious medical students to practice medicine in their respective fields or even pursue higher education. As per the official notice by NMC, the exam has been postponed till further notice.
About NExT Exam 
FMGE and NEET PG are anticipated to be replaced by the NMC NExT Exam. As part of being an exit exam, NExT is also the common gateway to attaining a medical license across India. The test is anticipated to take place in two phases, NExT step 1 and NExT step 2. AIIMS, New Delhi will host NExT phase 1, a centralized common examination for all of India with multiple-choice questions. NExT Step 2 will consist of a Viva Voce and a clinical/practical examination spanning seven clinical subjects/disciplines. The NExT exam is available for candidates to take as many times as needed. There are no limitations about the same. There will be two NExT exam dates per year. As of now, no official dates are released for the NMC NExT exam.
Scan through this page to get a complete idea of the NExT exam.
National Exit Test NExT Exam Conducting Body
All India Insitute of Medical Science, New Delhi (AIIMS, Delhi) has been declared the NExT exam conducting body. An official announcement regarding the same was made on June 27, 2023, in a webinar Earlier reports speculated that the National Board of Examination (NBE) might conduct the NExT test which will replace NEET PG and FMGE exams.
NExT Exam Latest News
Based on the recent update shared by the conducting authorities, step 1 of the NExT exam is likely to be conducted in the month of August 2025. NExT exam conducted in February 2028 will be held for the 2024 batch. The mock test scheduled for July 18 was cancelled for some reason. As per the tweet shared by Dr Yogendra Malik, NMC's official, the registration fees submitted by candidates to participate in the exam were refunded.

It is confusing for medical students to interpret the date and timings of NExT exam. For clarity, the NExT exam is anticipated to be conducted in February 2025 for the medical/dental batch of 2020. The reason behind this expected NExT exam date is that NMC announced to defer the NExT exam for the 2019 batch and the Union Health Minister made a public statement regarding batch 2020 to be the first batch that will participate in NExT exam. This results in anticipation of NExT exam to be conducted in August 2025. Aspirants must note that the official exam dates for NExT exam 2025 are yet to be confirmed.

Previously, the National Medical Commission (NMC) held a webinar, and through this medium authorities communicated regarding the aspects of NExT exam. It was said that NExT exam will be conducted in online mode, widely known as Computer-Based Test (CBT) mode. Also, the frequency of conducting this exit test will be twice a year. The first phase or Step 1 of NExT exam will be conducted in May and Phase/Step 2 in November. NMC didn't provide any information regarding the commencement of the NExT exam, only Exam Pattern was discussed. 

Aspirants need to pass the NMC NExT exam to register themselves for medical practice in India. Based on the score obtained in the NExT medical exam, PG admission in different medical colleges in India will be provided. The NEET-PG exam is set to be replaced by NExT as it is designed to test the knowledge as well as skills of final-year medical aspirants.

It is anticipated that NMC will soon release an official statement regarding the schedule, exam pattern, eligibility and other details of NExT exam.
NExT Exam Highlights
Given below are the highlights of the NExT MBBS test enlisted below.
Events

Details

Exam name

National Exit Test or NExT

Exam level

Postgraduate exam at National level

Exam Date
August 2025 (Highly Anticipated)

NExT Exam conducting body

(NMC) - National Medical Commission - Highly Anticipted

Objective

Final Year Degree
To get a Medical License, and 
Admission to Post-Graduate Medical Courses

Exam mode

Online

Eligible students 

Final year MBBS students

Foreign Medical Graduates

Total number of paper

Paper 1 and 2

NExT Exam Question Type

Multiple Choice Questions (MCQs)
Short Answer Questions (SAQs)
Long Answer Questions (SAQs)

How many attempts

There are no restriction in the number of attempts in NMC NExT Exam
NExT 2024 Important Dates
Here are tentative dates released in the draft comprising timelines associated with the NExT exam.
NExT Step 1 and Step 2 Important Dates
Find out the tentative dates for NExT exam given below:
| Event | NExT Exam Date Commencement | NExT Exam Date Completion |
| --- | --- | --- |
| NExT Step I Regular | To be announced | To be announced |
| NExT Step 1 Supplementary | To be announced | To be announced |
| III MBBS /FINAL MBBS PART 2 Practical / Clinical University Examination | To be announced | To be announced |
| Internship | To be announced | To be announced |
| NExT Step 2 Regular | To be announced | To be announced |
| NExT Step 2 Supplementary | To be announced | To be announced |
| Post Graduate Admission | To be announced | To be announced |
| Postgraduate Course | To be announced | To be announced |
NExT 2023 Mock Test Important Dates
Candidates must note that NExt Exam 2023 Mock Test was cancelled by NMC. Given below are the important dates for the NExT 2023 mock test for reference.
| Events | Important Date |
| --- | --- |
| Registration and Basic Student Information | June 28-July 10, 2023 (Cancelled) |
| Status of Registration and Basic Candidate Details as well as correction of rejected images | July 11-12, 2023 (Cancelled) |
| Final Status of Registration | July 13, 2023 (Cancelled) |
| Generation of Exam Unique Code | June 28-July 14, 2023 (Cancelled) |
| Certificate Submission for Scribe and/or Compensatory time as applicable | June 28-July 21, 2023 (Cancelled) |
| NExT Mock Test Admit Card | Cancelled |
| NExT Mock Test Date | Cancelled |
NExT Exam Objectives
Keeping in mind the statements made above, here are some of the objectives of NExT exit ema for MBBS. We will also talk about the changes that will come under the new exit and licentiate exam which will become mandatory for MBBS graduates to clear, in order to be deemed as qualified doctors.
NExT as a Gateway for Foreign MBBS Graduates to Practice Medicine in India: Through NExT, the Centre plans to produce a more qualified and skilled batch of MBBS graduates in India. With the help of introducing a much deeper understanding of concepts and enhancing the skills with reference to problem-solving in the final MBBS students. A more practical aspect will be brought in through the examination as well.

NExT Initiative Focused on Enhanced Skills and Practical Application: Apart from being an exit test for MBBS students in India, NEXt will also cater to aspirants who completed their MBBS from abroad but wish to practice medicine in India. Earlier, such candidates were to sit for Foreign Medical Graduate Exam or commonly known as FMGE. With the implementation of the Bill, it is expected to see FMGE be replaced by NExT as well.

NExT Examination Set to Replace NEET-PG Exam: Recent Amendments state that the examination will also be the common denominator for granting admissions to Postgraduate Medical Courses in India, subsequently replacing NEET-PG.

To Streamlined Medical Admissions - Entrance, Licentiate, and Screening Tests: Along with being an entrance, licentiate and screening test, a common counselling process will also be conducted under NExT for admissions to MBBS and PG medical courses in India.
What to Expect from the NExT Exam?
While many details pertaining to the NMC NExT Exam are not available, one can anticipate certain aspects basis the general expectations that come with obtaining a medical certification and screening test.
Comprehensive coverage: NExT exam might cover a wide range of medical disciplines in order to assess aspirants' overall knowledge as well as an understanding of medical concepts.

Theoretical concepts: The test is expected to assess students' theoretical knowledge by taking multiple-choice questions (MCQs). These questions require candidates to demonstrate their understanding of the medical concepts, guidelines, and principles.

Clinical skill assessment: Basis the guidelines issued by the official authority, the NExT exam comprises components to assess students' clinical skills as well as their ability to use medical knowledge in practical situations.

Generalized scoring: The NExT exam is expected to follow a standard scoring system to assess candidates' performance objectively. The scoring criteria are based on a pre-determined scale that takes into account the difficulty level of questions and the overall performance of aspirants.
NExT Exam Process
The exam process of NExT is split into 2 main stages -
NExT Step 1
Examines Theoretical Knowledge: NExT Step 1 constitutes a theoretical examination featuring Multiple Choice Questions (MCQs). This online test is a centralized common All India exam conducted by a recognized authority or body. Eligibility for the exam is granted to students who have successfully completed the III MBBS/Final MBBS course from a reputable university.

NExT Exam Supplementary Option: In addition to NExT Step 1, a mandatory NExT Step 2 exam is conducted annually before the university exams for the III MBBS (Part 2)/Final MBBS course. Furthermore, aspirants who do not pass the NExT Step 1 exam have the opportunity to reappear for the supplementary exam. Students are allowed to take the NExT Step 1 exam multiple times within 10 years of joining the MBBS course. Importantly, NExT Step 1 is designed to replace the traditional university/institutional theory exams, while practical and clinical examinations continue to be conducted conventionally unless otherwise notified by the Commission.
NExT Step 2
NExT Step 2 Examines the Practical Knowledge: Students who successfully clear the NExT Step 1 exam gain eligibility to appear for the NExT Step 2 test. This phase involves a series of clinical/practical and viva voce exams. The examination format includes Objective Structured, Simulated Cases/Patients, and Clinical Case-Based questions. The primary aim is to assess aspirants' clinical and practical skills, communication abilities, and clinical decision-making.

NExT Step 2 Test Administration and Supplementary Exam: NExT Step 2 is conducted in person in the respective states of the candidates, adhering to Commission guidelines. The regular NExT Step 2 test is held annually, while a supplementary exam is available for students who fail in 1 to 3 subjects out of the 6. Aspirants failing the supplementary exam must wait for the next year's session. Candidates have the flexibility to appear for both NExT Step 1 and Step 2 as many times as needed, provided they complete these within 10 years of enrolling in the MBBS course.
NExT Mock Test Application Fee
Students can find the NExT mock test application fee for reference in the table below.
| Description | NExT Exam Important Dates |
| --- | --- |
| General /OBC Students | INR 2000 |
| EWS /SC /ST applicant  | INR 1000 |
| Candidates with Benchmark Disabilities  | No fees |
NExT Mock Test Exam: Mode and Scheme
Find out the paper pattern of NMC NExT Exam for reference.
Description

Paper I 

Paper II

Time and duration

3 hours (9 am to 12 pm)

3 hours 30 minutes (2:30 pm to 6 pm)

Number of question

120

140

Type of Question

MCQ

MCQ

Marking Scheme

Correct answer: 1 mark
Wrong answer: -1/4 marks

Correct answer: 1 mark
Wrong answer: -1/4 marks

Marked for review or unanswered

0

0
NExT Exam Eligibility Criteria
Candidates must refer to the eligibility criteria for NExT Exam given below: 
Only for MBBS Graduates: Candidates must be enrolled in MBBS course from a Medical Colleges approved by the official authorities at National Medical Commission. 
Enrolled in State/National Register: All Foreign Medical Graduates must enrol in the State Register or the National Register, as specified by regulations.
Minimum 50% in MBBS: Minimum Percentage required to participate in NExT Exam is 50%. 
Only for NMC Approved Foreign Medical Universities: Students who have pursued MBBS degrees at foreign universities will be eligible to participate NExT exam only if the universities they were enrolled is approved by NMC.
NExT Paper 1 Eligibility: Only final year students can appear in the NExt Paper 1.
NExT Paper 2 Eligibility: After candidate qualifies Paper 1, He/She must complete 1 year (minimum) clinical internship to appear in NExT Paper 2.
Score Validity: The NExt Exam score will be valid for 3 years. 
NExT Exam Pattern
The NExt Exam will be conducted in two phases, NExT-1 and NExT-2. Candidates can check out the exam pattern or NExt 2024 Exam:
Questions Asked in NExT-1 Exam: The paper pattern of NExt-1 exam will be Objective. In the NEXT-1 exam, candidates will have to answer questions in the form of Multiple Choice Questions (MCQs). This means candidates will have four options and they can choose the correct answer. NExt-2 exam will not be conducted in Objective Pattern.
Subjects included in NEXT-1 Question Paper: In total, 19 subjects of the new MCI curriculum are included in the NEXT-1 exam syllabus. This means the NExT exam will cover 19 different subjects from the new medical curriculum released by MCI. These subjects include various topics related to medicine. So, you need to be prepared in a wide range of areas.
Unique and Different Marking Systems Compared to NEET-PG: Unlike previous exams like NEET-PG, the marks you get for each subject in NEXT-1 can vary a lot. Clinical subjects, which involve hands-on medical work with patients, will get more marks compared to subjects that are more about theories and lab work. This is a great way for focusing more on the practical knowledge gained by a student throughout their medical journey.
NEXT-2: Oral Interview Format: The exam pattern for the 2nd phase of NExT exam is quiet different and new. NExT-2 will be based on Viva Voce so aspirants have to be prepared and communicate the asked questions clearly. Candidates will have to face an oral interview, where they have to answer questions by talking. The 2nd Phase of NExT exam is not going to be conducted in written mode. Candidates must be ready to speak clearly and confidently to do well in this part of the exam. So, besides knowing the subjects, practising how to talk about them is also crucial. This is a great way to give opportunity to deserving students.
NExT Marking Scheme
The marking scheme for NExT 1 and NExT 2 are different from one another. Candidates can check out the pointers given below to understand about the Marking Scheme of Next Exam:
NExT- 1 Marking Scheme: NExT 1 marks are calculated as a whole number. These marks will serve as the Raw Scores comprising appropriate decimals and subsequently converted into corresponding Percentages [scoring marks out of a maximum of 100 with correct decimals.
NExt- 2 Marking Scheme: For the NExT 2 marking scheme, candidates will be declared as Pass/ Fail depending on the appropriate competence which is evaluated.
This innovative approach for NExt Exam sets new standards and is revolutionizing the standard of PG medical entrance examination.
NExT Exam Important points
NMC NExT Exam will be held from 2024 when students have to appear for the test to get a medical licence or pursue a PG programme. The exam comprises two parts, NExT 1 and NExT 2.
NExT 1 paper is theory-based and is held in online mode.
A total of 540 MCQ-based questions are asked in NExT 1 out of the 19 subjects.
Students have to complete their internship before appearing for NExT 2 exam.
NExT 2 or paper 2 comprises practical exam held by respective state colleges/ universities
Scores of paper 1 are valid for 2 years where eligible can attempt to qualify Paper-2 practical exam
NExT 2024 Cutoff
Candidates appearing for NMC NExT Exam have to secure a minimum percentile in order to become eligible for a medical license. For NExT Step 1, aspirants need to secure at least 50% of the total score to be deemed eligible for NExT Step 2. The criteria for passing the NExT Step 2 round is a satisfactory demonstration of competencies which are evaluated and declared as a Pass /Fail result.

Also Read: NEET PG Marks Vs Rank 2023 Analysis
NExT Exam Syllabus
NExT exam shall cover 6 papers primarily that will cover subjects such as:
Medicine & allied subjects 

Obstetrics & Gynaecology

Surgery & allied subjects

Otorhinolaryngology

Paediatrics

Ophthalmology
Question Pattern of NExT Exam
Officials have released the proposed time schedule according to which NMC NExT Exam is supposed to be held. However, the timelines are only indicative and are subject to change based on feasibility and logistics. National Exit Test paper- 1 (NExT) exam question pattern is expected to be divided into 3 main parts. In total, 540 multiple-choice questions shall be asked in the exam. Of these, 60% of questions are curated to test problem-solving skills, 30% help analyze subject comprehension & analysis, and the remaining 10% are recalled questions.
Days

Subject Covered

Key Sessions

Total Questions Asked

Time Dedicated

Day 1

Medical Allied

Pre- Lunch

120

180 minutes

Paediatrics

Post- Lunch

60

90 minutes

Day 2

Surgery & Allied

Pre- Lunch

120

180 minutes

ENT

Post- Lunch

60

90 minutes

Day 3

Obstetrics and Gynecology

Pre- Lunch

120

180 minutes

Opthalmology

Post- Lunch

60

90 minutes

Total

540

810 minutes
As one can see, out of 540 MCQs, total 10% questions from each stream will be asked from basic applied sciences (physiology, anatomy, biochemistry, pathology, microbiology, & pharmacology). Similarly, 10% of MCQs are asked from Preventive & Social Medicine (PSM).
NExT 2024 Exam Tie-Breaking Criteria
The normalized sum of the raw scores secured in each subject/ paper in a single NExT Step-1 test is considered. The method of normalization for the total of the raw scores across NExT Step-I exam cycles is notified by the commission as and when considered necessary. In case 2 or more aspirants score the same marks, the following tie-breaking criteria will be applicable. 
If a tie in score occurs, the student with the fewer number of attempts in NExT Step-1 will be ranked higher.
In case the tie doesn't end and it continues to exist, aspirants are assigned higher rank in the following order of preference:

Medicine and allied disciplines
Surgery and allied disciplines
Obstetrics and Gynaecology
Pediatrics
Otorhinolaryngology
Ophthalmology
What are the Advantages and Disadvantages of NExT?
With the implementation of the National Medical Commission, there are bound to be some pros and cons of the step. The major aim of the entire National Medical Commission Bill 2019 and the draft released in December 2022 is to improve the functions where the Medical Council of India faced challenges. Here are some advantages and Disadvantages of NExT.
Advantages of NExT for MBBS
Increasing the Number of Qualified MBBS Graduates:
With the use of one exit exam, medical colleges in India will be able to produce skilled and qualified MBBS graduates. As per statistics and reports, India produces nearly 60,000 MBBS graduates every year. Which, even though seems to be a lot, the doctor-to-patient ratio still remains high. Moreover, there is a lack in the number of qualified and skilled doctors who do make a difference in society. By introducing one common exit exam for all MBBS graduates, the government will be able to regulate the quality of MBBS graduates.
Uniformity through One Exam
Adding to the point above, introducing one exit, licentiate and screening exam will allow only those graduates with the practical and theoretical skills to operate in day to conditions of India. However, the process of bringing uniformity among MBBS graduates will take time.
Quality Enhancement of Medical Facilities
As part of the exit exam and overall requirement to be a doctor, and as mentioned above, each MBBS candidate will be required to have worked for 3 years in rural and tribal settings. Currently, the medical facilities available in rural and more remote areas of the country lack the necessary medical facilities. Through NExT, it is possible to improve the conditions of remote settings and enhance the health care facilities for each citizen of the country.
Removal of Unnecessary Paperwork for Foreign Students
Earlier, any foreign MBBS graduate who wished to pursue his/her career in India was required to sit for an MCI screening test, also known as FMGE, which has been known to include a sea of paperwork.
Build an International Recognition
Once the exit exam is operational, it is expected to see India follow the medical regulations and medical development as seen in international countries. One of the major objectives of NExT and NMC Bill 2019, in general, is to enhance the overall medical industry in India. Thus, also helping India become a global competitor in terms of medical services offered.
Disadvantages of NExT for MBBS
While one can sing praises of the new development in the field of medicine, each coin has two sides. In other words, the National Exit Test also encases a few disadvantages.
Rise of Expensive Coaching Centres:
As is the case for various national-level exams, especially in the field of Medicine and Engineering, a rise in innumerable coaching centres will be inevitable. For instance, there are thousands of coaching centres for JEE Mains. While on one hand, it offers students the opportunity to crack the difficult examinations. On the other hand, coaching centres are able to charge impractical and unfair coaching fees, which those who are interested in crack such exams, will avail the facility. Thus further exploitation of the students can be witnessed over the years.
Overall Increased Duration of Medical Education
As mentioned above in the objective and overview section of the article, MBBS and PG medical graduates will be asked to work 3 years in rural/tribal settings, thus increasing the overall duration of education in medicine. However, the bright side is that the decision has not been made final and changes to the same can be made before implementing the NMC Bill 2019.
How NExT is the alternative to FMGE and NEET PG?
National Exit Test has been envisaged in such a way that it combines both NEET and FMGE exams. It covers all important parts of the NEET PG and FMGE exam syllabus. The National Exit Test (NEXT) serves as a comprehensive alternative to both the Foreign Medical Graduate Exam (FMGE) and the National Eligibility cum Entrance Test for Postgraduate (NEET-PG) in the field of medical education in India. For aspirants who completed their MBBS from abroad and wish to practice medicine in India, NExT replaces the traditional FMGE, streamlining the evaluation process. Simultaneously, for postgraduate medical admissions, NExT supersedes NEET-PG, unifying the assessment and selection process.

This holistic approach not only simplifies the system but also ensures a standardized evaluation for both domestic and international medical graduates aspiring for further studies or practice in India. The NExT Step 1 exam will test students' theoretical knowledge of various subjects of medical science (pre-clinical, clinical, and para-clinical). It will enhance the education system of the country and promote healthy competition.
Related Articles
To sum it up, The NMC NExT Exam is set to replace FMGE and NEET PG and is expected to be conducted in two phases: NExT step 1 and NExT step 2. NExT phase 1 will be held at AIIMS, New Delhi, and will consist of multiple-choice questions. NExT Step 2 will include a Viva Voce and a clinical/practical examination covering seven clinical subjects/disciplines. The exam is available for candidates to take as many times as needed and will be held in February 2028 for the MBBS 2024 batch. The exam is expected to be conducted in August 2025 and Step 2 in February 2026.
No official dates have been released yet
.
For more information on NMC NExT Exam, Stay tuned with CollegeDekho!