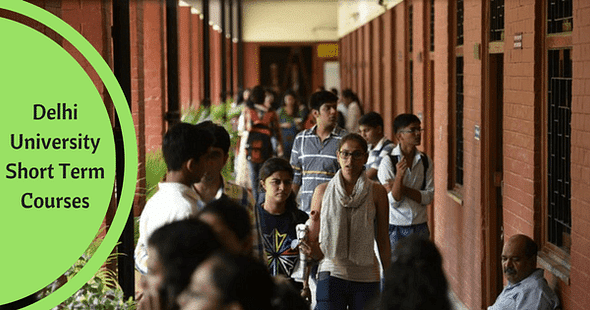 Delhi University (DU) is not only the attraction point for students seeking undergraduate progamme. The university offers some of the most amazing short term courses that can help you enhance your chances of getting a good job.
From foreign languages to advertising and event management, DU offers a varied range of short term courses that you can apply for. Depending on your area of interest and your skills, you can choose either of the following short term courses. Find out more about the courses below.
Short Term Courses offered by DU:
Name of the Course

Duration

Fees (approx.)

About the Course

Colleges Offering the Course

Learning Languages

1 year

Rs. 12,000 to Rs. 25,000

These courses are designed for students who want to pursue an additional language apart from their regular course.

These courses can be highly beneficial to enhance your CV especially if you are applying for masters' at universities abroad.

Since seats at colleges are limited, students are selected on the basis of merit (process varies from college to college).

Russian, Spanish, Japanese, German, French are some of the languages taught.

Sri Venkateswara College
Jesus & Mary College
Gargi College
SGTB Khalsa College

Sports and Event Management

3 to 6 months

Rs. 12,500

This course imparts management skills for organising different types of events.

Jesus & Mary College
SGTB Khalsa College

Advertising & Marketing Communication

6 months

Rs. 15,000

The aim of this course is to teach students promotional writing and presentation skills.

Television & Web Journalism and Photography

3 to 6 months

Rs. 20,000

This is another one of the short courses that can be highly beneficial for students who are pursuing journalism and want to become a news videographer, blogger or photographer.

Jesus & Mary College
Hansraj College

Mass Communication

6 months

Rs. 30,000

Another beneficial course for BA students. This course teaches the new technologies required in the field of journalism and writing.

Media Studies

6 months

Rs. 15,000

Media studies can be helpful for those who want to get into marketing and learn about digital marketing platforms.

Miranda House
Jesus & Mary College

Tourism and Travel Management

3 to 6 months

Rs. 12,000 to Rs. 18,000

This course is provided by DU to enhance the aspirants' chances to get a job in the tourism industry.

Banking and Financial Service

6 months

Rs. 15,000

This is a course designed for commerce and economics students in order to help them understand the different concepts of banking and enhancing the job opportunities.

Gargi College
Jesus & Mary College

Hindi Journalism

6 months

Rs. 15,000

Aspirants who want to get into Hindi writing and reporting will find this course highly useful in understanding the industry requirements.

Vivekananda College
Jesus & Mary College

Computer-Based Courses

2 months

Rs. 8,000

These are very short term courses in different areas of computer applications. They help students in developing the aptitude for computer applications.

Acting and Filmmaking

3 months

Rs. 30,000

DU also has provision for students who want to get into the acting and directing domain. If you are one of them then this is the course you need.
You can apply for all the above courses once you have completed your 10+2. Admission to some of the programmes is done on the basis of merit where some colleges might also conduct an entrance exam for selecting students. For example, Miranda House conducts a written test for selecting students for its computer application short term courses.
Some of the courses mentioned above can highly improve your job scope. You can gain the most from these courses if you pursue them along with your graduation as classes for these courses are conducted to accommodate your graduation programme timings.
There are many colleges in India, apart from Delhi University which offer great short term courses along with graduation to enhance your skills and employability. Such courses always add an extra edge to your CV and help build you a successful career. To know about the colleges offering these courses fill out our common application form, our education experts can help you apply or if you have any questions, you can avail FREE counselling by calling on our tollfree number 1800-572-9877.