TANCET is a state-level entrance exam conducted by Anna University. The university conducts the examination on behalf of the Government of Tamil Nadu. Candidates who are appearing for the exam are advised to check the syllabus of the exam before starting the preparation. Collegedekho has provided the detailed syllabus of the TANCET MBA exam in this article. Those who are seeking admission in the MBA program may check the syllabus of the TANCET MBA provided here to know the topics that will be covered in the TANCET MBA exam. 
TANCET MBA 2022 Overview
Check the important highlights of the TANCET MBA entrance exam provided in the table below.
| | |
| --- | --- |
| Features | Details |
| TANCET Full Form | Tamil Nadu Common Entrance Test |
| Category | Post-Graduate |
| Conducting Body | Anna University, Chennai |
| Common Name | TANCET MBA |
| Level of Exam | State |
| Type of Questions | Multiple Choice Questions |
| Total Sections | Five |
| Duration of exam | 120 minutes(2 Hours) |
| Total Questions | 100 |
TANCET MBA Syllabus 2022
The syllabus of the TANCET MBA exam is provided in the table below. Candidates are advised to check the section-wise syllabus of the TANCET MBA exam to know the important topics from which they can expect questions in the exam.
Sections

Topics

Analysis of Business Situation

This section will assess the business perspective of the candidates

Passages of 300 words each will be asked and will include 20-30 questions based on business

Problem Solving

Binomial Theorem

Compound Interest

Mensuration

Complex Numbers

Logarithm

LCM and HCF 

Linear Equations

Speed, Time and Distance

Percentages

Simple Interest

Quadratic Equations

Functions and Graphs

Progression

Surds and Indices

Averages

Inequalities

Ratio and Proportion

Time and Work

Number Systems

Probability

Discount

Mixtures

Permutation and Combination

Alligations

Trigonometry

Profit and Loss

Geometry(focus on Triangles)Set Theory

Verbal Ability

Error correction

Sentence correction

Exceptions in English grammar

Parts of speech

Synonyms and Antonyms

Reading Comprehension

Business

Environment

Medicine

History

Politics

Technology

Sports

Geography

Economics

Data Sufficiency

Basic mathematics will be asked and it is data-centric

It includes the questions with two statements, in which students will have to derive the conclusion based on the set of options provided
TANCET MBA Exam Pattern
The question paper of TANCET MBA will be divided into five sections namely Reading Comprehension, Data Sufficiency, Quantitative Ability, Analysis of Business Situation and Verbal Ability. All the sections of the exam will contain 20 questions. Candidates will have to complete the exam within 120 minutes as no extra time will be provided to any candidate. One mark will be awarded to the candidate for each correct answer while ⅓ marks will be deducted for each incorrect answer. The detailed exam pattern of TANCET is provided below.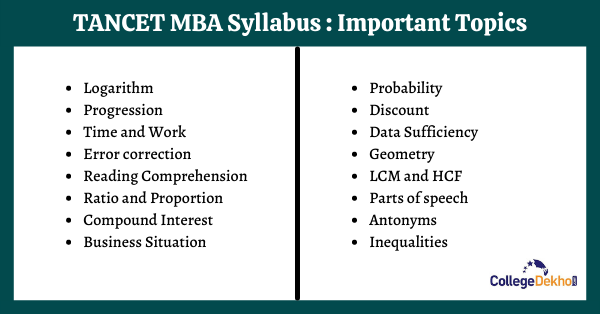 Sections

No of Questions

Time Allotted

Reading Comprehension

40

120 minutes (2 Hours)

Data Sufficiency

40

Quantitative Ability

40

Business Situation

40

Verbal Ability

40
TANCET MBA Best Books 2022
Candidates who are preparing for the TANCET MBA exam are advised to choose the books that comprise sample papers. There are many TANCET MBA preparation books available in the market, some of them are provided below.
Section

Books

Quantitative Ability

Quantitative Aptitude by RS Aggarwal

Class IX and X books(NCERT)

Quantitative Aptitude Quantum CAT

Data Sufficiency

Data Interpretation & Data Sufficiency by Ananta Ashisha

Data Interpretation Simplified by Jagan Saneja

Business Situation 

Analytical Reasoning by MK Pandey

Reasoning Book for Competitive Examinations by Pearson

Verbal Ability

Word Power Made Easy by Norman Lewis

High School English Grammer and Composition by Wren & Martin

A new approach to Reasoning By B.S. Sijwali & S. Sijwali Arihant
Candidates who have any doubt regarding the TANCET MBA entrance exam may ask questions on the Collegedekho QnA zone. Besides this, those who want admission-related assistance can fill out the Common Application Form.