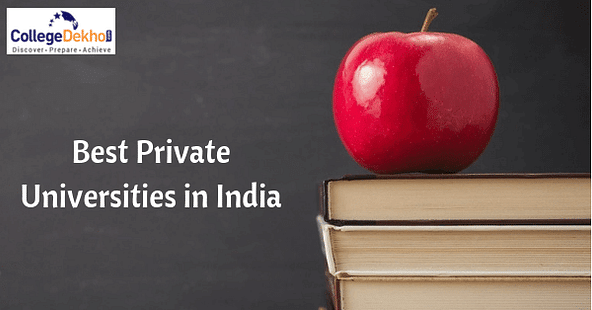 Are you planning to join in any of the top private university across the country? Are you looking for the list of top 10 private universities? If yes, you are in the right place. Over the years India has seen great development in the education sector. Education is now not limited to government institutes and universities. Various private universities have flourished in the past few decades. These universities offer the same quality of education and exposure to the students with good placement opportunities.
Students usually shy away from private universities because of the fee structure. Well, it might comfort you to know that there are various scholarship programs offered by Private universities that can help you cut down your tuition fee. There are great courses and opportunities offered by private universities in India that help the students learn in a highly structured environment.
Top 10 Private Universities in India
To help you in your hunt for good private universities, CollegeDekho has composed a list of top 10 private universities in India. The list of top 10 private universities in India includes popular courses offered by these universities and average fee structure. Have a look!
Name of the Private University

Location

Popular Courses Offered

Average Fees Per Annum

Vellore, Tamil Nadu

Rs. 1,90,000

Manipal Academy of Higher Education (Manipal Deemed University)

Manipal, Karnataka

Rs. 2,00,000

Thanjavur, Tamil Nadu

M.Sc
MBA
B.Com. LLB
B.A. LLB
B.Tech

Rs. 1,20,000

Amrita Vishwa Vidyapeetham

Coimbatore, Tamil Nadu

Rs. 1,30,000

Chennai, Tamil Nadu

M.Sc
M.Pharma
M.A
MDS
BDS
B.Sc
B.A LLB
B.Com

Rs. 1,50,000 – Rs. 2,00,000

Chennai, Tamil Nadu

M.Pharma
B.Pharma
M.D
MDS
BDS
B.Sc

Rs. 1,50,000 – Rs. 3,00,000

Thapar University

Patiala, Punjab

Rs. 1,50,000

Dadri, Uttar Pradesh

Rs. 2,35,000

Noida, Uttar Pradesh

M.Sc
B.Ed
B.Sc
B.Com
B.A
B.Tech

Rs. 3,00,000

Pune, Maharashtra

Rs. 2,50,000 – Rs. 4,00,000
Your hunt for the top 10 private universities ends here. So now don't stray away from the opportunities you get in private universities as they offer equally good education and career guidance through the course. You can opt from the various courses offered as per your interest. Placement opportunities are bright no matter what programme you are studying.