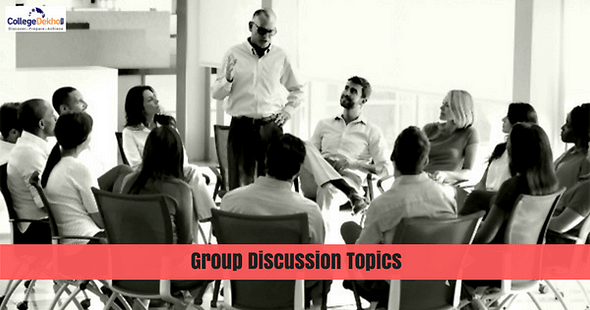 For all management aspirants, the journey to get admission to the top MBA colleges in India is painstakingly tedious. Their plight does not end on completion of the Common Admission Test (CAT) exam. The multiple processes that follow in quest of admission to the top management colleges in India are equally competitive. The one sure shot way to crack the CAT paper is to be well-versed with the CAT exam pattern. What follows after the CAT results are announced is perhaps much more grueling, as the students have to prepare themselves for GD, PI, and WAT rounds for admission to the best MBA colleges in India. What are the topics asked in the GD, PI, and WAT rounds – this is one of the most anticipated questions amongst top B-school aspirants. In such a case, the biggest question that arrives in students' minds is 'How to Start, Lead and Conclude a Group Discussion (GD)?'.
This article deals with the topics asked in GD WAT and PI rounds and gives tips to prepare for GD and PI rounds to the aspiring candidates.
GD/WAT Topics to Expect for MBA Admission 2022
Some of the topics that you can expect this year for MBA admission are listed below
Is social distancing the new world order?
Coronavirus: Impact on Global Economy
Online education, work from home
Why Are Farmers Protesting Outside Delhi?
NEP: The new education policy
Is India ready for electric vehicles?
Taliban rule in Afghanistan
UK-India Economic and Financial Dialogue
US General Election
Globalisation vs. Nationalism
Chinese Goods vs Indian Goods
Making Aadhaar mandatory is not a good idea- for or against?
Crime against women
Banking scams
COVID-19 vaccine
Goods & Services Tax (GST) 
Future of sports in India
Topics Asked in GD, PI & WAT Rounds for MBA
Some of the topics which were asked in the GD, PI and WAT rounds in the previous years are as follows
Segment
Topics being asked
How to prepare
Written Ability Test

Current Affairs based topics related to:

Coronavirus: Impact on Global Economy
Online education, work from home
Is social distancing the new world order?
Can India afford to spend a fortune on projects like Mission to MARS?
Why Are Farmers Protesting Outside Delhi?
NEP: The new education policy
Is India ready for electric vehicles?
Taliban rule in Afghanistan
UK-India Economic and Financial Dialogue
US General Election

Business-related/ other topics:

Will petrol and diesel come under GST?
Startup India: Boosting Entrepreneurship
Telecom Sector trouble in India
Blockchain Technology – Pros & Cons
The new Avatar of coworking spaces
Facebook gets bullish on India
Is MBA necessary to be Successful in Business?
Agriculture Vs Manufacturing Industry in India

Social Issues Topics:

Hunger- The other pandemic sweeping the nation
Are we treating our international cricketers and sportsperson as gladiators?
Beti Bachao Beti Padhao: Girl sex ratio increases in Haryana
Farmers' suicide in India
LGBT history in India
The ugly truth about Indian divorce
Environmental Issues
Felicitations to the global manufacturer
Superstition in India
A step forward for bad loan resolution

Witting is the most refined way of testing an individual's skills.
It is important that you practice writing on current topics and learn to present your ideas effectively.
Be in touch with the newspapers to learn new words and their implementation.
Work on it every day to make sure that you ace the WAT round on the final day.

Group Discussion

Some of the popular topics asked this year are:

Is work-life balance a myth?
Change is the only constant
Future of Artificial Intelligence
Innovation vs invention: What is more important?
Black or Grey
Ethics or Profit
Are private jobs demons in disguise?
Women are better multi-taskers- agree or disagree?

To crack the Group Discussion round, it is very important to be in touch with the current affairs as most of the GD topics are picked from the most recent news.
Compose yourself and try to support your argument or reason with a living or existing example.

Personal Interview

Personal interviews usually comprise questions related to your personality, career and background.
The most common question asked in PI round is 'Why do you want to pursue MBA' or 'Why do you want to join this college'. Prepare your answers smartly for this question.

Work on your communication skills for the interview.
Be honest if you are asked about your hobbies as the interviewers are knowledgeable people and can cross-question you.
MBA College-Wise GD Topics
Apart from the above GD and PI topics, here are some GD topics that were asked in the top IIMs and other management colleges in the past. These topics will give candidates an idea of what to expect during GD.
Name of the College
GD Topics
IMT Ghaziabad

Secretly signed mergers, good move or bad?
Demonetisation
Telecom companies take longer to earn a profit if they provide free calls
Smart Cities catalyze rural to urban migration?
Cashless economy

Great Lakes Chennai

Smart cities, online advertising - Indian perspective
Issues that rural Indian women face
Critical analysis of the Union Budget
IT & cybersecurity in preventing money laundering
Improving the condition of developing countries
Climate change
How does gender impact social intelligence and career?

IIFT New Delhi

In the 21-century, illiterates are those who cannot unlearn, learn, relearn

IIM Ahmedabad

Should Petroleum Subsidy be slashed?
Social drinking is okay
Is disinvestment in profitable PSU's advisable?

IIM Lucknow

Loose lips sink ships
Centralization of Indian Public Sector Oil companies will be a boon
Cultural diversity impedes democratic governance
All decisions in a democracy should be taken through referendums
Space research projects are a waste of money

NMIMS Mumbai

Affordable healthcare in India
Although many colleges are replacing the GD round with either WAT or Group Activities, there are various top business schools that still value Group Discussions. You can see the top MBA colleges in India that accept CAT scores. GDs can play an essential role in assessing students based on their thought process, understanding of matters and the way they conduct themselves. While IIM's are the preferred choice of most MBA aspirants, a recent trend shows that students are also looking out at Top Ten Non-IIM Colleges that Accept CAT Scores in India. If you want to know tips to clear WAT, PI and other admission rounds of any MBA college, you can ask questions on the Collegedekho QnA zone. 
For more information on management colleges, courses and more, stay tuned to
Collegedekho
.