Under Graduate Aptitude Test or AIMA UGAT is a common entrance exam conducted by the AIMA (All India Management Association) every year. The exam is conducted for admission to undergraduate programs such as Integrated MBA, BBA, BHM and BCA. Candidates who are appearing for this entrance examination can start their preparation after checking the syllabus of AIMA UGAT. The standard of the exam is basic, and it consists of an academic curriculum of intermediate exams. Candidates who wish to obtain admission in All India Management Association should study well for the exam based on the topics mentioned in this article.
The AIMA UGAT BHM syllabus will allow the candidates to know all about the major topics from which questions are expected to be there in the entrance exam. You can go through this article to know all about the complete syllabus of the entrance examination
AIMA UGAT BHM 2022 Highlights
Some of the major highlights of the AIMA UGAT BHM 2022 entrance exam are listed below
| | |
| --- | --- |
| Name of the examination | All India Management Association Undergraduate Aptitude Test |
| Short Name | AIMA UGAT BHM |
| Conducting body | All India Management Association (AIMA) |
| Total number of questions | 130 |
| Total Marks | 130 |
| Duration of exam | 180 minutes |
| Number of sections | 4 |
| Minimum Eligibility | 12th Pass with a minimum of 50% |
AIMA UGAT BHM 2022 Syllabus
All India Management Association (AIMA) has not provided any notification regarding the syllabus of the AIMA UGAT BHM entrance examination. Candidates can expect the same type of questions that were asked in the previous year questions paper of AIMA UGAT BHM. They can further refer to the exam pattern of the examination to get a detailed analysis of the exam.
Also Read: List of Hotel Management Entrance Exams 2022: Check Dates, Notification, Eligibility, Application Form
Important Topics of AIMA UGAT BHM 2022
AIMA UGAT BHM 2022 contains four sections namely General Knowledge, English Langauge, Numerical and Data Analysis and Reasoning and Intelligence. Each section covers different topics and subjects. Candidates may check the important topics for all the sections provided below.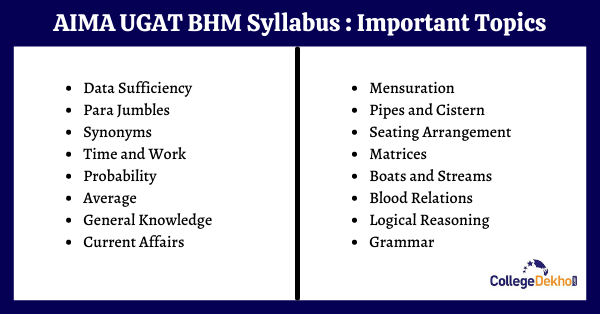 English language
The English language section will include comprehension which will test the candidates on the basis of their time management skills and hold on the language. Some other topics from which questions will be asked are given below:
| | |
| --- | --- |
| Synonyms and antonyms | Active and passive voice |
| Nouns,verbs,adjectives,pronouns | Direct and indirect speech |
| Substitution, joining sentences, fill in the blanks | Idioms and phrases |
| Spotting Error | Para jumbles |
| Direct and indirect speech | Spelling test and sentence improvement |
Reasoning and General intelligence
Questions covered in the Reasoning and General Intelligence section will be related to puzzles, graphs and data interpretation. Candidates should aim at answering at least 26 out of the 30 questions to get a decent score in this section. Some important topics for this section are given below.
| | |
| --- | --- |
| Analytical and logical reasoning | Inequality |
| Data sufficiency | Blood relations |
| Puzzles and riddles | Seating arrangement |
| Direction based questions | |
Also Read: List of Best Hotel Management Courses, Specializations for UG, PG & Diploma
Numerical and Data analysis
A total of 30 questions will be asked in this section. The numerical and data analysis section will test candidates on the basis of numerical skills and speed. Candidates can take a look at the table given below to know the important topics covered in this section.
| | |
| --- | --- |
| Problems on Numbers and series | Linear equations and quadratic equations |
| Time, distance and speed | Data Interpretation |
| Permutation and Combination | Ratio and proportion |
| Indices and surds | Probability |
| Matrices | Mensuration |
| Simplification and approximation | Percentages, mixtures and alligations |
| Time and work | Ages, average |
| Simple and Compound Interest | Boats and streams |
| Pipes and Cistern | Problems on trains |
| Profit and loss | |
General Knowledge
The general knowledge section is different from all other section as it requires a good knowledge of all the major happenings in the world. Candidates should be well aware of the current affairs and important news to score well in this section. They can also expect questions from the topics provided below.
| | |
| --- | --- |
| Current affairs | Famous books and authors |
| Indian economy | Business-related topics |
| General knowledge | Foreign relations |
| Indian politics | |
Service Aptitude
The service aptitude section will contain situation related questions. You will have to choose the answer which fits best for the service of the customer. The service aptitude section is one of the most important sections for the hotel management examination. Candidates should read the questions carefully in order to choose the correct answer matching the situation. They can refer to previous years' question papers to get an idea about the type of questions that can be asked.
Scientific Aptitude
Candidates can also expect some of the questions related to scientific aptitude. They can get an idea about the scientific aptitude questions from the previous years' question papers of the AIMA UGAT exam.
Also Read: Documents Required to Fill AIMA UGAT 2022 Application Form - Photo Specifications, Scanned Images
AIMA UGAT BHM 2022:Topics, Number of Questions and Composite Time
After the step of downloading the admit card, the candidate should start to read all the syllabus of UGAT 2022.
Topics

Numbers of Questions

Composite Time

GK-General Knowledge

30

120 Minutes

Reasoning & Intelligence

30

Numerical/Date Interpretation

30

English

40

Scientific Aptitude

25

1 Hour (60 Min)

Service Aptitude

25

Total

170
How to download the UGAT Syllabus of 2022?
Search for the syllabus on the official website of AIMA.

Find the link of UGAT Syllabus 2022.

Click on the link of the UGAT Syllabus 2022.

Download the PDF of the syllabus and take a printout copy for future references.
Exam Pattern of UGAT BHM
The exam pattern of AIMA UGAT BHM 2022 will enable the candidates to become familiar with the weightage of each section, numbers of sections, marking scheme of UGAT BHM 2022, duration of the exam paper, etc. Candidates can check below the detailed AIMA UGAT BHM exam pattern:
Particulars

Details

Mode of AIMA UGAT 2021

Offline( Paper based Test)

Type of questions

Objective( Multiple Choice Questions)

Duration of the exam

Three hours

Marking scheme

One mark for every correct answer
There is negative marking for every wrong answer

Medium of the exam

English
Best Books for AIMA UGAT BHM 2022
Candidates can refer to some of the books recommended by the toppers as well as experts while preparing for the AIMA UGAT BHM entrance exam. Some of the best books available for each of the sections are :
Section

Books

Numerical and Data Analysis

Magical Book on Quicker Maths-M.Tyra
Quantitative Aptitude-R.S Aggarwal
An advance approach to Data Interpretation-S.Chand
Numerical Ability and Quantitative Aptitude-P.K. Mittal

General knowledge and Scientific Aptitude

Advanced Objective general knowledge-R.S.Aggarwal
The Manorama Yearbook 2022
Arihant Yearbook

Reasoning and General Intelligence

A modern approach to Verbal and Non-verbal reasoning-R.S. Aggarwal
A modern approach to Logical Reasoning-S. Chand

English

Objective English for Competitive examinations-Hari Mohan Prasad and Uma Rani Sinha.
English Grammar and Composition-Wren and Martin
Objective General English-R.S. Aggarwal

Service Aptitude

Hotel Management Entrance Exam Guide-Gladvin Rego
Hotel Management Entrance Exam Guide-Dr R P Datason
Arihant Study Package for Hotel Management and Hospitality Administration
R Gupta's book for Hotel Management
Also Read: Top Colleges Accepting AIMA UGAT 2022 Score for BBA, IMBA, BCA, BHM, B.Com Admissions
How to Prepare for the UGAT Syllabus?
Candidates must follow the UGAT preparation tips listed below in a rigorous manner in order to enhance and succeed in both their preparation and the actual exam. The most important UGAT Preparation tips are listed here:
Candidates must concentrate carefully on the UGAT syllabus, breaking it down into sections and completely analyzing it to understand it.

Candidates must make it a habit to read as many books as possible. Ideally, grammar books of high school level are recommended.

Vocabulary building is easiest when individuals encounter words in context. Candidates must develop a reading habit, use the dictionary and thesaurus, play word games, use flashcards, and practice using new words in conversation.

The aspirants can prepare for the exam in an organised way only if they have an effective study schedule or routine. To crack the AIMA UGAT BHM exam in six months, one must never deviate from the schedule. Sticking to the study routine would assist the candidates to attain their desired scores. The best preparation strategy would be to divide the time based on the topics and weightage. It is imperative for the candidates to make a month-wise plan. In this study-plan, the first three months must be dedicated to knowing the exam pattern, marking scheme, identifying the strengths and weaknesses, and covering every topic of the AIMA UGAT syllabus. Taking short notes during preparations will enable the candidates to revise well before the AIMA UGAT 2022 exam.

The most important key to performing efficiently in the ATMA 2022 exam is to refer to the right study material that covers the entire AIMA UGAT syllabus. Collecting a bulk of study material only confuses the students and hampers the preparation. Effective preparation can only be done if students refer to the right study material.

Solving one mock test every day helps to evaluate one's progress and revision. It is imperative to evaluate one's performance after completing every mock test. This will enable the candidates to pay extra attention to weak areas. Candidates are required to take mock tests as seriously as the actual AIMA UGAT 2022 exam. Candidates must try to complete each section within stipulated time. This helps the test-takers to analyse how much time they are taking for solving each section and how they can reduce it.
Candidates are advised to practise a maximum number of questions from each section. They should work on learning shortcut techniques for calculation which might help them to solve any problem quickly. Candidates who have any other doubt regarding AIMA UGAT BHM may ask questions on the Collegedekho QnA zone. Besides this, those who want admission related assistance may fill our Common Application Form.
Also Read