BHM or Bachelor of Hotel Management is a 3-4 years program that enables the candidates to gain theoretical and practical knowledge about hotel management. The program is available for candidates who have completed a bachelor's degree and are interested in learning about hotel management. The curriculum of the Bachelor of Hotel Management program includes core subjects and electives that are designed to teach skills from varied fields of hospitality such as culinary, food safety, housekeeping and food production. The program also comprises a 6 weeks internship program that is mandatory for all the students. In this article, we have provided a detailed syllabus of the BHM program. 
The three-year BHM degree covers topics such as the hospitality sector, food and beverage production management, the principles of food and beverage sciences, and the leisure industry. General Manager - Hotel, HR Manager, Executive Chef, Restaurant Manager, Duty Manager, Front Desk Receptionist, Executive Housekeeper, etc. are a few of the common responsibilities that the students begin with.
BHM Course Highlights
Check the major highlights of the BHM program provided in the table below.
| | |
| --- | --- |
| Full Name | Bachelor of Hotel Management  |
| Degree Level | Undergraduate |
| Course Duration | 3-4 Years |
| Average Course Fee | INR 3-7 Lakhs |
| Average Salary Offered | INR 3-6 Lakhs per annum |
| Eligibility | Passed 12th examination with 50% marks |
| Admission Process | Entrance Exam or Merit Based |
| Job Profiles | Front Desk Officer, Chef, Event Manager, Hotel Manager, Executive Housekeeper, Resident Manager e.t.c. |
BHM Subjects and Syllabus 2022
Provided below are the subjects and syllabus that will be taught to the students in three years Bachelor of Hotel Management program. It should be noted that the syllabus of the BHM program will vary from college to college hence the students are advised to visit the official website of the college to check the syllabus.
| | |
| --- | --- |
| Subjects | Topics |
| Food Production Foundation | Introduction to the Art of Culinary, Bakery and Confectionery, Methods of Cooking, Basic Preparations, Food Commodities, Kitchen Hygiene, Kitchen Equipment, Kitchen Organization Layout, and Hierarchy, Breakfast, Food Commodities, Introduction in Indian Cuisine, Cheese Classification, Bakery and Confectionery. |
| Travel & Tourism Management | Tourism Phenomenon, Travel formalities & Regulations, Geography, and Tourism, Transport System, Tourism Organizations and Associations, Travel Agencies, Heritage of India, Tourism Industry, Types of Tours, Foreign Exchange, Tourism. |
| Hotel Housekeeping | Introduction, Housekeeping Procedures, Housekeeping Department, Hotel Guest Room, Cleaning of Public Areas, Cleaning Equipment. |
| General English | Language & Communication, Skills of Written English, Remedial English, Oral Skills. |
| Applications to Computers | Introduction to Computers, Word Processing, Spreadsheets, Operating Systems, Presentations, DBMS, Internet. |
| Hotel Accounting | Financial Statement, Accounting Theory, Account Records, Depreciation Reserves and Provisions, Computer Applications. |
| Housekeeping Operations | Cleaning Science, Floor and Wall Covering, Safety Awareness, First Aid, Laundry Management, Safeguarding Assets, Linen/Uniform/Tailor room, Cleaning of Guest Room, Interior Decoration, Colour Scheme, Lighting, Pest Control, Housekeeping Supervision, Furniture Arrangements, Soft Furnishings and Accessories, Flower Arrangement, Refurbishment, and Redecoration, |
| Food Science and Nutrition | Importance of Therapeutic Diet, Introduction to Food and Nutrition, Classification of raw materials into food groups, Major Nutrients, Factors influencing food intake and food habits, Balanced Diet/Menu planning. |
| Food Production Operation | Banqueting Preparation, Outdoor Catering, Convenience Food & Fast Food, Quantity Food Production, Regional Cuisine, Stores, Cuts of Meat & Meat Cookery, Cold cuts, Accompaniments, garnishes and Salads, Bakery and Confectionery, Popular International Cuisine, Food Styling, Cook chill system & cook freeze system, Menu Planning, Garde Manger, Buffet preparation, |
| Food & Beverage Service | Food and Beverage Service Personnel, Food and Beverage Service Industry, Food and Beverage Service in Hotels, Non-Alcoholic Beverages, Alcoholic Beverages, Function Catering, Restaurant Planning, Food and Beverage Service Equipment, Food and Beverage Service Methods, Menu, Types of Meals, Room Service, Buffets, Control Methods, Other Fermented and Brewed Beverages |
| Front Office Operations | Reservations, Registration, Front office organization, Telecommunications, Front office operations, The Accommodation Product, Front Office Responsibilities, Hospitality Industry, Lobby and Bill-desk Operation, Front office cash/checkout settlement, Front office accounting, Products & Services, Hotel Organization, Guest Complaint handling/Problem Solving, Credit Control. |
| Managerial Economics | Introduction, Elasticity of Demand, Supply, Revenue Analysis, Production Function, Consumption, Demand, Cost of Production, Market Structure, Pricing Policy. |
| Financial Management | Financial statement, Introduction to Financial Management, Ratio Analysis, Capitalisation, Capital Budgeting, Fund flow statement, and cash flow statement. |
| Food Safety and Hygiene | Introduction to Food Safety, Food Preservation, Food adulteration & Additives, Food Microbiology, Food standards, Hygiene, and sanitation in the food sector. |
| Principles of Management | The concept of Management, Communication Coordination, Staffing, Directing, Planning, Organization, Leadership, Motivation and Controlling. |
| Hotel Costing and Management Accounting | Standard costing technique, Cost Accounting, Material Cost, Marginal costing technique, Preparation of Cost sheet, Visitors Tabular Ledger Uniform system of Accounting, and Departmental accounting. |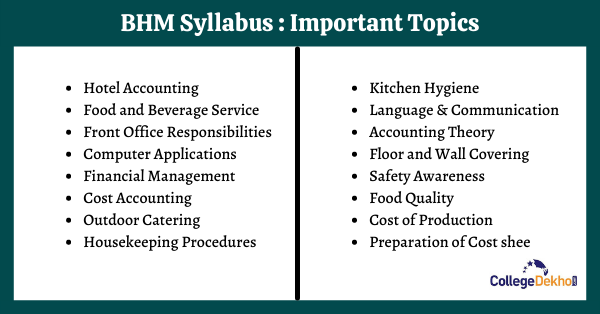 Semester Wise BHM Syllabus 2022
The BHM course syllabus is broken up into six semesters that are spaced out over a period of three years. To ensure that students acquire the necessary knowledge and skills in the operational areas of catering, front office operation, food production, food and beverage service, and housekeeping, the Bachelor of Hotel Management disciplines in the programme include in-depth laboratory work. The BHM course is designed to ensure that the students have access to all the vital information they need to succeed in their career paths.
BHM First Year Syllabus

Semester I

Semester II

Foundation Course in Food Production I

Foundation Course in Food Production II

Foundation Course in Food & Beverage Service I

Foundation Course in Food & Beverage service II

Foundation Course in Front Office - I

Foundation Course in Front Office II

Foundation Course in Accommodation Operations I

Foundation Course in Accommodation Operations II

Application of Computers

Nutrition

Hotel Engineering

Accountancy

Principles of Food Science

Communication

-

Foundation Course in Tourism
BHM Second Year Syllabus

Semester III

Semester IV

Food Production Operations

Industrial Training

Food & Beverage Operations

Management in Tourism

Front Office Operations

Communications Skills in English

Accommodation Operations

Human Resource Management

Food & Beverage Controls

Food Safety & Quality

Hotel Accountancy

Research Methodology
BHM Third Year Syllabus

Semester V

Semester VI

Advanced Food Production Operations

Strategic Management

Advanced Food & Beverage Operations

Research Project

Front Office Management

Guest speakers/self-study

Accommodation Management

Food & Beverage Management

-

Facility Planning
BHM Entrance Exam Syllabus 2022
Candidates who are preparing for BHM entrance exams can check the table provided below to know all the major subjects for the entrance examination.
| | |
| --- | --- |
| Subject | Topics Covered |
| Numerical Ability | Mixtures & Allegations, Profit and Loss, Problem-based on numbers, Averages, Clocks, Boats & Streams, Decimal & Fractions, Line Graphs, Logarithms, Time, Speed and Distance, Ratio and Proportion, HCF & LCM, Mensuration, Partnership, Simple Interest Compound interest |
| English Language | Re-arrangement of a Sentence, Comprehension, Para Jumble, Spelling check Idioms & Phrases, Synonyms, Antonyms, Choosing the appropriate word  |
| General Awareness | Current Affairs |
| Reasoning | Coding, Decoding, Analytical reasoning, Time sequence test, Cause and effect, Input and output arrangements, Coded inequalities, Seating arrangements, Decision making, Logical Sequence of Words, Puzzle Test, Series Test, Logical Venn Diagrams, Syllogism, Analogies,  |
| Aptitude for Service Sector | Hospitality Sector questions |
BHM Teaching Techniques and Methodology
Both theoretical and practical modes of instruction are included in the BHM teaching methodology and strategies. Classroom-based instruction is one of the conventional modalities of instruction. As a result, the students have the chance to learn about the subject in a conventional environment and have any questions they may have answered. Students also have the chance to take part in internships, which provide them the chance to work in a real-world environment. The following are the general teaching methods and techniques:
Traditional Classroom-Based Teaching
Practical Workshops
Seminars
Internships
Only basic disciplines are taught in the majority of Indian institutions, but some provide elective courses as well. Students must also complete industrial visits and internships during their final semester. Through this internship, learners get the chance to gain practical knowledge about the subjects they have studied.
Related Articles
Candidates who have any doubt regarding the syllabus of Bachelor of Hotel Management can ask questions on the Collegedekho QnA zone. Besides this, those who want admission related guidance can fill our Common Application Form.