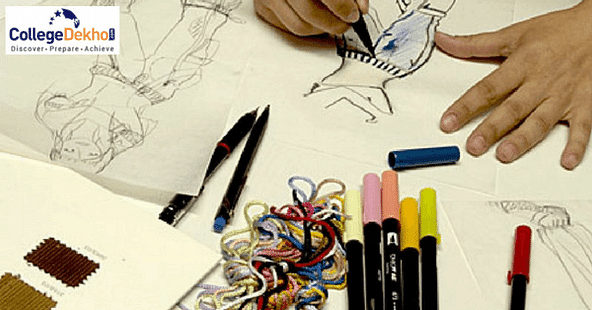 Looking for a glamorous degree in design after pursuing science in class 12? BFTech is one of the most popular programmes in the field of fashion and designing. Bachelor of Fashion Technology is among the most unique undergraduate design courses and every year, many students seek admission to the course and apply to the best design colleges in India. It is a well-recognised programme in the industry and graduates in this field can choose from a plethora of opportunities.
This article contains all the details that you need to know about the programme of BFTech. Find out the fees, eligibility criteria, skills required, top colleges as well as scope of the course here. It will give you a great insight into the programme and you will develop a good understanding of what to expect from it.
About BFTech: Quick Overview
The table given below provides the basic details of BFTech. You can find all the relevant information here.
Name of the Programme
Bachelor in Fashion Technology (BFTech)
Duration
4 years
About the Programme
This programme covers the different aspects of fashion and designing. It is different from fashion designing in the respect that this programme approaches the curriculum in a methodical manner.
Few Important Subjects Covered

Ornamentation
Fashion Business
Sewing
Pattern Making
Garment Production
Graphics and Computer
Accessory Designing
Fashion Illustration
Merchandising
Fashion Communication

Specialisations
Apparels
Fees
Rs. 6 to Rs. 10 lakh for the entire course. Fees vary from college to college.
BFTech Eligibility Criteria
Check the points given below to know the eligibility criteria for BFTech.
In order to apply for this programme at some of the top colleges, it is important to study Mathematics, Physics and Chemistry up to class 12
You will also have to appear for NIFT BFTech Entrance Exam basis which admission is granted to this programme
Few of the private institutes also take students of the commerce stream for this programme
Skills Required for BFTech
Mentioned below are some of the important skills that every aspirant who wishes to pursue BFTech must possess.
The most important skill required in order to pursue this programme is a creative thought process
Students aspiring to pursue this course must also have a good aptitude for technology and an understanding of fashion trends
Good communication skills are also required for BFTech aspirants as the industry requires extensive communication with the clients in order to come up with good designs
Top Colleges Offering BFTech
Securing a seat in a good college is extremely important as it develops your career and moulds your personality. The course curriculum and pedagogy of a good design college enables students to gain more knowledge and expertise on the subject. Here are some of the leading colleges in India that offer BFTech.
Also Read:Check Out the Top 10 Design Colleges in India
BFTech Jobs and Career Prospects
India has a booming fashion industry with well-established as well as new brands performing very well in the market. There are a lot of job opportunities in the market at both designing and business level. Following are some of the profiles that you can apply for after completing this course:
1. Designer:
In this profile, you will be required to come up with new designs in line with the latest trends of the fashion industry. Designers can work for brands, popular fashion designers, entertainment industry, etc.
2. Fashion Merchandiser:
Fashion Merchandisers are required to market the brand's latest fashion products by understanding the sales and market trends. They coordinate with the designing team to help develop designs that will perform in the market.
3. Fashion Event Organiser:
This profile requires you to conduct fashion shows and designer presentations. Professionals working for this profile are required to look after the dresses for the event, market the event, advertise the brand and manage operations as well.
4. Stylist:
These individuals are responsible for the entire wardrobe that is presented in a fashion show or shoot. From the accessories to the dresses, these professionals conceptualise everything.
5. Fashion Consultant:
These professionals are expected to keep a track of all the latest fashion trends in the market and come up with new concepts and designs for apparels.
BFTech Salary
Although the salary depends on the college you are graduating from, the starting salary can vary from Rs. 20,000 to 30,000 per month on the basis of the profile offered. If you are pursuing BFTech from either of the NIFTs, you can expect a starting salary from Rs. 35,000 to 40,000 per month. With experience, the salary packages in this field may reach up to 1 lakh per month.
Also Read:Find out about the Career & Job Options in the field of Fashion Designing
Other Popular BFTech Colleges in India
Go through the list given below to know some other popular BFTech colleges in India along with their locations.
If you wish to find the best college for yourself, fill our Common Application Form (CAF) and let our admissions experts help you in getting admission to the ideal college. You can also call on the helpline number of CollegeDekho - 1800-572-9877.
Stay tuned to CollegeDekho to get more updates and information regarding design admissions in India. You can write your queries to us through the QnA section.