Scheduled to be held on February 06, NIFT 2022, also known as NIFT Entrance Exam is just around the corner. The design entrance exam is conducted by the National Institute of Fashion Technology and will be held via remote proctored mode this year due to the increasing number of COVID-19 cases.
On the NIFT Exam day, the candidate has to make sure that they have two devices with them. A laptop/ desktop will be preferred for writing the exam and an android mobile will be preferred for additional monitoring from the rear.
NIFT is usually held in an offline mode across 23 cities located in the nation. This year the exam will be conducted through an online mode. To be well-acquainted with detailed information, read on and find out the NIFT Exam Day Guidelines & Instructions for Remote Proctored exam that must be followed to ensure smooth conduction of the entrance test.
NIFT 2022 Remote Proctored Exam Day Guidelines
NIFT 2022 will be held in a remote proctored mode this year. Here are a few instructions and exam day guidelines of the NIFT 2022 Remote Proctored exam that must be followed to ensure a hassle-free exam.
Keep Your NIFT Admit Card Ready
Admit card is a crucial document that is required in order to write the exam. Students are advised to download the admit card and produce it on the exam day or else they will not be allowed to appear for the exam.
Take Proper Rest
The body and mind of the candidate require proper rest to function properly. Candidates must get 8 hours of sleep every day in order to let go of any restlessness and stay focused.
Avoid Sitting with Prohibited Items
Items such as study materials, calculators, etc. are strictly prohibited in the exam and no applicant must be found in possession of them.
Login on Time
It is recommended to log in at least 60 minutes prior to the exam to ensure a smooth verification process. Once the candidate logs in they need to complete the camera verification process & select the paper. Subsequently, a QR code will be displayed on the screen for scanning and connecting with the second device/ mobile phone. As soon as the QR will successfully be scanned the camera will be activated.
Place the Camera Properly
After the camera has been activated, students need to place the second device/ mobile phone in a manner such that the back/ side view of the candidate is visible throughout the entire exam. Candidates will be able to take the NIFT entrance exam only after connecting the mobile and completing camera verification.
Pay Attention to Instructions
Keep your ears open and pay attention to all that your invigilator has to say. Also, look out for the instructions mentioned on the NIFT admit card to avoid any chaos or confusion.
Launch the Exam
A link to launch the test will be made available on the admission portal of NIFT. Candidates will have to log in using their roll number & password sent to the registered e-mail id. An individual will be able to appear for the exam only after successfully logging into the examination system.
Manage Your Time Wisely
Time is a major challenge while appearing for NIFT 2022 so do not let it defeat you. There is a limited time to answer questions and doing so requires a lot of practice and decision-making. Make sure to not waste your time on one question. You can always come back to them at the end. Leave some time for revision so that you can re-check and re-consider.
Avoid Presuming Answers
NIFT follows a negative marking scheme so candidates must try not to do guesswork. It is encouraged to not presume the answers as 0.25 mark will be reduced for every incorrect attempt. Marking multiple answers will also not be considered while calculating the score.
Focus on Creativity
Creativity and out-of-the-box thinking should be the main focus while attempting the answers of NIFT CAT. Candidates must try displaying their creativity more through visuals than words.
Do Not Use Unfair Means
Cheating or bringing notes to the room can lead to the cancellation of paper. Also, if a candidate indulges in suspicious acts or unfair practices like trying to share the screen, leaving the place, talking to someone else etc. an online invigilator or AI-Enabled System will intervene and disqualify the candidate then and there. Toilet breaks are also not allowed during the exam. Candidates can keep water with them if they want. Keep focusing on your paper and try attempting every question accurately and creatively.
Also Read: What's Next after NIFT Entrance Exam?
Minimum System Requirements on NIFT Exam Day
Enlisted below are the list of system requirements for the NIFT 2022 Remote Proctored Exam. Candidates must ensure they go through all the requirements mentioned below to ensure a hassle-free entrance test.
An uninterrupted power backup or power bank (Inverter/ UPS etc.)

Dedicated internet with a bandwidth of at least 4G/ Wifi or above.

An android mobile phone with a working camera and microphone. The device should have the latest good chrome browser installed.

A desktop or laptop with the latest google chrome browser and operating system of Windows 7 or above. The RAM processor must have 4 GB+ RAM, i3 5th generation 2.2 GHz or its equivalent/ higher. In the case of apple laptops, the device must be Mas OS 11 or below with the latest browser of chrome. 
Stationery Required on the NIFT Exam Day
Provided below is a list of a few stationery items that are usually required on the day of the offline NIFT exam. Candidates do not have to carry these items for NIFT 2022 as the exam will be held through an online mode.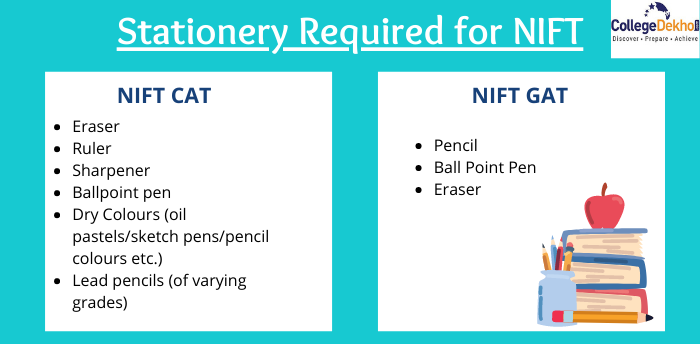 Also Read: Important Topics for NIFT Entrance Exam Preparation
Admit card of NIFT 2022 was released on January 29, 2022 and can be downloaded by clicking on the link provided above. To get answers about NIFT CAT exam queries, write to us in the QnA zone. For any design admission-related guidance, you can reach out to our admission experts by just dialling the toll-free number 1800-572-9877 or filling up the Common Application Form.
CollegeDekho wishes you All the Best!