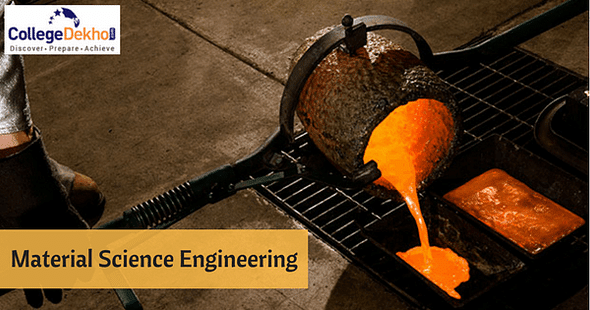 Are you looking for interesting engineering specialisations to choose while applying for counselling? Material Science Engineering or Metallurgical Engineering are two branches of technical education that you can consider.
This branch is an advanced field of engineering that has a lot of scope in modern day technology. Find out all about material science below.
Courses:
| Name of the Course | Level | Duration |
| --- | --- | --- |
| Diploma in Metallurgical Engineering | Diploma | 3 years |
| B.Tech in Metallurgical Engineering | Graduation Degree | 4 years |
| B.Tech in Material Science Engineering | Graduation Degree | 4 years |
| M.Tech Material Science | Post-graduation Degree | 2 years |
| Ph.D. In Material Science Engineering | Post-graduation Degree | 2 years |
Eligibility Criteria:
Diploma Courses:
You will be eligible for diploma courses in this field after you pass your class 10 board exams.
Private colleges offering diploma programmes may take admission on the merit basis, however, government polytechnic colleges admit students on the basis of state-level polytechnic entrance exam.
Graduate-level Degree Courses:
Like all the other engineering courses, it is essential to study Physics, Mathematics and Chemistry till class 12 in order to pursue Material Science Engineering.
Admission to most of the top colleges for this programme is done on the basis of entrance exams like JEE Mains, JEE Advanced, BITSAT, etc.
Post-graduate and Doctoral-level Courses:
You can apply for these courses only after you have completed your graduation.
To enrol for Ph.D., M.E. or M.Tech programmes in Material Science Engineering, you will have to clear Graduate Aptitude Test in Engineering (GATE).
Enrollment for Ph.D. programmes may also require you to have an excellent academic background and a scientific mind.
Top Colleges Offering Material Science Engineering Programmes:
Job Scope:
There is a great need of Material Engineers in the manufacturing sector as they are required for technical support and management.
Another industry where there are good opportunities for material engineers is the telecommunication Industry. In this field, you will be required to come up with new and better materials for communication devices.
Material engineers also have a contribution in the microelectronics sector. From designing microelectronics units to increasing the device capacity, material engineers are required for different kind of jobs.
Other industries where you can find opportunities after completing material engineering course are aircraft and aerospace industry, clothing industry, chemical and fuel industry.
Salary Package:
The starting salary of a Materials Engineering graduate can vary from Rs. 3,59,150 to Rs. 8,50,000 depending on the institute and placement trends in the industry. The best salary package and job opportunities in this field are offered to students enrolled at IITs.
Students interested in research can work with organisations like BARC since they offer great salaries. BARC conducts an entrance exam for selecting research candidates. Salary packages improve after gaining experience. Look for material engineering colleges and admission criteria at collegedekho.com.