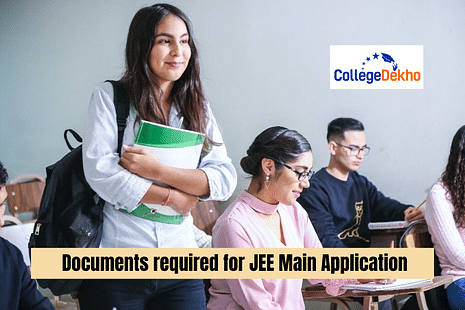 Documents Required For JEE Main 2024 Registration - JEE Main Registration 2024 for Phase 1 was closed on December 4, 2023. NTA is conducting the JEE Main Application Form Correction 2024 at jeemain.nta.ac.in from December 6 to 8, 2023, allowing candidates to edit/ rectify mistakes made during the registration process. The application process for JEE Main includes multiple steps, including registration, form fill-up, document uploading, and fee payment. Applicants must therefore be well aware and ready with all the necessary documents and certificates before registering. This article overviews the complete document checklist for JEE Main 2024 registration.
LATEST: JEE Main Application Form Correction 2024 begins today for Session 1

The JEE Main 2024 exam is scheduled to be conducted in 2 phases - Phase 1 from January 24 to February 1, 2024, and Phase 2 between April1 to 15, 2024. The JEE Main 2024 Admit Card for Session 1 will most likely be released on January 21, 2024. 
Quick Links:
Before filling out the JEE Main application form 2024, candidates must keep some documents/ scanned copies of their photographs and signatures ready so that the entire application process gets completed without any hassle. Through this article, candidates can find the list of documents required to fill out the JEE Main Application Form 2024. 

Also Check: Instructions to Set JEE Main Password 2024
Documents Required for JEE Mains 2024 Application Form 
Candidates are advised to be ready with the following documents required for the JEE Main 2024 exam -
Qualification Details (such as Class 10 Roll Number/ Intermediate or Class 12 Details - Stream, Course, etc.)

Scanned Copy of Passport Size Photograph

Scanned Copy of Signature

A valid e-mail ID

A valid mobile number

Category certificate
Photograph and Signature Specifications for JEE Main Application Form 2024 
Candidates are required to upload the signature and photograph[h along with the other documents in a specified format only. The authorities will not accept the registration forms in any format other than the ones specified by NTA. Candidates can find the document specifications in the table below.
| Component | Format | Size |
| --- | --- | --- |
| Passport Size Photograph | JPG/ JPEG | 10kb - 200kb |
| Signature | JPG/ JPEG | 4kb - 30kb |
Also check: JEE Main Preparation for Guaranteed Success
Important Guidelines for Photograph and Signature
Candidates while uploading the photograph and signatures in the JEE Main 2024 application form should note the following points: 
Coloured passport-sized photographs shall only be permitted

Candidates can take the photograph with spectacles on. However, photographs wearing sunglasses and hats shall not be permitted. 

The candidate's date of birth and name should be printed on the photograph

Polaroid photographs shall not be permitted

The signature must be done neatly on white paper

Photographs that are not taken clearly shall be rejected
Quick Links:
Instructions to Change Photograph and Signature
In case a candidate ends up uploading the photograph or signature with the wrong specifications, they can edit the JEE Main application form 2024 as per the dates specified by NTA. Therefore, there is no need to worry about the same. For more details, they must click on the link below. Applicants must note that there may be technical glitches while filling out the form and hence, it is advisable to re-upload the photograph and signature if the server does not respond.
Formats of Certificates Required For JEE Main Registration 2024
This section contains the sample formats of all the certificates required during the JEE Main 2024 application process - 
| Certificate Type | Sample Certificate PDF |
| --- | --- |
| Disability Certificate (for PwD) | Click here |
| Letter of Undertaking for Scribes | Click here |
How to Fix Common Problems in JEE Main Registration 2024?
While filling out the JEE Main application form 2024 candidates may encounter some issues or glitches like not being able to submit the application form, documents not getting uploaded, etc, in such cases, you must resolve it quickly and submit the application form. Please go through the table below that contains some common problems that candidates might face and how to fix them. 
Issue
How to fix it 
Problem in uploading documents in JEE Main application form 2024
The use of incorrect measurements is a typical cause of issues uploading images and signatures in the application form. Before uploading, applicants should double-check the parameters and resize the documents required to fill JEE Main 2024 application form.
Problem in submitting the JEE Main 2024 registration form 
This might be a network issue, so applicants should verify their internet connectivity and use good-speed internet, and Wi-Fi services. 
Problem in paying JEE Main application fees 

Candidates may encounter difficulties paying the application fee due to poor internet connectivity or bank server issues. Candidates are urged to try the payment procedure again after some time has passed.

If the fee has been deducted but the payment status is still displaying as unpaid, applicants should wait 24 hours. If the status remains unpaid, candidates must pay the charge again, and the previously deducted funds will be reimbursed back to their bank account.
JEE Main 2024 Registration-Based Articles
Click on the links below for all details about JEE Main 2024 registration -
We hope that this article on Documents Required to Fill JEE Main 2024 Application Form is helpful and informative to you. For the latest updates on JEE Main 2024, stay tuned to CollegeDekho.