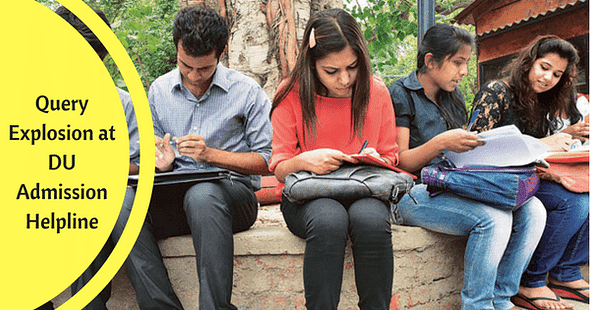 For its quality of education, diversity and flamboyant crowd, DU attracts a large number of students from different regions of the country. The application process for the university has begun and students are eager to secure a seat in the best colleges affiliated to DU.
The university has totally digitised the application process and this has raised a lot of confusion as well as queries from the end of students. Although DU is operating a help desk, the Administration reports that there has been an explosion of queries.
DU experts and volunteers who run the helplines have reported that students, as well as parents, ask some of the most bizarre questions possible.
Let's check out the crazy questions students ask at helplines and help desks:
The fanboy question: What are the courses offered by Shah Rukh Khan's college (Hansraj College)?
Credits: Rnem.srk
The college dilemma: Which is the better college amongst KMC or Kirori Mal College?
The abbreviation problem: Are KNC and KMC two separate colleges?
High Expectations: Can I take trial class before finalising my admission to any colleges? I want to make sure that the faculty is good!
The students who volunteered to take student queries that come through the helpline informed that there are a lot of students who have valid questions and need a little assistance in completing the procedure. However, there are students who don't have a clue about the proceedings of DU admissions, informed Sagar, a student volunteer from Shaheed Bhagat Singh College.
Another volunteer, Nikita Sehrawat said that a student came along with her father asking some strange questions about the ECA Trials. They wanted to know whether a student applying through sports quota in shooting will have to appear for athletics try-outs along with shooting.
Also Read:DU Admissions 2019: Over 2.29 Lakh Registrations Done So Far
How DU Help Desk and Helpline Work:
Help Desk: DU has provided all admission related details on its official website and has a helpline and help desk to assist students in the application process. You can also approach the help desk available at DU campuses to clear your admission related queries.
Helplines: Deputy Dean of Student's Welfare, DU, Gurpreet Singh Tuteja has also informed the there are three helplines that the university has started. Student volunteers, as well as admission experts, will be available to answer your admission related queries. More helplines will be started by the university to assist students, Tuteja added.
Student volunteers of DU have often reported that they are often confused for career counsellors. They are asked for career guidance and questions related to a specific career path. The volunteers have reported that they have no options other than guiding such individuals to the official website of DU. Sometimes they also have to explain to the students that they are not eligible to answer questions related to career paths.
Also Read:NIRF Ranking & Popular Courses provided by Top 25 DU Colleges
With a large pool of students applying DU each year, the administration is trying to take steps to assist non-Delhi applicants with the application procedure. Since these students cannot visit the university campus, they face maximum difficulty in clearing their doubts.
With inputs from Hindustan Times