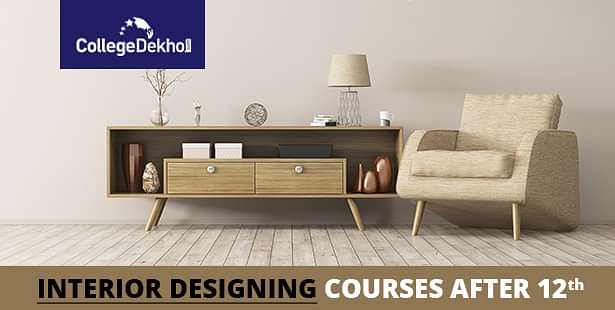 Has the thought of pursuing Interior Designing courses after 12th grade ever crossed your mind? Are you creatively inclined and have a passion for design? If so, the course on Interior Designing after 12th grade is right for you! A popular design movement that discusses altering interior spaces for both aesthetic and functional reasons is called interior design. This course aims to provide the fundamental information and skills needed to create beautiful interior spaces for homes, workplaces, and buildings.

After graduating from high school, an aspirant who pursues interior design has multiple professional benefits. Since interior design offers ample job prospects, most students choose to pursue Interior Designing courses after 12th grade. Learning the fundamentals of the profession at an early age is one of the main reasons that students choose this course where they get hands-on experience. Thus, if you want to pursue a future in interior design, get started right away! Learn more about the benefits of pursuing interior designing after 12th grade by reading on. Find out more about the popular entrance exams, best colleges, career scope, skills required, etc. for pursuing Interior Designing courses after 12th grade.
Highlights of Interior Designing After 12th
Interior Designing is a popular choice for students who want to dive into the design aspect. However, before going into the depth of interior designing after 12th, check out the brief highlights below: 
| Particulars  | Details  |
| --- | --- |
| Course Name | Interior Design  |
| Type of Course  | Certificate, Diploma, Bachelor  |
| Course Duration  | 6 months- 4 years  |
| Eligibility  | Students should have completed class 12th from a recognised board (marks criteria vary with colleges) |
| Admission Process  | Online  |
| Entrance Exam | UID Design Aptitude Test, Pearl Academy Entrance Exam, SEED, AIEED, etc. |
| Course Fee  | INR 10,000-12,00,000 |
| Top Colleges  | IIAD (Delhi), ANU (Ahmedabad), Amity University (Lucknow), AID (Delhi) and others |
Benefits of Pursuing Interior Designing after 12th
Check out the top five pointers highlighting the importance of pursuing an Interior Designing course after class 12th.
Increasing Demand: Due to the growing aesthetic appeal in the world today, the demand for Interior Designers and Interior Decorators is increasing at an extraordinary pace. The industry has boundless opportunities for those who possess the right set of skills, experience and qualifications.
Job Satisfaction: Interior Designing is all about bringing creative visions and visualisation to life. An individual has the power of offering delight and joy to clients through his/her creativity.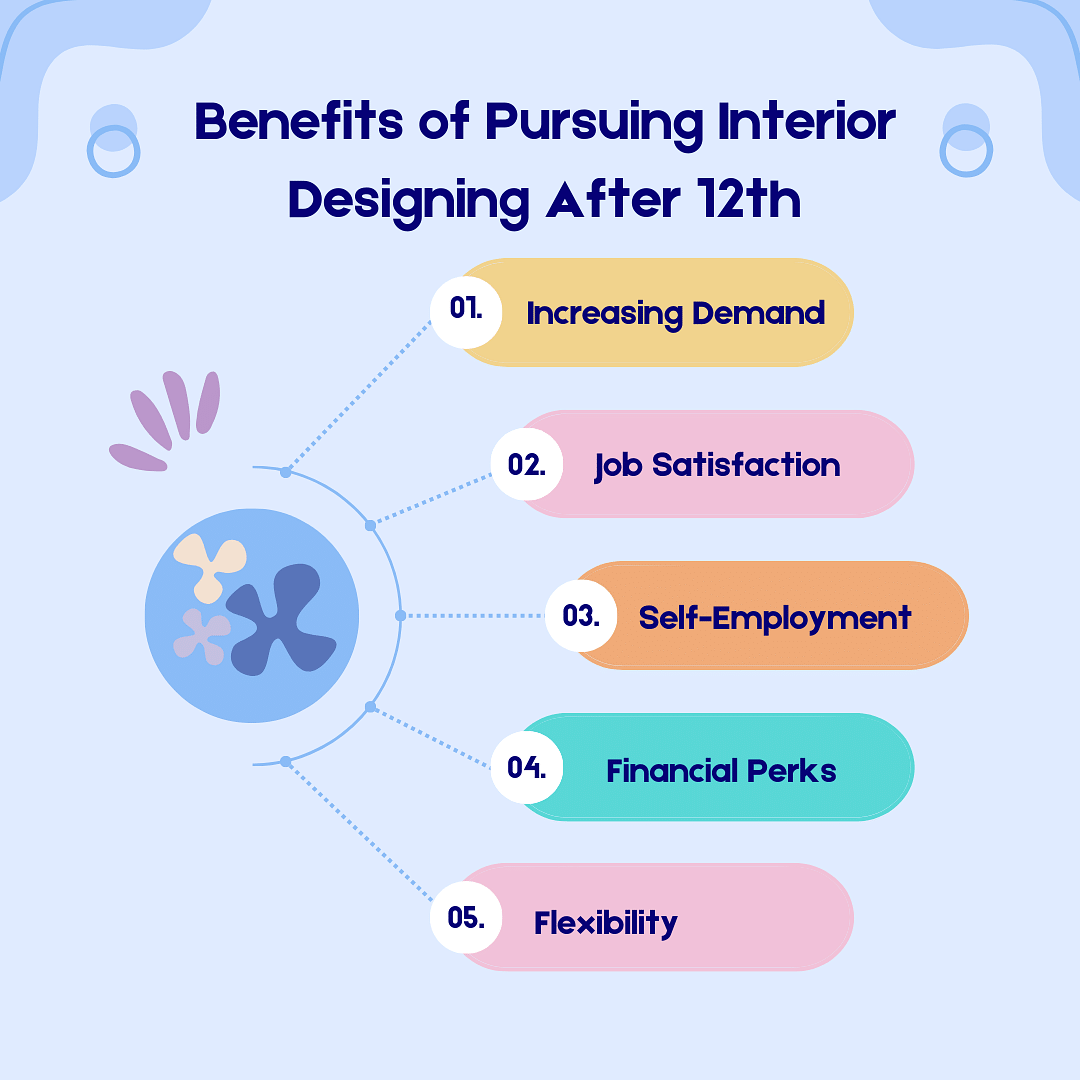 Self-Employment: Interior Designing offers an individual the opportunity to work independently and be self-employed. Those individuals who do not want to work for an organisation can easily grow in this field.
Financial Perks: The potential earnings and rewards are limitless in the field of Interior Designing. Those who work with organisations are generally provided with a bonus for great work while those who work independently also get some rewards from their clients.
Flexibility: Except for the client briefs and requirements, an Interior Designer is free to experiment with ideas. They are allowed creative freedom and generally are appreciated for their out-of-the-ordinary approach.
Eligibility Criteria for Interior Designing Courses after 12th
Although each designing course in India has separate eligibility requirements but enlisted below are some of the general eligibility criteria for aspirants to pursue interior designing courses after 12th: 
Students must have finished their 12th grade or equivalent from a recognised board such as CBSE, ICSE, or others, in any stream (Science, Commerce, or Arts)
The minimum percentage criteria can vary, however, a passing grade in 12th grade is usually necessary.
Aside from class 12th performance, several design colleges in India require competitive scores in entrance exams such as UCEED, AIEED, CEED, NID Entrance Exam, NIFT Entrance Exam, and so on. 
Interior Designing Courses After 12th
Some of the most popular and trending Interior Designing courses after class 12th that not only impart the right practical skills but also professional skills are as follows.
| Course Name | Course Duration | Course Fee in INR  (per annum) |
| --- | --- | --- |
| B.Des (Interior and Furniture) | 4 Years | 2,00,000 to 12,00,000 |
| B.Des Interior Design | 4 Years | 3,00,000 to 12,00,000 |
| B.Sc (Interior and Furniture) | 3 Years | 1,00,000 to 9,00,000 |
| BA (Hons) Interior Design | 3 Years | 90,000 to 9,00,000 |
| | 3 Years | 90,000 to 9,00,000 |
| | 3 Years | 2,00,000 to 9,00,000 |
| B Sc (Hons) Interior Design | 3 Years | 1,00,000 to 9,00,000 |
| | 3 years | 15,000 to 2,00,000 |
| | 6 Months | 10,000 to 55,000 |
| Certificate in Computer-Aided Interior Design | 6 Months | 10,000 to 35,000 |
Note: The course fee mentioned above can vary.
Top Colleges Offering Interior Design After 12th
Few of the top-notch colleges that provide interior design courses after class 12th are given below along with their location. These colleges either shortlist students based on an entrance exam or their class 12th performance. You can click on the links to directly apply for admission to any of the mentioned colleges.
| College Name | Location |
| --- | --- |
| | Pune, Maharashtra |
| | Bangalore, Karnataka |
| Indian Institute of Art & Design (IIAD) | Delhi |
| | Lucknow, Uttar Pradesh |
| | Mumbai, Maharashtra |
| | Ahmedabad, Gujarat |
| | New Delhi, Delhi |
| | Jaipur, Rajasthan |
| | Pune, Maharashtra |
| | Jaipur, Rajasthan |
| | Delhi, Delhi |
Popular Entrance Exams for Interior Designing After 12th
Check out the list of some of the highly popular entrance exams for Interior Design after class 12th that a candidate must prepare for in order to get admission in some of the best Design colleges.
NICC Entrance Exam (National Institute of Creative Communication Entrance Exam)

MUSAT (Mody University Scholarship cum Admission Test)
Skills Required for Interior Designing After 12th
Getting apt qualifications and studying from top colleges are the general priorities of most of the students. However, the skills required for interior designing also play a key role in writing a success story of an aspirant. Provided below are the list of skills that are required in the course and are targeting while pursuing interior designing after 12th.
Creative Approach

Communication Skills

Observational Skills

Artistic Visualization

Client Delighter

Good Lister

Critical Thinker

Trend Identification

Sketching Ability and Knowledge of CAD (Computer-Aided Designs)

Problem Solving Skills

Time Management
Role of Internships and Practical Training in Interior Designing Courses
The ability to apply classroom information in an actual-life setting is one of the most significant advantages of internships and practical training. Interior design students can learn how to work on real-world projects, engage with customers, and solve design problems. This experience can help students grasp the practical ramifications of design decisions and how their work will affect end users.
These opportunities also allow students to expand their professional network while studying interior design after high school. Interns can develop some important contacts by working alongside industry professionals, which can help them get their first job or contracts. These contacts can also provide students with industry information and keep them up to date on the newest trends.
Furthermore, work completed during internships and practical training can be added to a student's portfolio, allowing them to showcase their skills and projects to future employers. When applying for jobs or freelancing work, a solid portfolio may make all the difference since it allows students to exhibit their creative ability in a real way.
Career Scope of Interior Designing After 12th
Once an aspirant completes an Interior Designing course after class 12th, they are free to work independently as well as with top organisations. However, it is advisable for the applicants to have a few years of work experience before diving into the self-employment sector. It would prepare the aspiring Designers for the upcoming challenges and would help them in tackling the obstacles smoothly. Provided below is the list of top recruiters who are on the constant lookout for skilled and professional Interior Designers. 
Interia

Tag Concepts

Acropolis

Urban Ladder

Livspace

Bonito Designs

Effervescent Technologies Pvt. Ltd

Films Factory

Homelane

Inch
An Interior Designer can earn an average salary of Rs 3,06,091 per annum. In the initial stages, they can make as much as Rs 1,31,000 per annum, however, with time and experience of around 2 to 3 years, the salary might increase and reach around Rs 3,06,000 per annum. At the senior-most level, an Interior Designer might end up earning Rs 8,84,000 and more.
It must be noted that Interior Designers who work independently charge as per their whims and the salary of accomplished Interior Designers can go up till Rs 20,00,000.
Candidates are required to take the right first steps to establish in the designing industry. It is crucial to pick the right courses and colleges to be a successful Interior Designer. If you are confused regarding which college to choose, do not hesitate to call our admission experts on 1800-572-9877 (toll-free) and avail free assistance. You can also fill-up the Common Application Form in order to apply to the desired institute of your choice.
For any queries, write to us on the QnA zone
Stay tuned to CollegeDekho for more updates on Interior Designing!