Never Miss an Exam Update
TS Intermediate Syllabus 2022-23 Overview
TS Intermediate syllabus 2022-23 is released every year by the Telangana State Board of Intermediate Education (TSBIE). The syllabus is released by the examination board for all the subjects. TS Intermediate exam 2022 is conducted in 3 languages, English, Telugu, and Urdu. The students should check out the complete syllabus before they start preparing for the exam as it will help them gain an idea of the topic to be covered. The candidates can download here the Telangana Class 12 Syllabus 2022-23 for all subjects in PDFs added in the table below.
Along with the TS intermediate syllabus, the exam pattern for all the subjects has been provided. TS class 12 exam pattern will help students to understand the division of marks which will help them in exam preparation. To know more about TS Intermediate syllabus and exam partner, students can go through the article below. 
TS Intermediate Exam 2023 Latest Updates
Dec 19, 2022:TS Intermediate Exam Time Table 2023
TS Intermediate Syllabus 2022-23: Download PDF
The candidates can click on the link given below to download the syllabus in PDF for all the subjects:
TS Intermediate Syllabus 2022-23 Subject Wise
The candidates can check from the table below the subject wise detailed syllabus for all the subjects:
Subjects

Topics in Syllabus

Mathematics II A

Complex Numbers
De Moivre's Theorem
Quadratic Expressions
Theory Of Equations
Permutations And Combinations
Binomial Theorem
Partial Fractions
Measures Of Dispersion
Probability
Mathematics II B
Circle
System Of Circles
Parabola
Ellipse
Hyperbola
Integration
Definite Integrals
Differential Equations

Biology

Diversity of Living Organisms, Cell: Structure and Function, Structural Organisation in Plants and Animals, Plant Physiology, Human Physiology

Physics

Waves
Ray Optics and Optical Instruments
Wave Optics
Electric Charges and Fields
Electrostatic Potential and Capacitance
Current Electricity
Moving Charges and Magnetism
Magnetism and Matter
Electromagnetic Induction
Alternating Current
Electromagnetic Wave
Dual Nature of Radiation and Matter
Atoms
Nuclei
Semiconductor Electronics: Materials, Devices And Simple Circuit
Communication System

English

Prose

Dancing in the rain, Opportunities for Youth, To Sir with love, Polluting the world, The Sand Box.

Poetry

I celebrate myself, The magical Earth, Polonius' advice to his Son, Footprints on the Sand, What kind of place.

Short Story

The Boy who broke the bank, Parige, My Elder brother, The Awakening, Don't die Hilton, don't die.

Comprehension and Composition

Punctuation, Letter Writing, Dialogue writing, Note making, Comprehension Passages, and more.

Chemistry

Solid state
Solutions
Electrochemistry And Chemical Kinetics
Surface Chemistry
General Principles Of Metallurgy
p-block Elements
d And f Block Elements & Coordination Compounds
Polymers
Biomolecules
Chemistry In Everyday Life
Haloalkanes And Haloarenes
Organic Compounds Containing C, H And O (Alcohols, Phenols, Ethers, Aldehydes, Ketones And Carboxylic Acids)
Organic Compounds Containing Nitrogen

Commerce

Financial Markets and Stock Exchange
Business Services, Banking and Other Services
Entrepreneurship and Entrepreneurship Development
Internal and International Trade
Principles and Functions of Management

Computer Science

Programming and Computational Thinking, Computer Networks, Data Management, Society, Law and Ethics

Business Studies

Foundations of Business, Sources of Business Finance, Small Business, Internal Trade, International Business

Physical Education

Physical Fitness, Yoga, Physical Activities & Leadership Training, Test, Measurement & Evaluation

Economics

Economic Growth And Economic Development
Population And Human Resource Development
National Income, Poverty & Unemployment
Planning And Environment
Agricultural Sector
Industrial Sector
Tertiary Sector
New Economic Reforms And Foreign Sector
Economic Features Of Telangana
Sectoral & Infrastructural Contribution To Telangana

Biotechnology

Sexual Reproduction, Biology & human welfare, Genetics and evolution, Biotechnology and its applications, Ecology and environment

Home Science

Family & Society, Judicial Management, Healthy Food Habits, Equity & Diversity

Political Science

Indian Constitution - Historical Context
Fundamental Rights and Directive Principles
Union Government
State Government
Local Governments
Special Statutory Commissions for the Protection of Citizen Rights
Social - Political Movements and Environmental Struggles in Telangana
Emergence of Telangana State
Telangana Movement: Role of Political Parties and JACs
Contemporary Issues in Indian Politics
SMART Governance
India and The World

Geography

Human & Economic: Definition, Nature, and Scope; Man and Geography
World Population
Resources
Primary Economic activities
Minerals
Secondary Economic activities
Tertiary & Quaternary Economic activities
Transport and Trade
Physiography
Climate, Vegetation & Soil
Population
Agriculture
Irrigation and Power
Minerals & Energy Resources
Industries
Trade & Transport
Geography of Telangana

Hindi

Listening & Speaking, Sentence Completion & Correction, Essay, Grammar, One Word Substitution, Synonyms, Antonyms, Verb

History

The Story of the First Cities: Harappan Archaeology, Political and Economic History: How Inscriptions tell a story, Social Histories: using the Mahabharata, Medieval Society through Travellers' Accounts, Agrarian Relations: The Ain-i-Akbari

Sociology

Introducing Indian Society, Social Institutions: Continuity and Change, The Demographic Structure of Indian Society, Patterns of Social Inequality and Exclusion

Psychology

Self & Personality, Psychological Disorders, Meeting Life Challenges, Psychology & Life
How to Download Telangana Class 12 Syllabus 2022-23?
The candidates can follow the steps mentioned below to download the Telangana Class 12 Syllabus 2022-23: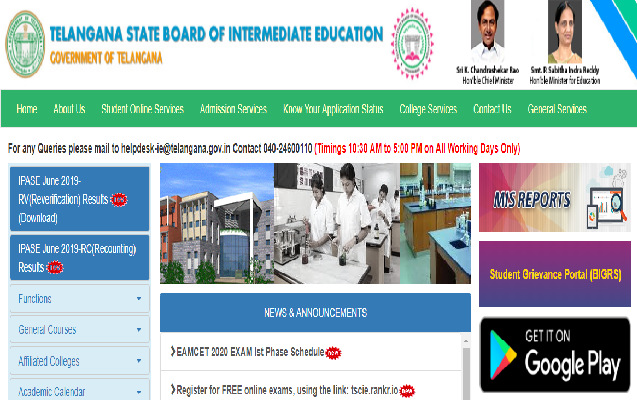 Go to the official website of the TS Intermediate Board at tsbie.cgg.gov.in 
On the homepage, click on the header that says syllabus.
Under the syllabus, click on the link for the Class 12th syllabus.
The subject-wise syllabus will appear on the screen.
Click on the link for the subject you want to download the syllabus PDF for.
Save the syllabus and use it to prepare for your exam.
Telangana Class 12 Exam Pattern 2022-23
The subject-wise exam pattern and marks distribution for the Telangana class 12 exam have been given below:
| | |
| --- | --- |
| Subjects | Maximum marks |
| English, optional languages (viz., Telugu, Hindi, Sanskrit, Urdu, Arabic, French, Tamil, Kannada, Oriya, Marathi), Commerce, Economics, Civics, History, Geology, Home Science, Logic, Public Administration, Sociology, and Psychology. | 100 |
| Mathematics and Geography | 75 |
| Physics, Chemistry, Botany, and Zoology | 60 |
| Music | 50 |
Check out the information about the TS Intermediate Syllabus 2022-23 given above. Make sure to download the subject-wise syllabus to start your preparations. 
Related Articles