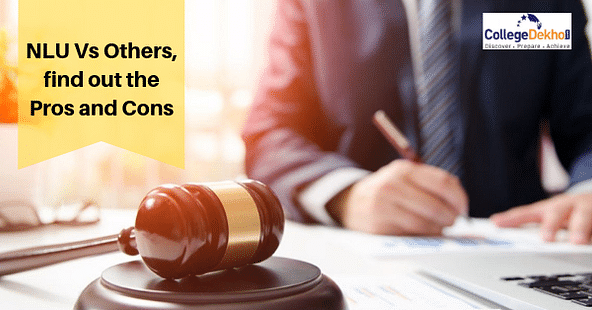 With Law becoming one of the most popular fields in terms of higher education in India, the number of law institutes in India has also been on a rise. Every law aspirant wishes to get admission to a leading law college so that he/ she is moulded in the best possible way. In order to make a successful career in law, getting into a good Law college becomes extremely important.
Although NLUs are the gold standard for law schools in India, many students are still torn between NLUs and non-NLU institutions. Being a student at any law college in India has some intrinsic benefits and drawbacks, whether you are an NLU student or a non-NLU student. And being aware of each of them is essential if you want to play to your strengths and be mindful of your flaws as a law student applying to law schools in India. The crème of India's law schools are the National Law Universities or NLU. It cannot be disputed that NLU students have an advantage over other students because of the excellent quality education and popularity of NLUs in India. However, in the end, it all boils down to the knowledge, learning aptitude, and efficiency in key skills required to become a successful lawyer that decides the success of a law student irrespective of the matter of whether they studied in an NLU or in a private law college.
NLUs or National Law Universities across the country are considered as some of the prime institutions for Law courses in India. Many Law aspirants dream to study in NLUs as they provide the best government infrastructure, are managed centrally and are known as the institutions of national importance. However, getting enrolled in an NLU is not the target of every student who wishes to pursue law. Many students prefer taking admission to a different university for several reasons. This article explores the difference of pursuing law from an NLU vs a non-NLU. Candidates who are unable to make a decision regarding this can find relevant details here.
Tier 1 National Law Universities (NLUs)
The NLUs or National Law Universities which are a part of the tier 1 cities are considered as the Tier 1 NLUs which are given the most importance among the NLUs. Mostly all Tier 1 NLUs have been ranked in the top 15 law colleges list by the National Institute Ranking Framework (NIRF) Rankings 2020. The Tier 1 NLUs are as follows.
College Name

Location

Bangalore, Karnataka

Hyderabad, Telangana

Raipur, Chhattisgarh

Gandhinagar, Gujarat

Bhopal, Madhya Pradesh

Delhi, Delhi

Jodhpur, Rajasthan

Kolkata, West Bengal
Note: All the other NLUs situated in the other cities in India are called Tier 2 National Law University (NLU).
Also Read: State-Level Law Entrance Exams in India 2022: Check Dates for Registration, Admit Card, Examination, and Results
Pros of Studying from a National Law University (NLU)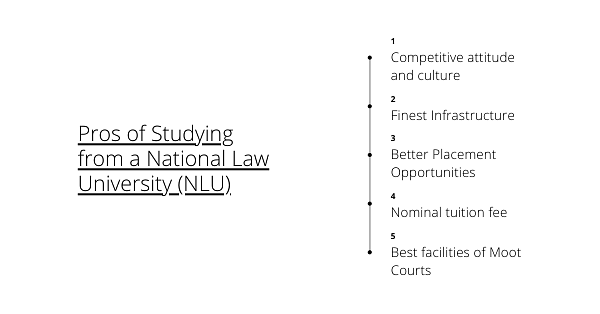 The National Law Universities (NLUs), being the top-rated law institutes in India have a lot of advantages for students who wish to pursue Law from here. Some of the key benefits of studying from the NLUs are as follows:
The biggest strength of these colleges are the students who take admissions into the colleges. The CLAT toppers generally prefer NLUs for their law studies, thus, the colleges only take the top merit on board. Statistics say, only 3% of the law aspirants get into the NLUs.

The NLUs always have and promote the competitive attitude and culture in the institutes and within the students, and this competition motivates the students to be always on their toes.

Almost all NLU campuses have the finest infrastructure among all the law colleges in India.

The placement sector of NLUs is one of the most important factors for which the students choose to study in NLUs. It is true that all the students can become legal practitioners after graduating with BCI (Bar Council of India) approved law courses, but studying in NLU is the way to get into corporate as well for the students. The top law firms nationally and internationally prefer to acquire young law graduates from the NLUs.

Being a government institute, the students can study by paying a nominal tuition fee subsidized by the government which is far better than taking up the course in private colleges where the annual tuition fees can go as high as Rs. 5 lakh.

NLUs have the best facilities of Moot Courts where the students can practice their dummy trials under faculty supervision. A handful of law colleges in India provide Moot court facilities.

Whether they admit it or not, NLU students do like the branding associated with their name. The Indian legal education sector boasts outstanding brands from top NLUs. In actuality, they are the biggest brands. This has happened as a result of the NLUs' consistent efforts. These National Law Universities go above and above to recognize student achievement. They provide funding and encourage students to compete in moots, debates, and other similar events. Influencers and legal luminaries are invited to the school to give lectures and take part in other events. These elements significantly help to promote the NLU brand.

P.O.R (Position of Responsibility) is an asset that NLU student organizations and activities help students add to their resumes. The students involved in these activities and events gain teamwork skills, learn how to communicate with professionals and well-known lawyers, connect with a wide range of individuals, and, if they are intelligent, develop a strong professional network.

Law students did not traditionally intern before NLUs. Most people have never heard of it. Students at NLU started interning actively as early as their first year. In fact, the entire semester has been planned to allow for as many internships as possible. Depending on his honesty, an NLU student will undoubtedly have secured at least 12 internships by the end of his 5-year program. Instead of "distinctions," your resume is only valuable if it lists a sufficient number of internships and extracurricular activities. If you don't have enough internship opportunities, your grades are useless for employment.
Cons of Studying from a National Law University (NLU)
There are certain cons or disadvantages as well of studying from NLUs. However, these negligible flaws should not come into the path of considering NLUs at the time of admission. The cons of NLUs are as follows:
All specialisations are not offered at every NLU. For example, if a student wants to pursue BBA LLB, he/ she will have to get admission in NLU Gandhinagar/ NLU Patna/ NLU Jodhpur/ NLU Cuttack as only these four NLUs provide the undergraduate course of BBA LLB.

The NLUs mostly follow the old and traditional pedagogy of teaching which can make the institute lag behind when it comes to modern teaching techniques and pedagogy.

The fact that NLUs admit very few students every year makes the competition quite tough. Students have to go through cut-throat competition in order to secure a seat at any NLU.

Expectations for a student attending a top NLU are extremely high. Being an NLU student, as is frequently mentioned, comes with a lot of responsibilities and expectations, and only those who can live up to them will be able to survive in such a hostile atmosphere. The only way for NLU students to withstand the intense peer and familial pressure is to perform at the top of their class, complete a large number of outstanding internships, compete in national moot court competitions, and publish articles in reputable journals.

The students don't seem to be able to get more than a month or two at a stretch for their internships because of the way NLU's timetable is set up. Because they are constantly busy, sometimes with less-than-productive work, they are unable to intern for an extended period of time. Comparatively, a non-NLU receives more time for internships, which helps them to pursue practical experience and, in turn, increases their chances of being hired by law firms and a few reputable law chambers.
Also Read: B.B.A. LL.B. or B.Com LL.B: Which Course is Better?
Pros of Studying from a Private Law College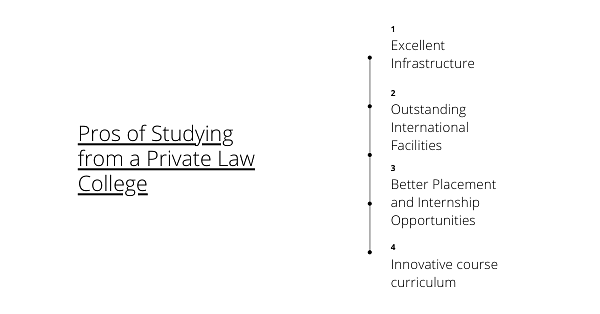 Many private law colleges have established themselves among the leading law institutes of the country and stand at par with the NLUs. For example, the Symbiosis School of Law has made its place in the top NIRF rankings as well. Private law colleges are equipped with better infrastructure, updated pedagogy and teaching method which helps the students understand the subject by probing into the depth of it. Some of the pros of studying in private law colleges are as follows:
The infrastructure in private law colleges is excellent, and the teaching rooms are equipped with e-learning, audio-visual learning experience, and air-conditioned classrooms. The campuses usually have all the comfort a student needs.

Diversity is a positive point in private law colleges. In NLUs, the college only teaches law but in the private colleges, the students can interact with students and peers from other departments and courses such as engineering, management, mass communication, etc which proves beneficial to expand the reach and improve versatility among the law students.

Many colleges outside of the NLU send faculty from other countries to speak with their students to help them comprehend. The nation's top academics and advocates frequently visit these universities. Regular visits from international advocates to these private colleges provide non-NLU students with a wealth of exposure.

A blend of the interesting and innovative course curriculum is offered at these private law colleges which makes the student more fascinated towards the process of learning.

Many private institutes ensure internship and placement assistance is given to all students. Non- NLU law students get more time to intern which lends them more practical experience and also strengthens their working relationships with partners and associates. They get a good hold of working styles and communication dynamics while interacting with experienced people from their field and build a solid network for themselves, unlike NLU students who don't get more than a month or two to intern due to the nature of NLU's syllabus.

There are high expectations for you if you enroll in a prestigious NLU. After graduation, you should have a job paying well. You should land the greatest internships possible. You are expected to triumph in moots. You should write publications in prestigious journals and present papers at prestigious conferences. You are expected to earn your master's degree with financial aid from a prestigious university before becoming a partner or senior advisor. You aren't considered good enough if you don't do any of those. Students at NLU experience excessive peer pressure, and social anxiety, are on the verge of breaking down, and even face pressure from their families. They might be taking out a student debt, which only adds to the psychological strain. However, this is not the case for Non-NLU students.

Students at NLU struggle with a superiority mentality. Sure, they start earlier, work harder, and receive more exposure than the majority of non-NLU students, but these are not indisputable advantages. By methodically creating plans and carrying them out with attention to detail, any Non-NLU student might overcome these obstacles. The non-NLU student population's motivational graph is excellent. They want to improve their college and expand their possibilities. And it was here that they defeated NLU. Sincere non-NLU students are more likely to investigate, put in extra effort, and treat opportunities seriously. A non-NLU student who makes good use of their three or five years is probably going to do much better after graduation. Not all of the best attorneys are NLU alums.

Many private and non-NLU universities have experienced professors on staff who either graduated from NLUs or have experience teaching in NLUs. Such faculties significantly improve a private college. Students become more motivated and eager to perform well in the classroom as a result of their participation in college.
Cons of Studying from a Private Law College
The cons of private law colleges and universities in India have been mentioned below. Aspirants should consider these facts before choosing any private law colleges:
Fees are exceptionally high in private law colleges. There is no regulatory bard for fees in law courses, thus, some private universities and institutions can charge up to Rs. 7 lakh per annum for law courses. Both middle-class and lower-class individuals appear to have a very tough time paying such hefty costs. The average annual cost of addmission at most private colleges may exceed Rs. 5 lakh.

The curriculum of some colleges can be vast and hence some students might find covering all of it to be a problem.

In some colleges, students might have to look for internships themselves. The institutes provide the facility of campus placements but students have to land at internships by themselves.

The number of events organized by private institutions is enormous. One of the main reasons why many students in private colleges fall behind NLU students is because students are so involved in all of these events that they are unable to concentrate on their schoolwork. These students can't concentrate on their studies since they are involved in multiple activities at once.

Private or non-NLU colleges don't provide their students with many internship chances; they have to discover them on their own. However, there are some universities that help every student in their program secure an internship by offering good internship options. Many students find it challenging to secure their own internships.

The curriculum of private law colleges is vast and, more often than not, the effort is placed on theoretical learning more than experiential learning. Students studying in private law schools have to cover a humongous amount of syllabus (more specifically law theories) each semester and there's least to no emphasis on practical learning and gaining knowledge via practical experience through clinical internships, moot court sessions, and more. 

This is one of the major cons of a private law school, since without practical experience students wouldn't be able to explore the legal know-how, how to conduct themselves during court sessions, and other law-related procedures that would render them useless when it will come to real-life experience.

Best Law Colleges in India (Non-NLUs)
The list given below contains the names of some leading private law colleges in the country in which students can seek admission. These are some of the best colleges which offer placement assistance, great infrastructure, modern teaching methods, and updated pedagogy.
College Name

Location

Hyderabad, Telangana

Mumbai, Maharashtra

Moradabad, Uttar Pradesh

Indore, Madhya Pradesh

Jaipur, Rajasthan

Chandigarh, Punjab

Jalandhar, Punjab

Sonepat, Haryana

Pune, Maharashtra

Ahmedabad, Gujarat
​Also Read: Law Admission Without National-Level Entrance Exam Score
This article clarifies the myths that prospective lawyers hold before enrolling in law school. It outlines the advantages and disadvantages of NLUs and non-NLUs and aids in understanding the key distinction between the two. In conclusion, it may be claimed that disparities only exist because of people's minds; otherwise, there wouldn't be any. Whether a student wants to study or not is entirely up to him or her. Their diligent work is what counts. It is the student who makes the difference since an NLU student may not be studying and may not have any experience, but a student from a private institution may have exceptional knowledge and abilities that will enable him or her to compete and outperform a student from an NLU.
Therefore, there is no substitute for hard work. No institute can give the student a good opportunity if the student is not willing to put in some amount of hard work and effort to study. If you are interested to take admission or apply to any of the desired Law college, you can either fill-up the Common Application Form or dial the toll-free number 1800-572-9877. Either way, our admission experts will reach out to you and will assist you throughout the procedure. If you have any queries related to the same, leave them on the QnA zone.
Stay tuned to CollegeDekho for more information on Law.