Management Aptitude Test (MAT) is one of the national-level management entrance examinations in India conducted for admission to the Master of Business Administration (MBA) or the Post Graduate Diploma in Management (PGDM) program. The ideal preparation time for the MAT 2022 exam is 6 months and if you are following a 6-month MAT preparation strategy, you must be in the final stages of exam preparation. Some of the best management colleges in India accept MAT scores for admission to their management programs
However, this is a crucial time for every MAT aspirant as the preparation done just before an exam is conducted is best retained by any candidate and can go a long way in improving your performance and score in the MAT 2022 exam. Therefore, it can be very beneficial to have a good last-month or last-week preparation strategy for the MAT exam.
COVID-19: Specific Guidelines Issued by AIMA
AIMA is about to conduct MAT CBT and PBT on September 4 and 18, 2022 (September Session). MAT IBT will be conducted on August 28, September 3, 10, 11 and 17, 2022. Candidates planning to take the examination must go through the guidelines on how to conduct the exam safely during the COVID-19 pandemic released by AIMA. The examination will be conducted while ensuring that government-specified safety regulations are being followed.
Candidates will be required to visit the examination hall to appear for MAT CBT and hence must exercise the utmost caution to ensure their safety as well as the safety of other candidates who visit the exam centre.
AIMA Safety Guidelines for MAT CBT During COVID-19
Check the important guidelines issued by AIMA for MAT CBT and PBT candidates and exam centres.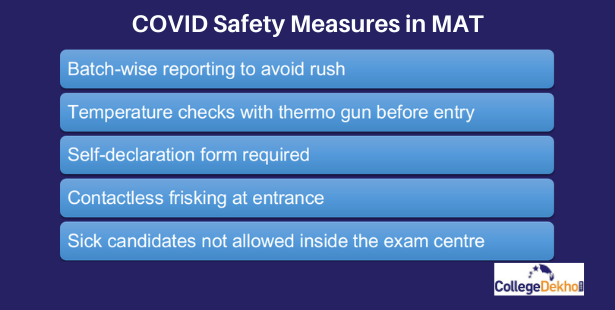 Reporting will be done in batches with different reporting times provided to each batch.

The temperature of each candidate will be checked using a thermal gun. Candidates with high body temperatures will not be allowed to enter the exam centre.

Candidates are advised to not visit the exam centre if they are sick and have a fever, cold, headache, cough, etc.

The candidates will be required to fill out a self-declaration form, which will have to be submitted at the main entry gate of the exam centre.

Candidates must be prepared to be frisked at the main entry. However, contactless frisking will be conducted to avoid any spread.
Personal Items Allowed Inside the MAT CBT & PBT Exam Centre
Candidates must bring only the following personal items to the MAT CBT and PBT exam centre.
Ball Point Pen

Hand sanitizer in a transparent bottle

Drinking water in a transparent bottle
Precautions To Be Taken at the MAT Exam Centre Due to COVID-19
It is important that every candidate is aware of and follows the COVID-19 related safety precautions given below to ensure the safety of every student appearing for the exam centre.
Keep a safe distance from other candidates as well as from invigilators and other staff members.

Sanitize your hands properly before entering the examination hall and promptly after touching any foreign surface.

Keep wearing a mask at all times and ensure that your nose and mouth are properly covered.
Also Read:MBA Entrance Exam Schedule
MAT 2022 Last Minute Preparation Tips
Here are some last-minute preparation tips for the MAT 2022 exam, that can give an ultimate boost to your score and make all the difference between getting admitted to the best and just a good MBA college.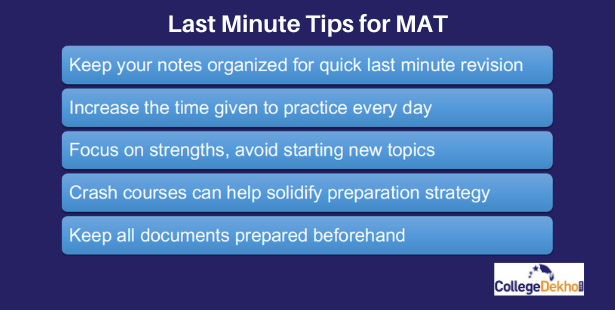 Identify Last-Minute Topics for Study or Revision: It is only human for some topics and/or subjects to fade from memory, especially the ones that you may have studied early on and not revised for some time. Identify these topics and prepare notes in a manner that would allow you to quickly revise those topics just before the exam.

Arrange and Organise Your Notes: If you haven't already, arrange and organise your MAT exam preparation notes. Time spent searching for topics for revision through poorly arranged notes can waste your precious time, especially when you are days away from the exam. It can also confuse and may even cause you to skip the revision of an important topic.

Focus on Your Strengths: While it is always better to cover as much of the syllabus as you can, trying to study completely new topics can often backfire when you are doing it at the last minute. Instead, it is better if you focus on the topics you know well.

Another major misdirection that candidates often take is practicing questions that fall above the level of difficulty of the exam. While this may help improve your skills, it may have no impact on the speed and accuracy of the exam. Instead, it may lead to a loss of confidence and unnecessary stress.

Practice: There is never such a thing as solving too many questions when preparing for an exam. Keep solving mock tests and sample question papers. Timing your practice provides a great perspective on performance improvements and helps you adjust your speed-vs-accuracy ratio when attempting the exam.

Crash Course: This may not exactly be a last-minute thing to do but some institutes offer crash courses of 2-3 months duration. These courses mostly focus majorly on practice, mock tests, and quick revision strategies. They not only help you get a perspective of the competition but may also be a confidence booster. Carefully consider your current level of preparation and requirements before deciding whether you would want to go for a crash course or not.

Prepare Your Documents: Getting the required documents such as ID card and admit card ready is one thing that candidates often overlook unless at the very last minute. While it certainly does not take much time to get the documents in order, leaving it for the last minute can cause unnecessary stress if anything goes wrong, which can just be avoided by being prepared and having your documents ready early on.
How to Prepare for MAT 2022
So, now that you have ensured that you are well-prepared for the MAT 2022 exam. You have done studied hard for 6 months, solved the best-available mock tests and sample question papers for MAT, followed the best exam advice given by some veteran aspirants teachers, and read everything there is to be read about the exam on the internet. You are the best candidate there can be for the MAT 2022 exam.
MAT 2022 Exam Day Tips
However, all of the time you have spent preparing would only be fruitful if you can perform well and keep your head about you during the 2.5 hours of the exam. To help you give your best performance in the exam, follow these exam-day tips for MAT 2022 to ensure that you are in the best possible physical and mental state for the exam.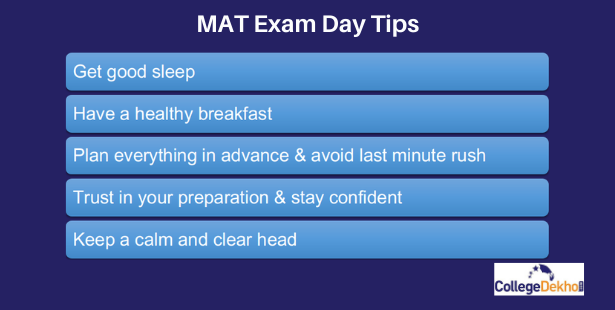 Get a Good Night's Sleep: In a bid to make the best of the time available to them, candidates often tend to pull an all-nighter, studying and revising even till the last day. No matter your level of preparation and the amount of syllabus covered, studying all night on exam day will only cause you to be tired and sleepy on the day of the exam. It is much better to have a good night's rest and reach fresh and well-rested on the exam day.

Have a Good Breakfast: Having a good breakfast gives a good start to any day and you mustn't skip this meal on the day of the exam. Skipping or skimping on breakfast on exam day can make you feel lethargic and sleepy during the exam.

Avoid Last Minute Rushes: Whether it is keeping the ID card, document, and any stationery ready the night before or reaching 10-15 minutes before the reporting time to ensure you have enough time to go through any verification and have some time to be seated and calm your nerves before starting the exam, avoiding any last-minute rushes is always a good idea.

Remember to read the instructions on the Admit Card carefully to ensure that you are not missing any essential document or reaching the examination hall with anything missing.

Keep a Clear Head: Some people tend to do well in exams even with mediocre preparations while some candidates following the best and the most stringent preparation strategies often fail to get their best and targetted marks. The difference lies in keeping a clear head during the exam and focusing on what you know and can attempt instead of staying stuck and wasting time on very difficult questions that you may not be able to solve accurately even after spending a lot of time on them.

Stay Confident: If you have prepared and revised well, there is no need to worry on exam day. Have confidence in your preparation and skills and walk into the examination hall with the confidence of giving it your best.
Also Read:Entrance Exams for Admission to BDes and MDes Courses in India
Documents to Carry to the MAT Exam Centre
On the day of the MAT 2022 exam, candidates are required to carry certain documents and items. These are required for verification of identity as well as to help candidates take the exam. Here is a checklist of items that candidates must carry to the MAT exam centre.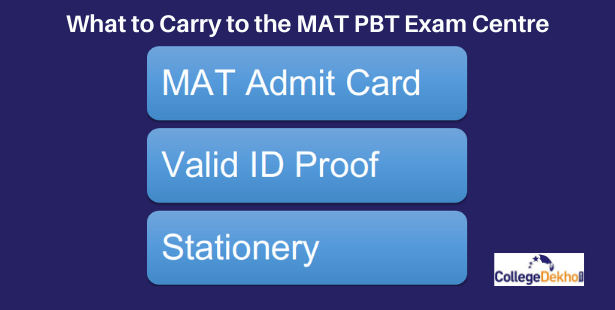 MAT 2022 Admit Card: Candidates are required to carry a printout of their admit card to the examination centre. The admit card contains all of the important details such as the Application No., Roll No., Exam Centre Location, Exam Timings, etc. At the exam centre, an invigilator verifies and signs on the admit card. One-half of the admit card is submitted at the exam centre while the candidate keeps the other half with them.

Identity Proof: Candidates must carry an original copy of one of the following documents is required to be carried to the examination centre as proof of identity for the MAT 2022 exam.

Aadhar Card

Passport

Driving License

Voter ID Card

PAN Card

Stationery: Candidates appearing for CBT must carry writing instruments such as a blue or a black ballpoint pen, pencil, erasers, sharpeners, etc. Apart from this, candidates are not allowed to carry any other piece of paper for rough work or any other purpose inside the examination hall. Blank sheets for rough work are provided to the candidates at the examination centre itself.
Any electronic gadgets such as mobile phones, calculators, wristwatches, etc. are not allowed inside the examination hall and it is advised that candidates should not carry these items to the centre to avoid any issues with storage and safe-keeping.
Colleges Accepting MAT 2022
Check the following articles for the list of colleges accepting MAT 2022 scores.
These last-minute preparation tips and exam day instructions will help you do your best in the exam and avoid any hiccups while attempting the MAT 2022 exam. Remember to trust your instincts and focus on your strengths and you are sure to do well. Best of luck!
Stay tuned to CollegeDekho for the latest updates and tips and tricks for exams in India!