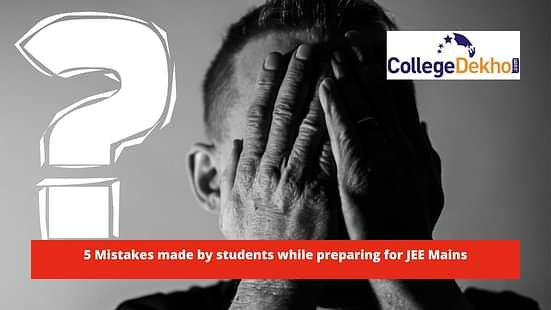 5 Mistakes Made by Students While Preparing for JEE Main 2024 - Scoring a good rank amongst lakhs of candidates requires consistent dedication and zeal. Every year, the National level engineering entrance exam, JEE Main, witnesses a large number of participants, however only a selected few are able to win the race. What could be the success mantra of the JEE Main toppers that others are unaware of? Here in this article, CollegeDekho will highlight 5 mistakes made by students while preparing for JEE Main 2024. Once you are aware of the major tips and tricks, you can easily secure good marks and secure admissions into top IITs, GFTIs, and NITs.

NTA will conduct the JEE Main Session 1 2024 exam from January 24 to February 1, 2024, and the Session 2 exam from April 1 to 15, 2024. The JEE Main Application Form 2024 will be released tentatively in December 2023 for Phase 1. 
LATEST: JEE Main 2024: Here is when application form is expected
Quick Link: JEE Main Session 2 Exam Date 2024 Released
Test takers of JEE Main exam 2024 are usually those candidates who have cleared their Class 12 and aim for a bachelor's. Such candidates may make blunders while preparing for JEE Main due to a lack of guidance and ambiguity in goal setting. 
Important Link:
Students should treat the JEE Main exam with care and avoid the following 5 mistakes. Here at CollegeDekho, we always recommend doing your research to make sure you understand clearly how one can best approach this exam as a student and what mistakes you should try not to make at all costs.
Quick Links
Discussed below are the major 5 mistakes made by students while preparing for JEE Main exam:
| Pointers | 5 mistakes made by students while preparing for JEE Main exam |
| --- | --- |
| 1. | Wrong plan of action |
| 2. | Prefer quality over quantity (in terms of books and prep material) |
| 3. | Time management issues |
| 4. | Avoiding in-between self analysis |
| 5. | Inconsistency in revision |
Also check: JEE Main Cutoff for NITs: Check Course & Category-Wise Opening & Closing Ranks
Let us look at each pointer in a descriptive manner to have better insights.
Wrong plan of action
As candidates commence their preparations for JEE Main 2024, their primary focus typically spins around choosing the correct source of study materials and books from where they can start up with their preparation strategy. This might sound like a good idea initially but too many study materials can pose as a distraction and can be confusing. Candidates are instead advised to focus on NCERT books which should be the pillar of their preparation. JEE aspirants will be able to utilize this textbook and ensure that they go through all of the necessary chapters required for their exam preparations.

Students are familiar with NCERT books and going back to them for revision might help them remember some concepts better. There's no doubt that you'll come across questions that can be traced back to problems from this textbook or previous exercises. The NCERT is an important formula or resource for exam preparation purposes. Students practice from several study materials but the main factor of an effective preparation lies in choosing the Best Books for JEE Main 2024.
Prefer quality over quantity (in terms of books and preparation material)
Committing all your time and energy to JEE Main 2024 Preparation Tipsis not required. The preparation should not be measured by the number of hours that the student commits to the topic but by their understanding of the topic. Studying for the JEE Main isn't like studying for any other exam. A lot of candidates get easily discouraged when they realize that they have a lot of work to do, but it isn't necessary to study a certain number of hours each day - what's more important is concentrating on specific topics and memorizing key facts.

It is certainly possible to learn every single topic, but it would be far too stressful if you tried to keep up this pace for long enough to succeed at the exam. So, students should understand that during the course of their studies for JEE Main, quality will automatically lead to an increase in quantity over time.
Time management issues
Time is the single most valuable thing we possess, so it's important that the students use it wisely. There are a number of ways in which time can be wasted when studying for JEE Mains and it can lead to not just failing this exam, but also not being able to pursue the career path of your choice. The two pillars of the time management strategy for JEE Mains are creating a study plan where you allot time according to the topics and the second is prioritizing the task according to the difficulty level. 
By practicing with JEE Main Mock Test 2024, and sample papers of JEE Main 2024 students can also understand the time that they take for a particular section, and this can be used to improve the speed and accuracy of answering the questions. But mock test scores should not be taken too seriously, instead, more focus should be given to the quality of answers rather than the number of questions answered.

Also check:
Avoiding in-between self-analysis
Students need to be confident in all the topics of the syllabus when taking JEE Main exam if they expect to achieve a high score. This is only possible if students conduct a SWOT analysis of their preparation strategy. This basically means the candidate must understand the strengths, weaknesses, opportunities, and threats. We can simply say that this means figuring out the areas of study that require more time and effort and areas where the students have the opportunity to score more.
Conducting self-assessment is crucial and it is recommended to do this throughout the preparation stage. Some students might feel shy or anxious to clear their doubts. This poses a major threat to the preparation. Understanding all the topics of the syllabus creates a strong foundation that helps the students to tackle all kinds of questions in the paper. 

Related Links,
Inconsistency in revision
A lot of students make the mistake of not revising properly. Revising is important to remember all the topics covered in the JEE Main syllabus 2024. Keeping the revision to the last moment is not advisable, instead, candidates should focus on revision on a daily basis. Consistency is key to understanding the concepts and retaining the knowledge. Creating revision notes during the studying process also aids in remembering the concepts during the final stage.
Candidates are advised to practice with mock tests, JEE Main Previous Year Question Papers, and sample papers consistently. The questions that will be asked in the paper might be in different forms and in a non-traditional manner, having in-depth knowledge of all the topics will help the students to tackle all kinds of questions that might be asked in the paper. A combination of revision notes and regular practice tests will help the students strengthen their knowledge foundation and in turn be more confident and perform better.
There are a million ways to prepare for JEE Mains, but the right preparation method varies from one student to another. Similarly, there are many mistakes that an aspirant can make during their preparation for JEE Main. The common 5 mistakes that students make while preparing for JEE Mains are highlighted above. The other mistakes are not taking enough breaks to focus on physical and mental health, being over or underconfident, and neglecting certain topics or subjects. Hence we can conclude that rectification of mistakes is crucial on the road of preparation.

 Also Read: JEE Main 2024 Admit Card
JEE Main Admit Card 2024
The NTA will release the admit card of JEE Main 2024 on the official website. The JEE Main admit card will be made available in online mode. In order to get access to the JEE Main admit card 2024, candidates will have to log in to the portal using their date of birth/ application number and password. Candidates who have successfully completed the application process for JEE Mainwill be eligible to download the JEE Main Admit Card 2024.
Also Read: JEE Main Passing Marks 2024
Practice JEE Main Previous Year's Question Papers - Download PDFs
Find JEE Main  previous year question papers for exam preparation here - 
Source: Aakash BYJU's
JEE Main Exam Materials
You can click on the link below to access various exam-related materials pertaining to JEE Main exam -
For more information and updates, stay tuned with Collegedekho!