The New Education Policy (NEP) 2020 released by the Education Ministry has emphasised on the growing need of online education in India. Since the whole world is going through a pandemic, it has become imperative that we should be ready with some alternative mode of education and this is where online education has come into the picture.
The New Education Policy (NEP) 2020 is designed to maximise the benefits of digital and online education in India while mitigating the downsides. The new education policy has come with some initiatives comprising Pilot studies and installation of virtual labs. 
Table of Contents
What is the New Education Policy (NEP) 2020?
The newly named Education Ministry has released a new education policy with a vision of reshaping the education system in India. The education policy aims to transform the education standards of India by the end of 2040. There are some changes like renaming of the Ministry of Human Resource Development to 'Ministry of Education' that have already been implemented while the rest of the changes are expected to be implemented at various junctures. 
Also Read: Chandigarh University to Begin Distance and Online Education Programmes from 2020
Key Challenges for Online Education in India
There are some common challenges that were considered while preparing the new education policy. Some of them are provided below.
More than 30% of the country's population is not computer literate. Some of them even don't know how to start a computer. 

Not everyone can afford a computer or a laptop. Some sections of the society such as farmers, maids, housecleaners, sweepers and waiters may face difficulties purchasing a laptop.

Some teachers are not familiar with the new format of education. They are not well trained for online education classes. Besides this, it is not necessary that a good classroom teacher will be a good teacher in the online classroom.

There are a limited number of resources available to conduct an online examination in India. Besides this, there is a limitation for the number of questions that can be asked in the exam.

Certain type of subjects and courses such as science and performing arts can not be taught in the digital education space.

The online education system is more of a type of screen-based learning system which restricts the students to perform practicals.

The internet connectivity is not good everywhere. There are some cities of India where the people are still using 2G or 3G internet connection.

A good concentration and self-motivation are required for online education. Students below the age of 17 years may lack these skills.
Also Read: UGC Forms Expert Committee for Enhancing Online Education
Highlights of New Education Policy(NEP) 2020 for Online and Digital Education
Check the major highlights of the New Education Policy (NEP) for Online and Digital Education here.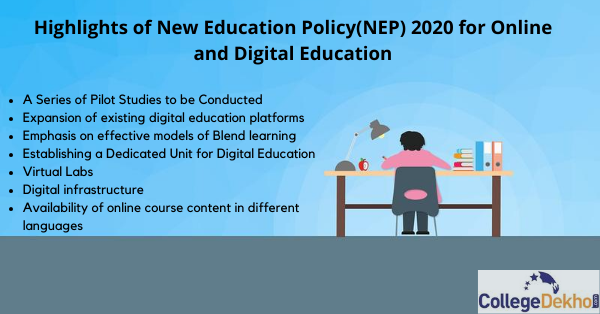 Changes in the Online Education System As per the New Education Policy (NEP) 2020
The New Education Policy (NEP) has recommended some key initiatives listed below.
Pilot Studies for Digital/ Online Education
Some of the educational institutions and universities such as NIOS, NITs, IGNOU, CIET and NETF will be asked to conduct some research for maximizing the benefits of digital learning in India. The research and pilot studies will include finding the most preferred format of E-content and decreasing the risk of student device addiction. 
Online Teaching Tools and Methods
The existing e-learning platforms such as DIKSHA and SWAYAM will be extended to provide teachers with a user-friendly and well-structured environment. These platforms will be updated with some set of tools such as two-way audio interface and two-way video that can help the teachers to conduct online classing and monitor the progress of students.
Digital infrastructure
The new education policy will include some investment in the creation of public digital and interoperable infrastructure that can be utilised by multiple platforms. This new digital infrastructure will be created by keeping in mind that the technology-based solutions provided through it do not become outdated with time. 
Training for Teachers
Teachers will be trained to use online learning tools and platforms. Besides this, they will also be trained with additional skills so that they can manage the online platform themselves. The training will emphasis on improving the teacher-student engagement through the online content and resources. 
Virtual Labs
Some digital platforms such as SWAYAM, SWAYAMPRABHA and DIKSHA will be asked to create some virtual labs where students can practice their theoretical knowledge. These labs will be equipped with all tools for improving the hands-on experiment-based learning experiences. Besides this, access will be provided to the SEDG students and teachers so that they can learn through the tablet or any other electronic gadget.
Also Read: How Affordable is Online Education for the Common Man?
Availability of Courses in Different languages
Televisions, community radio and radio will be utilised for telecast and broadcasting purposes so that the students who can't access the digital media. Students will be able to access the study material in their regional language whenever they want. Besides this, the online content will be made available to the students as well as teachers in their medium of instruction. 
Online Assessments and Examination
Some government bodies such as School Boards, NTA, proposed National Assessment Centre or PARAKH will work on designing a new assessment framework. The new framework will be designed to examine the performance of the students as per the updated standards of online education. Besides this, the framework will be based on 21st-century technology. 
Digital repository, Content creation and Dissemination
A digital repository will be created which will include Learning Games & Simulations, Virtual Reality and Augmented Reality. The system will be provided with the public system for rating by the user to analyse the quality and effectiveness. Besides this, some fun based learning tools like gamification of Indian art and culture will be created with operating instructions. These instructions will be available in different languages so that everyone can understand it easily. A secure backup system will also be provided for the dissemination of e-content to students.
Standards of Online Learning
The standard of the content, pedagogy and technology for the digital education will be set by the NETF and other
appropriate bodies. These standards will enable the government to set guidelines for classrooms. E-learning and methods for digital learning in India. 
Blended models of learning
The importance of face-to-face learning will not be compromised while promoting digital learning and education. Different modes of blended learning will be analysed and only the appropriate method will replace the traditional modes of learning. 
Creating a Dedicated Unit for Digital Education
A dedicated unit for the purpose of promoting digital learning will be established in the MHRD. The unit will look after the online learning need of both the school as well as higher education. This centre will comprise of experts from the field of education, educational technology, administration, e-governance, digital pedagogy and IT. These experts will be working in delivering high-quality education to the students and resolving their queries. 
Colleges Offering Online/ Digital Education in India
While looking for an online course, you can consider the following colleges. The curriculum of all these colleges is well updated as per the current industrial demand.
| | |
| --- | --- |
| | |
| Shri Venkateshwara University, Gajraula | |
| | |
| | |
| | |
There are many other things that are mentioned in the New Education Policy (NEP) 2020 such as introducing coding from class 6th, flexible choice of subjects from 9th to 12th and activity-based learning below class 2nd. If you want to know more about the New Education Policy (NEP) 2020 then you can ask questions on the Collegedekho QnA zone.
Here are some articles and news related to the New Education Policy (NEP) 2020.
For admission-related guidance, fill our Common Admission Form or call our toll-free number 1800-572-9877