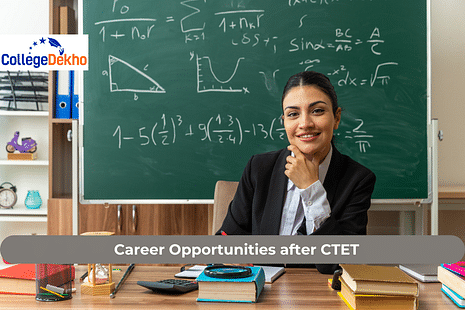 Career Opportunities after CTET 2024: Candidates who have successfully qualified in CTET are eligible to apply for teaching positions in central government schools, most notably Kendriya Vidyalaya and Jawahar Navodaya Vidyalaya. This examination not only plays a pivotal role in ensuring the availability of skilled and competent educators but also contributes significantly to raising the overall standard of education across the nation.

The Central Teacher Eligibility Test (CTET) holds a significant position in India's educational landscape as a vital examination that validates the eligibility of individuals aspiring to embark on a teaching career within central government schools. Administered by the Central Board of Secondary Education (CBSE), CTET assesses the teaching aptitude, subject knowledge, and pedagogical skills of candidates through two distinct papers: Paper-I, tailored for those aiming to teach classes I to V, and Paper-II, catering to individuals aspiring to teach classes VI to VIII.
For those who have appeared in the CTET 2024 or preparing to take the CTET examination, we will be reviewing comprehensively the next stage of progression after clearing the CTET. From understanding after CTET what to do, CTET career opportunities to the pay scale and career graph for CTET Qualified teachers.

Also Read:

After CTET 2024 What to Do?
In accordance with the
CTET 2024 selection procedure
, achieving a passing score on the exam does not guarantee the employment of candidates within government or private educational institutions. It serves as just one of the qualifying criteria for the teacher recruitment procedure. Those who successfully clear the CTET examination are eligible to seek employment in central government schools such as KVS, NVS, Central Tibetan Schools, and institutions under the governance of Chandigarh, Dadra & Nagar Haveli, Daman & Diu, Andaman & Nicobar Islands, Lakshadweep, and NCT of Delhi.
It has also been officiated by the CTET that being granted permission to participate in the exam should not be misconstrued as a validation of the candidate's eligibility. This allowance does not confer any entitlement upon the candidate for employment. The confirmation of eligibility will undergo thorough scrutiny by the pertinent recruiting agency or appointing authority. Prior to applying, candidates must ensure that they meet the eligibility prerequisites and will be held accountable if they submit an application despite not meeting the stipulated criteria.
Selection Process after CTET 2024
The selection process for CTET 2024 encompasses several significant aspects, as highlighted below:
Candidate evaluation is rooted in their performance within the examination.
Minimum Score Requirement: To qualify for consideration, candidates must secure a minimum of 60 percent or more marks in the CTET 2024 exam.
Adherence to Eligibility Criteria: Prospective candidates are obligated to fulfill the CTET 2024 eligibility criteria, as prescribed by the CBSE.
Rechecking/Revaluation: CTET does not facilitate re-evaluation or re-checking of results. Any inquiries related to this matter will not be accommodated.
Job Placements: Attaining a qualifying score in the CTET does not automatically guarantee job placements. Candidates are required to apply for positions at different schools based on available vacancies.
Recruitment Process: Following the successful completion of the CTET exam, candidates are mandated to participate in the comprehensive recruitment procedure of the particular school for which they are seeking employment.
Applicability of the CTET Certificate: Candidates possess the prerogative to present the CTET 2024 certificate, issued upon successfully passing the exam, to the respective school during the application and selection process.
CTET Certificate Validity: The CTET eligibility certificate remains valid for a lifetime, commencing from the date of the CTET 2024 result declaration.
Opportunity to Reattempt: Candidates who do not attain a qualifying score in the CTET exam are afforded the opportunity to take the exam multiple times, without any limitations on the number of attempts.
In essence, the CTET selection process intertwines examination performance, adherence to eligibility prerequisites, application for specific vacancies, participation in school-specific recruitment, and the lifelong validity of the CTET eligibility certificate.
Career Scope after CTET 2024
Qualifying for the CTET in India can open up various opportunities for career growth in the field of teaching. Here are comprehensive bullet points outlining potential career opportunities after CTET:
Primary Teacher (PRT)
Entry-level teaching position for classes I to V.
Focus on foundational education and holistic development of young students.
Develop teaching skills, classroom management, and subject expertise.
Opportunities for creativity in lesson planning and interactive teaching methods.
Trained Graduate Teacher (TGT)
Progression from PRT, teaching classes VI to X.
Subject-specific teaching expertise in subjects like Mathematics, Science, Social Studies, etc.
Deeper understanding of curriculum and subject matter.
Opportunity to contribute to a student's academic growth and subject-specific skills.
Post Graduate Teacher (PGT)
Advancement from TGT, responsible for teaching classes XI and XII.
Specialized subject knowledge and curriculum delivery at higher levels.
Preparation of students for board exams and competitive exams.
Opportunities for mentoring students pursuing higher education.
Vice Principal/Headmaster
Leadership role in school administration.
Involvement in decision-making, curriculum development, and overall school management.
Responsible for maintaining discipline, coordinating staff, and ensuring smooth operations.
Opportunity to shape educational policies and contribute to the school's growth.
Other Career Opportunities after Qualifying CTET Exam
Scope after qualifying CTET exam is immense, given that this is a central-level exam but the exam also lays ahead uncertainty or a long wait for job openings. In such cases, a CTET qualified candidate can take up other roles or pursue further education. Find out other career opportunities after CTET or the job positions one can opt for apart from the ones mentioned above:
Curriculum Developer/Instructional Designer
Develop and design educational content, textbooks, and teaching materials.
Collaborate with educational publishers and institutions.
Incorporate innovative teaching methods and technologies into the curriculum.
Influence educational content to improve learning outcomes.
Teacher Trainer
Conduct workshops and training sessions for fellow teachers.
Share best practices, teaching techniques, and pedagogical approaches.
Contribute to the professional development of teachers.
Educational Content Creator
Create online courses, video lessons, or educational blogs.
Share subject knowledge and teaching methodologies with a wider audience.
Opportunities in the rapidly growing online education sector.
Education Consultant
Provide expert advice to schools, educational institutions, or government bodies.
Contribute to curriculum design, policy-making, and educational reforms.
Share insights on improving teaching methods, student engagement, and learning outcomes.
Further Education and Research
CTET Qualified teachers can pursue higher education such as a Master's or PhD in Education.
Engage in educational research, and contribute to pedagogical advancements.
Contribute to the academic community through publications and presentations.
It's important to note that career growth opportunities may vary based on factors like experience, qualifications, performance, and the specific education institution. Continuous professional development, dedication to teaching excellence, and adaptability to evolving educational practices are key to maximizing career growth after qualifying for CTET.
Salary and Payscale for CTET Qualified Teachers
CTET Salary Structure for 2024 Teachers who are selected become eligible to receive an attractive salary package, complemented by supplementary benefits and allowances. The remuneration scale for a CTET-passed teacher spans from approximately INR 9,300 to INR 34,800 as basic pay, with the total net monthly salary potentially reaching up to INR 48,000. Refer to the tables below for a clear understanding of a CTET-qualified teacher's salary structure.
CTET Salary Structure for PRT Teachers
| Pay Head | Amount |
| --- | --- |
| Pay Scale for PRT | INR 9,300 - 34,800 |
| Grade Pay | INR 4200 |
| Pay After The 7th Pay Commission | INR 35400 |
| HRA (House Rent Allowance) | INR 3240 |
| TA (Transport Allowance) | INR 1600 |
| Gross Salary | INR 40240 |
| Net Salary | INR 35000 - INR 37000 |
CTET Salary for TGT Teachers
| Pay Head | Amount |
| --- | --- |
| Pay Scale for TGT | INR 9,300 - 34,800 |
| Grade Pay | INR 4600 |
| Pay After The 7th Pay Commission | INR 44900 |
| HRA (House Rent Allowance) | INR 3400 |
| TA (Transport Allowance) | INR 1600 |
| Gross Salary | INR 50610 |
| Net Salary | INR 43,000 - INR 46,000 |
CTET Salary of PGT Teacher
| Pay Head | Amount |
| --- | --- |
| Pay Scale for PGT | INR 9,300 - 34,800 |
| Grade Pay | INR 4800 |
| Pay After The 7th Pay Commission | INR 47600 |
| HRA (House Rent Allowance) | INR 4350 |
| TA (Transport Allowance) | INR 1600 |
| Gross Salary | INR 53550 |
| Net Salary | INR 48,000 - INR 50,000 |
Upon joining, teachers become eligible for a range of allowances, which are disbursed in accordance with pay commission regulations and state government directives. These allowances are designed to ensure financial stability in the face of escalating living costs and to address the various expenses associated with their role. Furthermore, teachers who have cleared the CTET also have access to a variety of benefits, as outlined below:
Dearness Allowance
Medical Allowance
House Rental Allowance
Transport Allowance
Internet Allowance
Paid Leaves
Other Allowances
Accommodation (if available)
Maternity Leave
These provisions are established to offer teachers a comprehensive support system that encompasses both financial and personal well-being.
In India's education system, the CTET is a key piece in making sure that people who want to become teachers in central government schools are qualified and capable. Facilitated by the CBSE, the CTET evaluates candidates through two distinct papers, opening doors to a realm of teaching possibilities. For those who have journeyed through the CTET 2024, the journey ahead holds immense promise. Successfully treading this path not only qualifies candidates for teaching positions in government and private institutions but also contributes to the nation's educational prowess. The CTET certification shapes skilled educators, thereby elevating the quality of learning across the country.

Related Articles:
We hope the above article has helped you in getting more clarity regarding the growth and career opportunities that lay ahead after clearing CTET 2024.