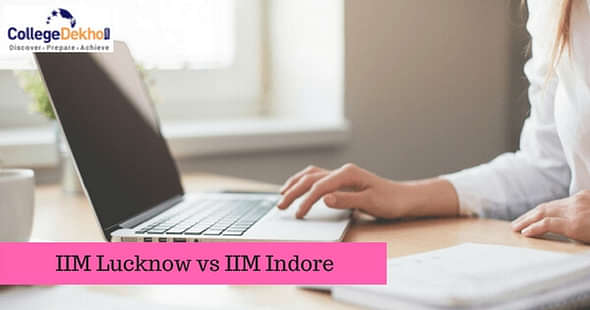 IIM Lucknow Vs IIM Indore, which is better? Amidst this array of choices for management studies, the Indian Institutes of Management (IIMs) stands out as the country's foremost institutions for top-tier management education. In many instances, the decision-making process becomes challenging for aspiring candidates especially when confronted with admission offers from two of the most distinguished IIMs: IIM Lucknow Vs IIM Indore. Both institutions have rich histories and enjoy reputations for producing some of the finest management professionals in the field.

While India boasts several esteemed B-schools, a significant number of aspirants set their sights on the Common Admission Test (CAT) each year, aiming for admission to an IIM. The allure lies in the prestige and renowned brand associated with these institutions. However, the sheer number of IIMs scattered across the nation makes the task of identifying the most suitable one for a PGP course a daunting challenge.  Critical considerations that weigh on the minds of prospective IIM students include the respective IIM's ranking, tuition fees, return on investment, and placement success rates.

In this comprehensive article, we embark on a comparative analysis of two esteemed institutions, namely, IIM Lucknow and IIM Indore. In our exploration, we will be navigating several crucial aspects, encompassing the spectrum of management courses available, the faculty's expertise, the intricacies of the admission process, and the discerning details of the placement records.
Also Read: Compare IMI Delhi vs SPJIMR Mumbai
CollegeDekho has brought to you a detailed comparison of IIM Lucknow and IIM Indore to help you choose the right B-School.
College Comparison – IIM Lucknow vs IIM Indore
While management remains among the most sought-after courses today, setting out on the path to a career in management calls for meticulous planning and choosing the right business school for pursuing a PGP/MBA program. Aspiring students face a plethora of critical factors to consider when sifting through their options among MBA colleges in India.
To provide some context, IIM Indore holds the eighth position in the NIRF 2023 rankings under the Management category, while IIM Lucknow follows closely at number six. Both colleges boast excellent infrastructure and a formidable faculty lineup. Moreover, the placement opportunities afforded by both institutions are highly commendable.
The table given below provides a detailed overview of IIM Lucknow vs IIM Indore:
Name of the Institute

Indian Institute of Management (IIM) Lucknow

Indian Institute of Management (IIM) Indore

Year of Establishment

1984

1996

Approved by

AMBA

Ministry of Human Resource Development (HRD), Govt. of India

Affiliation

Indian Institutes of Management

Indian Institutes of Management

NIRF Ranking 2021

7

6

Entrance Exam

CAT

Courses Offered

PGPM
PGP in Sustainable Management
PGP in Management for Working Executives
PGP in Agri-Business Management
International Programme in Management for Executives (IPMX)

Integrated Programme in Management (BBA+MBA)
Post Graduate Programme (PGP) for Executives
Post Graduate Programme in Management
Post Graduate Diploma in Management
Management Development Programme
General Management Programme for Executives (GMPE)
Post Graduate Certificate Programme in Finance
Certificate Course in Business Management for Defence Officers
Faculty Development Programme

Total Number of Seats

435

450

Fees Range

Rs. 14 lakh per annum

Rs. 26 Lakh (approximately)

Average Package

Not Available

Rs. 18.17 lakh per annum

Highest Package

Not Available

Rs. 33.04 lakh per annum

Number of Companies Visiting Campus

114

200

Popular Companies Visiting Campus

Yes Bank
Everest Group
Paytm
Citi Bank
Hinduja
KPMG
Deloitte
Accenture
Amazon
Kotak Mahindra Bank
Aditya Birla Group
Amazon

Royal Bank of Scotland
Yes Bank
Nomura
JP Morgan Chase
Infosys Management Consulting
Accenture Strategy
Boston Consulting Group
Accenture
Google
Paytm
Reliance Industries
Mahindra & Mahindra
Aditya Birla Group
IndiaMart
Also Read:Top 10 Highest Paying Jobs in the Field of Management in India
Admission and Selection Process: IIM Lucknow vs IIM Indore
The selection of both these colleges is almost similar. IIM Lucknow section process and IIM Indore selection criteria are based on the CAT score. You can click on the links above for a detailed selection process of IIM Lucknow and IIM Indore.
Other Popular MBA Colleges
Given below are some of the other MBA schools in India that are equally popular.
Popular College Comparisons
Candidates who wish to go through the comparison of two MBA colleges can click on the links below. 
Ultimately, the decision rests in the hands of the student, aligning with their unique preferences and aspirations. Both IIM Lucknow and IIM Indore stand as pillars of excellence in the realm of management studies in India. However, a closer examination of factors such as fees, highest package, and historical performance in placements may sway the scales in favor of one over the other. Notably, IIM Indore offers a two-year MBA program with a more affordable fee structure compared to its Lucknow counterpart. Furthermore, IIM Indore has consistently achieved a superior placement record, with some of the industry's top recruiters extending lucrative offers to its graduates. In essence, while both institutions offer a commendable education, IIM Indore may emerge as the preferred choice for those seeking an affordable program with a promising return on investment.

Stay tuned to CollegeDekho for more updates and information!