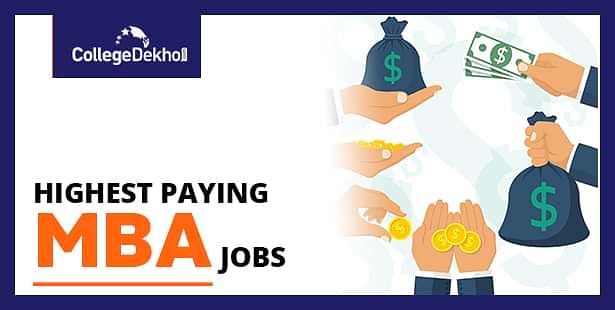 Highest Paying Management Jobs in India: The Indian job market is a dynamic place that not only caters to conventional career paths like medicine, education, and engineering but also has a lot to offer to other streams like management. Management is a field that has evolved drastically over the last few years and has become one of the most lucrative fields to work in this day and age. The attractive packages that established companies with a global reputation provide are one of the main benefits of enrolling in management courses. To succeed in the management industry, one must obtain a Master of Business Administration (MBA)/Post Graduate Diploma in Management (PGDM) with an appropriate specialization. It is also a common practice for aspirants to pursue a Bachelor of Business Administration (BBA) degree to have a more comprehensive understanding of the management discipline from the beginning.

There are several high-profile job opportunities available in the management field for aspirants. Candidates must do thorough research on the kind of jobs that management offers before pursuing a management course. In this article, we have mentioned some of the most highly coveted job roles in management, along with other important details like required qualifications, remuneration, necessary skills, etc.
Top 10 Highest Paying Management Jobs in India
Check out the top 10 highest paying jobs in the management field, expected salaries and skills required for the same:
Name of the Profile
Popular Roles Offered
Skills Required
Education
Experience Required
Expected Salary (Per Annum)
Chief Executive

Chief Executive Officer
CFO – Chief Financial Officer
CIO – Chief Information Officer
COO – Chief Operating Officer
CMO – Chief Marketing Officer

Excellent planning and coordination skills
Ability to work under pressure in order to achieve targets
Advanced MS Office and accounting software skills
Ability to communicate effectively and solve problems
Time management as well as leadership skills

Graduation in any field (management preferable)

Some companies require ICPM (Institute of Certified Professional Managers)

Master of Business Administration (MBA)

OR

7 to 10 years of corporate managerial experience
Rs. 5 lakhs to Rs. 1.02 Cr
Computer and Information Systems Manager

Computer Systems Administrator
IT Service Operations Manager
Online Technology Manager
Global IT Support Manager
Infrastructure Support Services Manager
Property IT Manager
Director, IT Service Desk & Operations

Excellent understanding of computers and information system
Ability to coordinate with clients and communicate with the team.
Ability to resolve issues
Leadership quality

B.Tech or BE in Computer Science/ IT along with an MBA in Technology Management or relevant field
4 to 6 years of experience in the field of Computer and Information Systems
Rs. 2.4 lakhs to 23 lakhs
Marketing Manager

Senior Manager, Digital Social Marketing
Senior Manager, Marketing Data Analysis
Marketing & Communication Specialist
Head of Marketing

A Flair for understanding upcoming marketing trends
Good communication skills to understand client requirements and convey them to the team
Ability to lead the team in order to achieve better outcomes

Bachelor's degree in any field followed by a master's degree in management (preferably MBA in sales and marketing)
2 to 3 years of experience in the field of marketing
Rs. 2.4 lakhs to 23 lakhs
Architectural and Engineering Manager

Architectural Sales Representative
Senior Engineering Manager - Architecture
Project Manager Architecture
Architecture and Resource Manager
Sr SAQ Architecture & Engineering Manager
Security Architecture and Engineering Manager

Understanding of architecture planning and engineering
Good technical skills and time management skills
Good communication skills and ability to work on complex projects

B.Arch Degree followed by MBA or PGDM programmes
5 to 6 years of experience in the field of Architecture
Rs. 7.6 lakhs to Rs. 35 lakhs
Financial Manager

Accounting and financial control chief
Collections department manager
Finance Director
Controller - financial services
Finance Manager
Investments research director

Knowledge of financial software
Command on revenue system and ability to gather funds for the firm
Grasp on the company's financial history
Ability to work in a stressful environment

B.Com or BBA in Finance followed by MBA in finance
More than 5 years of experience in the finance sector
Rs. 3.5 lakhs to Rs. 30 lakhs
Natural Sciences Manager

The role varies as per the supervision of the following:

Scientists
Chemists
Physicists
Biologists

Understanding of science subjects and research process
Ability to deliver targets and adhere to deadlines
Good leadership and technical skills

Ph.D. in either of the natural sciences
10 to 12 years of experience in the field of research or as a scientist
Rs. 8.2 lakhs to Rs. 21 lakhs
Sales Manager

Territory Account Manager
Support Eng Manager
Senior Sales Manager
Senior Manager, Analyst Relations
Sales Area Manager- Enterprise
Marketing Manager

Good analytical skills to evaluate figures and the latest trends
Problem-solving skills for effective market flow
Excellent communication skills to provide effective customer service
Leadership skills to direct the team in a progressive direction.

Graduation in any field followed by MBA or PGDM (preferably with a specialization in sales)
2 to 3 years of experience in a sales profile
Rs. 2.2 lakhs to 13.9 lakhs
Compensation and Benefits Managers

Compensation & Benefits Operations Manager
Compensation & Benefits Program Manager

Good planning and communication skills
Efficient PR skills

Graduation Degree with any specialisation. An MBA degree is helpful in getting better salary offers.
Up to 6 years of experience in the field of HR management
Rs. 9 lakhs to Rs. 40 lakhs
Public Relations Manager

Advertising Account Manager
Fundraising Organizer
Product Marketing Manager
Public Relations Press secretory

Networking skills
Excellent communication skills
Planning and analysing skills

Graduation degree (preferably BBA in PR) followed by an MBA in Public Relations
3 to 4 years of work experience in PR roles
Rs. 1.6 lakhs to Rs.15 lakhs
General and Operations Manager

General Manager
Operations Manager

Organisational and leadership skills
Budget management skills
Knowledge of financial principles
IT and communication skills

Graduation followed PGDM or MBA
Up to 4 years of experience in conducting operations and functions of a company
Rs. 3 lakhs to Rs. 18.5 lakhs
These are the top-paying management jobs that can get you to the top tier of any organisation. For all the profiles mentioned above, it is essential to pursue an MBA or a specialised PGDM programme. If you are confused about which job profile suits you the best, take the Career Profiling Test of CollegeDekho. It analyses your Aptitude, Personality and Interest and suggests you the most appropriate career.
Also Read:Job Opportunities after MBA in India
Top Colleges for Management in India and Abroad
One of the major features of pursuing a management course is the ability to pursue higher education across the globe. While Indian institutions are globally competitive and renowned for their curriculum, students can also pursue management courses across different universities and colleges in the world. Check out the Colleges for Management in India and Abroad in the table given below.
Top Management Colleges in India

Top Management Colleges in the World

Name of College

Course Offered

Name of College

Course Offered

BBA

MBA

Diploma, Advanced Diploma and B.Com Courses in Management Stream

BBA

Bachelor of Business Courses in Different Fields

Master of Business Courses in Different Fields

UG

BBA+MBA (Finance Management)

BBA+MBA (Healthcare & Hospitality Management)

BBA Aviation Management

BBA Design Management

BBA Journalism and Mass Communication

BBA

PG

MBA in Healthcare & Hospitality Management

MBA in Human Resource Management

MBA in Journalism & Mass Communication

MBA in Operations Management

Bachelors Degree in Business informatics

Master of Finance

PG Diploma in Business Management

PG Diploma in Sports Management

MBA in Finance Management

MBA in HR Management

MBA in Marketing

MBA in MIS

Bachelors and Masters Programmes in Business

MBA

BBA

Bachelor, Masters, and MBA Programmes in Business and Management

Also Read:Jobs after BBA - Scope, BBA Job Opportunities, Salary and Best Tips
Other Popular Management Colleges in India
Some of the other highly prestigious Management colleges in India are mentioned below along with their respective locations. Candidates can click on the link to directly apply for admissions:
| | |
| --- | --- |
| College Name | College Location |
| Axis Colleges | Kanpur, Uttar Pradesh |
| Doon Business School - (DBS) | Dehradun, Uttarakhand |
| Garware Institute of Career Education and Development (GICED), University of Mumbai | Mumbai, Maharashtra) |
| Indus University (IU) | Ahmedabad, Gujarat |
| Maharishi Markandeshwar (Deemed to be University) - [MMDU] Mullana | Ambala, Haryana |
| Gaikwad-Patil Group of Institutions (GPGI) | Nagpur, Maharashtra |
| Hindustan Institute of Management & Computer Studies (HIMCS Mathura) | Mathura, Uttar Pradesh |
| T. John Group of Institutions | Bangalore, Karnataka |
| Acharya Institute of Technology (AIT) | Bangalore, Karnataka |
| Centurion University of Technology and Management (CUTM) | Paralakhemundi, Odisha |
Also Read: General vs Specialised MBA: Which is Better?
These are some of the colleges where you can pursue a management programme of your choice. If you are interested in pursuing a management course in India, then fill out the Common Application Form and avail of FREE admissions counselling services. Our counsellors can help you choose the right college and course as per your needs and choices. You can also call on our toll-free number at 1800-572-9877 and avail of FREE counselling services regarding BBA and MBA admissions in India.
If you wish to continue your higher education aspirations in universities and colleges located outside India, then visit the StudyAbroad website of CollegeDekho, where you can browse through the different colleges and courses on offer. To learn more about International Admissions, call on 785 9990 990 or write to us at abroad@collegedekho.com and ask us your queries.
Since both these programmes are accepted across the world, you can also apply for overseas job opportunities. Salaries may vary on the basis of work experience and your educational background. In case of any queries, do post them in the QnA zone.
Stay tuned to CollegeDekho to extract more information on Management!