CAT is a common management entrance exam conducted every year for admission in IIMs and other top B-Schools of India. The difficulty level of the exam is moderate but the competition and time pressure make it one of the most difficult MBA entrance exam in India. Even the brightest students find it difficult to score well in the CAT exam. Besides this, the changed exam pattern of CAT 2020 might also cause some anxiety for the students as they are not sure about the total number of questions which they can expect in the exam.
So what should they do in this situation? Well, we advise you to stick to the basics. Practice as many Mock Tests and Previous Years' Question Papers as you can. You can also consult the experts and toppers of the previous years' edition of the CAT exam to know some CAT 2020 preparation strategies. CollegeDekho has provided you with some CAT preparation tips by Toppers in this article.
How do Toppers Prepare for CAT?
You should plan a proper preparation schedule for CAT in order to get a decent score in CAT 2020. Besides this, time management skills and shortcut techniques for solving quant problems are some important factors that create a difference between 100 percentiler and 98 percentiler. Thus, you are advised to focus on improving your time management and problem-solving skills in order to score well in the exam. 
Rishi Mittal, who scored 100 percentile in CAT 2019 said that he started CAT preparation one year before the exam. He focused on solving a maximum number of mock test papers. He also stated that he planned his CAT preparation according to his strengths and weaknesses. He worked on converting his strength into weakness by practising a maximum number of questions from his weak areas. 
Rahul Manglik and Somansh Chordia, both students of final year Mechanical Engineering said that they prepared for CAT alongside their 12th preparation. They solved more than 30 mock test papers and analysed their scores in order to identify their strong and weak areas. 
As we can see from both the cases provided above, solving CAT 2020 mock test papers and regular practice are the key to crack the CAT exam. You should also analyse your mock test scores in order to check your preparation level.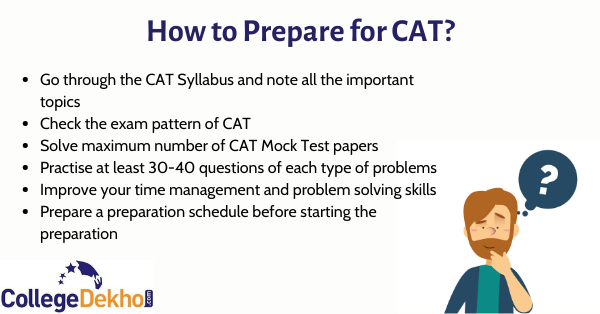 How do CAT Toppers Work on Their Weak Areas?
Every student has his strengths and weaknesses but the one who is able to tackle his weaknesses will be the one to win the race of getting admission in B-Schools of India. Many experts and toppers of CAT examination said that they prepared a preparation schedule in such a way that they devote enough time to the sections which they are not so confident.
Lakshay Kumar said that QA was his weak section. He started devoting around 4-5 hours daily for Quant preparation in order to tackle his weakness. He also said that understanding the exam pattern is an important factor while preparing for the exam. 
The exam pattern of CAT 2020 allows the students to know the marking scheme as well as the type of problems they can face in the exam. Besides this, the exam pattern of the exam also allows the students to know the sectional breakdown of the exam. Around 100 questions are asked in the exam. These questions are divided into three sections with each section having a sectional time limit. The sectional time limit of CAT exam was 60 minutes until 2019 but it has changed to 40 minutes for CAT 2020. 
How Toppers Manage Time on CAT Exam Day?
Since the time limit for each section of CAT 2020 is 40 minutes, it becomes important that the candidates complete the exam within the allotted time. As per the experts and toppers, you should first solve the questions in which you are confident. You can skip the questions that are time-consuming. Solving mock test papers and sample papers of CAT 2020 will help you get an idea about the total time you should allocate for each type of questions in the exam.
For the verbal ability section, you can allot 20-25 minutes for reading comprehension and rest of the time for TITA questions. There is no negative marking for TITA questions so you can answer all the questions without any risk of negative marking. Besides this, for DILR and QA, you can start solving easy and moderate difficulty level questions first and then you can proceed to the hard ones.
What do Toppers Prefer for CAT: Self Study or Coaching Institutes?
Should I join a coaching institute for CAT preparation is a common question among the CAT aspirants. Most of the aspirants are not sure whether they should join an institute or not. The coaching institutes guide the candidates for the preparation and allow them to understand the CAT exam pattern. They also conduct mock tests and sectional tests at regular intervals so that aspirants can get familiar with exam structure. However, it is not necessary to join an institute for CAT preparation.
You can crack the exam with self-preparation. Many toppers believe that a good preparation strategy and a decent level of practice is enough to score well in the exam. You can buy the books for CAT that are suggested by toppers. Apart from this, you can buy the test series provided by various coaching institutes in order to practise more type of questions. Those who are looking for cracking CAT exam without joining a coaching institute may check the article provided below.
Importance of CAT Mock Tests for Toppers
The mock test papers and previous years question papers of CAT exam allows the candidates to get familiar with the exam pattern. Besides this, they also help the candidates in understand the marking scheme as well as the type of questions that will be asked in the exam. Solving sample papers will also help in boosting confidence. All the CAT aspirants should solve at least 30-40 mock test papers. Check the article provided below to know more advantages of solving CAT mock test papers. 
CAT Previous Years' Toppers 
Check the previous years' toppers list of CAT provided below.
| | | |
| --- | --- | --- |
| Candidate Name | Percentile | Exam Year |
| Ashwin H. | 100 | 2019 |
| Debarshi Chanda | 100 | 2019 |
| Patrick D'souza | 100 | 2019 |
| Rahul Gupta | 100 | 2019 |
| Rishi Mittal | 100 | 2019 |
| Somansh Chordia | 100 | 2019 |
| Amit Bikram | 100 | 2018 |
| Niranjan Prasad | 100 | 2018 |
| Rickshesh Manchanda | 100 | 2018 |
| Rounak Majumdar | 100 | 2018 |
| Swapnil Suman | 100 | 2018 |
| Abhanshu Gupta | 99.99 | 2019 |
| Aditya Garg | 99.99 | 2019 |
| Amit Bikram | 99.99 | 2019 |
| Anurag | 99.99 | 2019 |
| B Gautham Rao | 99.99 | 2019 |
| Devavrat Mahajan | 99.99 | 2019 |
| Dhole Shreyas Kiran | 99.99 | 2019 |
| Kaushik Vyas | 99.99 | 2019 |
| Kulkarni Saurabh Sadashiv | 99.99 | 2019 |
| Lakshya Kumar | 99.99 | 2019 |
| Lokesh Soni | 99.99 | 2019 |
| Rahul Manglik | 99.99 | 2019 |
| Rahul Sharma | 99.99 | 2019 |
| Rajesh B | 99.99 | 2019 |
| Renjith Thomas Joshua | 99.99 | 2019 |
| Saathwik Kolluru | 99.99 | 2019 |
| Shreyaansh Gupta | 99.99 | 2019 |
| Shubham Pandia | 99.99 | 2019 |
| Sumit Khanna | 99.99 | 2019 |
| Swapnil Suman | 99.99 | 2019 |
| Thombre Sushant Sunil | 99.99 | 2019 |
| Anubhav | 99.99 | 2018 |
| Kishan Kashyap | 99.99 | 2018 |
| Kaustubh Vyas | 99.99 | 2018 |
| Abhishek | 99.97 | 2018 |
| Karan | 99.91 | 2018 |
| Mayur Arora | 99.88 | 2018 |
| Kushaagr Panwar | 99.6 | 2018 |
| Kuldeep Atri | 99.44 | 2018 |
| Avinash Misal | 99.37 | 2018 |
| Pratik Mishra | 99.33 | 2018 |
| Sakshat Goel | 99.21 | 2018 |
| Tushar Goel | 98.89 | 2018 |
Preparation Tips for CAT 2020 
You are advised to prepare notes alongside your preparation so that you can revise it on the exam day. Additionally, you are also advised to note all the important topics provided in CAT 2020 syllabus and start solving 30-40 questions from each topic mentioned in the CAT syllabus. You can check the articles provided below to know more about the preparation tips for CAT exam.
All the aspirants are advised to answer the questions in the CAT exam confidently. They are also advised to go through all the instructions provided on the CAT 2020 admit card as well as important exam day instructions before going to the exam centre. You can check the CAT 2020 Dress Code to know what should you wear on the exam day. The CAT 2020 Rank Predictor will give you an idea of the percentile you will score and you can use the CAT 2020 College Predictor to know the colleges in which you might be offered admission. If you have any questions regarding CAT, you can ask it on Collegedekho QnA zone. If you need admission related assistance, you can fill our Common Application Form.
We wish you All the Best for CAT 2020!