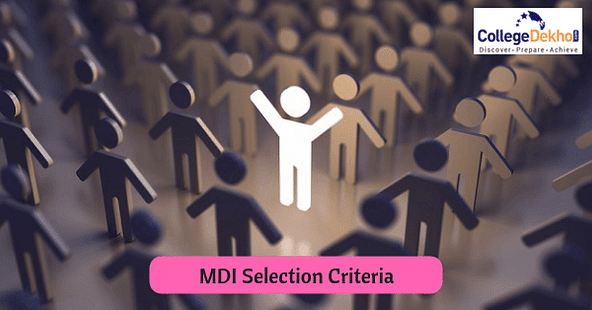 Management Development Institute (MDI) Gurgaon is one of the top B-schools in India offering masters of business administration course and was established in 1973. MDI has collaborations with various global institutions such as UNDP, ILO, UNIDO and World Bank. MDI is a globally recognized B-School and is accredited by the Association of MBAs (AMBA). MDI is also the first Business school in India to be associated with AMBA. MDI Murshidabad is another campus of MDI in West Bengal that was established on 24 August 2014.
MDI is considered one of the top management institutes in India for its rigorous course curriculum, excellent industry connect and the experienced faculty. If you do get selected to join MDI you can opt for scholarships basis your CAT score.
MDI offers business management programmes at various levels. Its courses are divided into three categories – PGP, EPGP and Doctoral Programmes.
MDI Gurgaon MBA Courses
MDI offers all the popular MBA specialisations and PGDM courses to the students interested in pursuing management studies. Here is the list of all the available courses for 2021 admissions at MDI Gurgaon:
Type of Course

Name of Programme
Post Graduate Programmes (PGP)

Post Graduate Programme in Management (PGPM)
Post Graduate Programme in International Business (PGP-IB)
Post Graduate Programme in Human Resources (PGP-HR)

Executive Post Graduate Programmes (EPGP)

National Management Programme (NMP)
Post Graduate Programme in Public Policy and Management (PGP-PPM)
Post Graduate Programme in Energy Management(PGP-EM)
Part-Time Post Graduate Programme in Management (PT-PGPM)

Doctoral Programmes

Fellow Programme in Management (FPM)
Executive Fellow Programme in Management (EFPM)
MDI Gurgaon has different selection procedures for all three type of programmes that it offers. Mostly the selection procedure depends on the management entrance exam scores. MDI Gurgaon takes Indian students on the basis of Common Admission Test (CAT) scores and foreign students on the basis of GMAT score. A candidate's overall academic performance is evaluated during the selection process. Shortlisting is done in two phases.
Also Read:SPJIMR: Know about Courses, their Cutoffs and Selection Criteria
MDI Gurgaon Fee Structure
MDI Gurgaon fee structure is provided below
| Course | Fee |
| --- | --- |
| PGPM | 21,34,000 |
| PGP-HR | 21,34,000 |
| PGP-IB | 25,00,000 |
| PGM- PT | 9,03,000 |
| NPM | 15,35,000 |
| PGP-PPM | 6,31,260 |
| FPM | 1,90,800 |
MDI Gurgaon Eligibility Criteria
Admissions 2021 at MDI Gurgaon are underway. You can check the detailed eligibility to apply at MDI Gurgaon here.
MDI Gurgaon Important Dates
To apply for the MDI Gurgaon MBA 2021 Admissions, students have to first appear for CAT 2020 and secure a good percentile. Secondly, students must apply for the admission at MDI Gurgaon, here are the important admission related dates:
| Events | Important Dates |
| --- | --- |
| Application start Date for MBA 2021 | September 16, 2020 |
| Application Last Date for MBA 2021 | November 27, 2020 |
| Final Selection Date for MBA 2021 | 1st Week of February 2021 |
MDI Gurgaon Selection Criteria
The admission process at MDI happens in two phases, the selection process is described in the following table, have a look at it:
| Programme | Phase 1 | Phase 2 |
| --- | --- | --- |
| PGPM / PGP-IM / PGP-HRM | Candidates will be shortlisted on the basis of their application form, academic background and CAT scores. | All shortlisted will be called for the Group Discussion (GD) and Personal Interview (PI) rounds. |
| NMP / PGP-EM | Selection of candidates is done on the basis of either CAT scores or MDI entrance exam scores. | Candidates who are shortlisted in Phase 1 are then called in for the Personal Interview Round. |
| PT - PGPM | Candidates have to clear the BAT entrance test in order to clear the first phase of selection. The application of candidates will also be analysed in this phase. | Shortlisted candidates will be called for Personal Interview round. |
MDI sets sectional cutoff for admission into the programmes it offers. The candidates have to clear each sectional cutoff in addition to the overall cutoff for admission in MDI Gurgaon.
MDI Gurgaon Expected CAT 2020 Sectional Cut-off
MDI sets its own sectional cutoffs while selecting candidates for admission, here is the list of previous year's sectional cutoffs and CAT Score that might give an idea to the students for the MDI 2021 MBA Admissions:
| Section | Percentile |
| --- | --- |
| Verbal Ability & Logical Reasoning | 85 |
| Quantitative Ability & Data Interpretation | 75 |
| Overall CAT Percentile | 94.93 |
The above cutoff is for General category students. The cutoff for reserved candidates varies depending upon the number of students who have applied and other factors.
Also Read:Selection Criteria of FMS: CAT Cutoff, Extempore and PI
MDI Gurgaon Selection Process 2021
MDI evaluates the performance of every candidate based on several components. Each of these components holds a certain weightage basis which the composite score is calculated. The final composite score is considered to prepare the list of students who are selected for MDI Gurgaon. After the CAT 2020 results are out, candidates securing best scores will be called for the Written Ability Test, Group Discussion and Personal Interview. This activity would be taking place around the first week of March. On the basis of how the selected candidates performed in the tests, the final decision would be made.
WAT, GD and PI Parameters
Following are the parameters for which candidates must prepare:
Test

Parameter

WAT

Analysis & Conceptual Clarity

English Grammar & Spelling

Presentation

GD

Group Behavior

Content & Subject matter

PI

Analytical Ability

Personal Profile

Communication Ability
MDI Gurgaon Components and Weightage for Admission
Here is a list of components and their percentages that play an essential role in the selection and admission process of MDI:
| Components | Weights |
| --- | --- |
| Application of student (10th, 12th, Academic Diversity and Work Experience) | 15% |
| Written Ability Test (WAT), Personal Interview (PI) and Group Discussion (GD) | 30% |
| CAT Score | 55% |
Note: This distribution of components was for the previous academic year that is 2020-22 and can vary for the coming 2021-23 Academic Year.
Based on the above components, a final score will be generated for all the participants out of 100 and a final list of the candidates will be prepared. Selected students can further take admission at the MDI Gurgaon.
Here is the detailed admission process to get admission at MDI Gurgaon - Admission Process MDI Gurgaon.
Candidates interested in knowing about the placements of the MDI Gurgaon can have a look at the MDI Placements.
How to Apply for Admissions at MDI Gurgaon: Application Form
Candidates need to register themselves on the official website of MDI Gurgaon. They will have to fill some of the mandatory fields such as Name, Email ID, Mobile number. After that, their account will be created and they can proceed to complete the remaining form
Candidates will then have to fill personal details in the application form
On the next page, candidates will have to choose their preferred PI centres–from the drop-down menu and the MDI campus where they are looking for admission
After entering the permanent address and education details, candidates can proceed to upload photograph and signature
Candidates will also have to fill the work experience 
At last, they can proceed to application fee payment
Application Fee of MDI Gurgaon
The application fee of MDI Gurgaon is INR 3,000. Candidates can submit the application fee via debit card or credit card. 
MDI Gurgaon Seat Matrix
Here is the seat matrix for MBA 2021 admissions at MDI Gurgaon, the total number of seats can further be divided into categories:
| Course | Seats |
| --- | --- |
| PGPM | 240 |
| PGP-HR | 60 |
| PGP-IM | 60 |
MDI Gurgaon values academic diversity on its campus and takes students from various fields including Arts, Commerce,Engineering, Medical, Fashion Designing, etc. to provide the students with diverse exposure and quality education.
Candidates can contact our experts to get guidance to find the best MBA colleges of their region or write to us at Question and Answer. For the latest updates on MBA admissions, stay tuned to CollegeDekho.