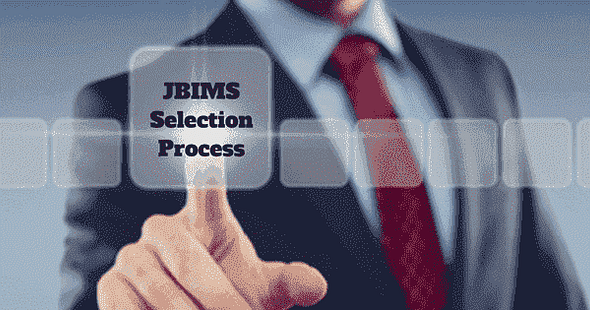 JBIMS Selection Criteria 2023 include the basic requirements a candidate needs to fulfill in order to get admission into the college. Students with a valid score of CAT/ CMAT/ MAH MBA CET/ GMAT and a bachelor's degree (10+2+3) from a recognized university in any discipline can apply for admission at Jamnalal Bajaj Institute of Management Studies (JBIMS). Indian students can apply to JBIMS through CAT, CMAT, GMAT, or MAH MBA CET scores, while Non-Resident Indians (NRI) and Persons of Indian Origin (PIO) can only get JBIMS Mumbai admission 2023 through GMAT scores.

JBIMS Mumbai is one of the oldest and top management colleges in India that is most sought-after by candidates for its flagship two-year full-time flagship MMS (Master of Management Studies). It also offers MSc and a part-time MBA for working professionals in the Management stream. Started in the year 1965, JBIMS Mumbai is the Department of Management Studies of the University of Mumbai in collaboration with the Graduate School of Business, Stanford University.
JBIMS admission 2023 for MMS courses will be conducted through DTE CAP by DTE Maharashtra. The institute has a defined cutoff basis which the students are streamlined before calling them for the JBIMS selection process. Read below for complete details about JBIMS admission 2023, selection criteria, courses offered, cutoff requirements, and more!

Also Read: MAH MBA CET Cutoff 2023 for JBIMS
JBIMS Admission 2023 Important Dates
Check the table provided below to know the important dates for JBIMS Mumbai admission 2023.
| | |
| --- | --- |
| Events | Dates |
| CAT 2022 Exam | November 27, 2022 (Concluded) |
| MAH MBA CET 2023 Exam | March 25 & 26, 2023 (Concluded) |
| CMAT 2023 Exam | To Be Announced |
| GMAT 2023 Exam | All Around the Year |
Eligibility Criteria for MMS Admission 2023 at JBIMS Mumbai
JBIMS initially shortlists on the basis of their CAT, CMAT, GMAT, or MAH MBA CET score. In order to qualify the phase one of the selection process, the candidates must secure the minimum cutoff in either of the two exams. Following are a few of the things that the institute considers before shortlisting a candidate for the MMS programme:
Past academic performance (Class 10th and 12th and Graduation)

Quality & content of the answers in the application form

Quality of work experience and organizations that a candidate has worked for (if any)

Extra-curricular activities and other accomplishments of the candidate
Also Read: How to Build Your Profile for MBA Admissions
JBIMS Expected Cutoff 2023
JBIMS releases the cutoff for CAT, CMAT, GMAT, and MAH MBA CET for PG management courses after the exams have been conducted. Meanwhile, candidates can check the expected cutoff for 2023 here.
| | | |
| --- | --- | --- |
| Student Category | CAT Score (Percentile) | MH MBA CET Score (Percentile) |
| General | 95 | 95.37 |
| Reserved (SC/ST/OBC) | 75 | 90 |
| Physically Disabled | 75 | 85 |
| PIO and children of Indian workers in Gulf countries | 85 | 85 |

NOTE: Securing the cutoff mentioned above does not guarantee admission into JBIMS. The score of students who get shortlisted may be higher than this.
JBIMS Selection Process 2023
JBIMS selection is done in two phases for all types of programmes. Check the table for reference:
| | | |
| --- | --- | --- |
| Programme | Phase 1 / AR | Phase 2 / IPA |
| MMS/MSc Finance | Candidates are shortlisted based on their overall performance in either CAT or MAH-CET. The score of each section of either of the exams is evaluated. | Shortlisted students are then called for personal assessment where they have to clear the Group Activity, Writing Ability Test, and Personal Interview rounds. |
| Part-Time Programmes | Selection is done strictly on the basis of the MAH MBA CET score and the application of the student (previous academic performance). | In Phase 2 the candidates have to clear the Written Test and the Personal Interview in order to be selected for JBIMS. |

JBIMS has structured the weightage of every component in both rounds i.e. AR and IPA. Candidates must do well in both rounds to secure a seat at JBIMS Mumbai.
Also Read:Know all About Cut-Off Details & Selection Process at NITIE Mumbai
Components and Weights: Evaluation of Candidate's Profile (AR)
The evaluation of the candidate's performance and the candidate's profile for the PG management admissions at JBIMS is based on the following components.
| | |
| --- | --- |
| Components | Weights |
| CAT/MAH MBA CET Score | 60 |
| Marks in 10th, 12th and Graduation | 15 |
| Extra-curricular/Work Experience | 20 |
| Diversity | 5 |
| Total | 100 |

Also Read: DU MBA Admission 2023 - DU MBA Colleges, Fees, Seats & Placements
Components and Weights: In-Person Assessment Round (IPA)
Phase 2 of the JBIMS Selection Process 2023 will include a group activity, group discussion (GD) and personal interview (PI). candidates who pass this phase make it to the MMS programme at JBIMS Mumbai. Given below are the components of the IPA round and their weightage.
| | |
| --- | --- |
| Components | Weights |
| Group Activity | 20 |
| Group Discussion | 20 |
| Personal Interview | 60 |
| Total | 100 |
JBIMS Final Selection Process 2023
The JBIMS Mumbai final selection process is carried out after both the rounds i.e., AR and IPA are done. After that, all the components of both rounds add up to the total composite score of the candidate based on the weightage of each of the components. Each candidate is awarded a composite score for the final selection. Here is how the composite score is calculated:
Composite Score = 0.60 (AR) + (In-Person Assessment Round or IPA)
List of Programmes Offered by JBIMS in 2023
JBIMS offers both full-time and part-time courses in different areas of management. You can check the list of PG management courses offered by JBIMS here -
Type of Programme

Name of the Programme

Full-Time Programmes

Masters in Management Studies (MMS)

M.Sc Finance

Master in Human Resource Development & Management (MHRDM)

Doctoral Programme

Part-Time Programmes

Master in Marketing Management (MMM)

Master in Human Resource Development & Management (MHRDM)

Master in Information Management (MIM)

Master in Financial Management (MFM)
JBIMS Fees
The course fees at JBIMS are another essential component of the selection process that candidates must be aware of before applying for admission. Given below are the most recently revised fees of JBIMS are tabulated below (as of May 15):
| | |
| --- | --- |
| Course/Degree Program | Course Fees (approx.) |
| MMS | Rs. 2.1 lakhs |
| MSc | Rs. 2.1 lakhs |
| Part-Time Programmes | Rs. 1.53 lakhs |

Usually, if a candidate scores 153 out 200 in MAH-CET, she/he must have secured the 99 percentile in the exam, however, in order to secure the 100 percentile, a candidate will have to score close to 163 – 165 marks in MAH-CET. Apart from the CAT or MAH MBA CET score, the candidate also needs a strong academic background to qualify for JBIMS final selection process 2023.

Related Articles:

For admission-related assistance, fill out our Common Application Form or call on our toll-free number 1800-572-9877!