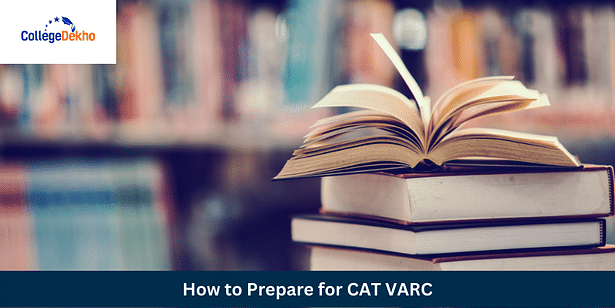 How to Prepare for CAT VARC: Preparing for the Verbal Ability & Reading Comprehension section of the CAT exam can be tedious if candidates do not know what they are doing. CAT VARC preparation requires the candidate to develop language skills and strengthen their foundation in the English language. In order to prepare for CAT VARC (Verbal Ability & Reading Comprehension) candidates must devote ample amounts of time, before appearing for the CAT exam 2023. The CAT VARC section will consist of 24 questions which will then be added to the total marks in the CAT exam 2023.
The VARC CAT section is often considered the scoring part of the CAT 2023 exam. The VARC section alone can help aspirants improve their overall score if they can develop a good foundation in the English Language. In this article, we will discuss the Preparation Strategies, Expert Advice, and Tips for a sound preparation experience for the CAT VARC examination.
Also Read:
Quick Tips for CAT VARC Preparations
Strategically planning for CAT VARC can help the candidate a lot when it comes to exam preparation. It is suggested that the student divide a topic into small sections of sub-topics and prepare with different strategies for different topics as the topics are varied and deal with different spectrums of the subject. Check out some useful tips to aid your preparation mentioned below:
Read many books, newspapers, and magazines.

Take up CAT 2023 mock tests and sample papers to increase your speed.

Learn to address your own mistakes and learn how to rectify them.

If you come across a difficult word, know the meaning and usage from the dictionary.

Keep tracking and taking brief notes from the materials studied.

Develop critical thinking abilities by reading a lot of editorials.

Avoid MCQs at the preparation level.

Solve puzzles like crosswords, and word games.

Segregate your day into portions and do efficient time management.
Also Read:CAT 2023 VARC Syllabus: Download PDF, Important Topics
Exam Pattern of CAT VARC
One of the first steps that aspirants should take when preparing for CAT is to understand the CAT exam pattern. Check the CAT VARC exam pattern 2023 from the table provided below:
Total No. of Questions

24

No. of MCQs

19

No. of Non-MCQs

5

Marking Scheme

+3 marks for every correct answer

-1 mark for every incorrect answer (Only for MCQs)

Time Limit

40 minutes (53 minutes 20 seconds for PwD)

Expected Difficulty Level

Moderate to Difficult

Good Attempt

18 - 22
CAT VARC Topics and Marks
Following are the two main areas of focus for the CAT VARC examination which are Reading Comprehension and English Usage. The English Usage portion can be divided into 2 different sections:
Area

Topic

Number of Questions per Topic

Reading Comprehension (16 total Questions)

4 RC Passages

5+5+4+4

Verbal Ability (8 total Questions)

Para jumbles

3

Odd Sentence Out

2

Summary

3

Also Read: Types of Reading Comprehension Questions in CAT 2023
How to Prepare for Reading Comprehension of CAT VARC
Reading comprehension has 16 marks in total. Only candidates who have practiced reading a lot of English literature can attempt the Reading Comprehension test with ease.
The CAT topper of 2018, Rickshesh Manchanda said that he found this particular section very challenging. He added that taking several section tests helped him cope with the section. Reading comprehension paper must receive most of the candidate's focus. He said that for the last two years, the VARC section of CAT has been easy to attempt.
Another CAT Topper of 2019, Jagesh said regarding the Verbal Ability & Logical Reasoning (VALR) section that he practiced as many passages as possible. Reading newspapers and editorials can help one by increasing his/her reading speed. With these, solving passage questions are also very important.
Chhavi Gupta who is the topper of CAT 2017 and is now studying at IIM Ahmedabad said that the selection of the questions was important to solve that portion. She allocated 5 to 7 minutes for the selection of the questions and then started answering according to convenience. She answered a total of 24 questions in Reading Comprehension and spent around 45 minutes. In general, the accuracy in VARC questions was low, so for the rest of the VA questions (Fill in The Blanks and Jumbled sentences), she spent nearly 15 to 20 minutes. Either factual or inferential question can make their appearance in Reading Comprehension from different areas of Interest. The candidate should know those. According to her, there were 5 passages that carried 4 questions each. This portion generally carries around 45 to 60 percent of the marks of the total VA portion. In this portion, detailed knowledge of information and current affairs may be needed.
Another CAT topper in 2017 who is now admitted to IIM Bangalore, Soumyajit Ghosh said that reading newspapers, editorials, magazines, and novels is important for cracking the VA portion. According to him, fluency is important in the Reading Comprehension portion. He used to read passages of different lengths for preparation.
Avinash Iyer of IIT Bombay who is among one of the CAT 2017 toppers with a 99.61 percentile on the first attempt said that he first solved the Reading Comprehension portion of VARC as it is highly time-consuming. And then solved fill-in-the-blanks and jumbled paragraphs.
A CAT 2017 topper Ankit Gupta who got through IIM Calcutta said that one can simply develop an idea to crack the reading comprehension portion. He says that it is important to read and prepare from comprehension in the field of science, literature, art, etc. Googling and reading online journals also helps.
How to Prepare for Vocabulary Questions of CAT VARC
This portion consists of questions that contain antonyms, synonyms, sentence construction, analogies, etc which are more technical in approach. Candidates who have a strong grammatical and vocabulary base can only crack this portion very efficiently. It is required to have a thorough knowledge of words and the English language to crack this part.
The candidate who scored 100 percentile in CAT 2017, Mayank Raj says that VARC was his weak area. He started to read newspapers and magazines thoroughly to make that strong. This helps in increasing the reading speed by developing an understanding of vocabulary and the usage of words in sentences. It is important to keep track of the new words one comes across.
CAT 2016 topper Nikhil Raj Singh Says that taking mock tests and then assessing the results works effectively for cracking this portion. He informed that it helped in creating a strategy by giving him an idea of his weak and strong portions.
How to Prepare for Deductive Logic and Para Jumbles of CAT VARC
This, being a non-logic-based section, can be practiced easily by playing puzzles and quizzes like crosswords as described by a CAT topper Rubel Bagde. According to him, it is useful as it builds the skill and ability to filter out the wrong answers from the correct ones.
How to Prepare for Sentence Correction of CAT VARC
These are the less time-consuming portions of CAT VARC. This section requires good knowledge of English Sentences which can be achieved by reading newspapers and magazines and practicing to enhance the grammatical base. Students are advised to avoid guesswork in these questions and not to take a lot of time.
The students need not worry about cracking CAT VARC as this section generally has questions about current affairs and literature. To prepare well for this section, one doesn't need to study rigorously as such but just read novels, books, newspapers, and editorials.
Also Read:CAT Predicted Question Paper 2023
CAT 2023: VARC Preparation Strategy/ Tips
It is always productive to plan and strategies every part of your CAT 2023 exam preparation. Following a definite plan will make it easier for you to track your progress and make changes in your preparation methods if you are unable to achieve the desired results. With that being said, here are some important tips to improve your Verbal Ability & Reading Comprehension preparation for the CAT 2023 exam.
Develop a Reading Habit
Developing the habit of reading frequently will help increase your knowledge of the English language and literature. You can increase your reading speed and boost your comprehension of what you read by reading various types of texts frequently. You may also stay updated on a variety of topics by reading newspapers, magazines, blogs, journals, etc.
Enhance Your Vocabulary and Grammar
Engage in daily practice sessions to increase your vocabulary. Your ability to comprehend, read, and react rapidly to questions based on vocabulary is emphasized during VARC preparation for the CAT exam 2023. Grammar is the most essential element of the VARC section of the CAT 2023 exam.
Devise a Proper Strategy
Being time-efficient is of utmost importance during the CAT 2023 exam. Therefore, candidates must devise a method that must be used to swiftly read through the text and respond to the questions in the VARC section of the CAT exam 2023. It is essential that applicants keep track of and actively improve their performance by timing themselves when completing CAT question papers and also make changes in their strategy regularly to increase performance.
Include Mock Tests & Sample Papers
It is a well-known fact that CAT mock tests, sample papers, and CAT's previous year's question papers are some of the best resources, not only for the VARC section but for the entire CAT 2023 syllabus. These mock tests will help you strategize for the VARC section effectively since they follow the CAT 2023 exam pattern. Mock exams are a one-stop destination for VARC preparation for CAT 2023. The tests will also help you develop the habit of answering questions included in the CAT 2023 exam and allow you to develop your strengths and weaknesses.

You can check the articles provided below to know preparation strategies and tips to prepare for other sections of the CAT entrance exam. 
How to Improve Time Management During CAT VARC Section
As we know, the CAT exam 2023 has a strict time limit which candidates must get acclimatized to, in order to improve their overall performance. If a candidate can answer questions with a calm and focused mindset without panicking about the time restriction, they can easily obtain a decent score in the CAT 2023 exam. Here are some useful tips for time management during the VARC section of CAT 2023.
Since VARC is the first section of the CAT 2023 exam, it is important that candidates go through the entire section first and begin with easier and more straightforward questions.

First, try to answer the verbal ability questions. Grammar and VA are simpler and scoring. After completing Verbal Ability and English Grammar, move on to the Reading Comprehension section.

Different Reading Comprehension questions have varying degrees of difficulty. These passages don't have many questions, however, figuring out their answers takes time. During the CAT exam 2023, Reading comprehension questions are typically based on opinions. As a result, it is advised to read the text thoroughly in one go. Reading a passage over and over will only lead to a waste of time.

Avoid spending too much time on a question. Even if you are tempted to answer the question, practice skipping complex questions. Move on to the next questions if you are unable to discover an answer.

Candidates can also attempt VA and RC questions alternatively to avoid monotony during the exam. Subsequently, candidates can solve certain questions from the VA portion and then a few questions from the RC portion, depending on their reading and solving skills.
Best Books to Prepare for CAT VARC
Check the table provided below to know some best books for the VARC section of the CAT exam. 
| | |
| --- | --- |
| Name of the Books | Author/Publication |
| Verbal Ability & Reading Comprehension | Arihant Publication |
| Modern Approach to Verbal & Non-Verbal Reasoning | R.S. Aggarwal |
| Mastering the Verbal Ability for CAT | Ajay Singh |
| How to Prepare for Verbal Ability and Reading Comprehension for the CAT | Arun Sharma and Meenakshi Upadhyay |
| The Pearson Guide to Verbal Ability and Logical Reasoning | Nishit Sinha |
| Word Power made easy | Norman Lewis |
CAT Best Coaching Institutes
Candidates must prepare for CAT VARC 2023 at the following coaching institutes.
Top Colleges Accepting CAT 2023 Scores
The table provided below contains some top MBA colleges accepting CAT scores. You can check the table provided below to know their average fee and location. 
| | | |
| --- | --- | --- |
| College Name | Location | Fees |
| | Mumbai | INR 5,00,000 |
| | Dehradun | INR 2,98,000 |
| | Delhi | INR 21,000 |
| | Gunupur | INR 80,000 |
| | New Delhi | INR 3,80,000 |
| | Ahmedabad | INR 20,00,000 |
| | Faridabad | INR 2,98,000 |
| | Sehore | INR 1,00,000 |
| | Mumbai | INR 4.56,000 |
| | Jaipur | INR 90,000 |

Aspirants must also check out the articles mentioned below to know more about the CAT 2023 exam!
Related Articles

If you have any queries or doubts, please ask them on the CollegeDekho QnA Zone. For admissions-related assistance, fill out the Common Application Form (CAF) or call 1800-572-9877 to talk to our counsellor.  Stay tuned to CollegeDekho for more updates!