IBSAT exam is a popular entrance examination taken by a large number of MBA aspirants in India. It is a national level entrance exam that is required to take admission in one of the nine IBS B-Schools that are - IBS Ahmedabad, IBS Bengaluru, IBS Gurgaon, IBS Hyderabad, IBS Dehradun, IBS Jaipur, IBS Kolkata, IBS Mumbai & IBS Pune. The registration process for the IBSAT Exam was ended on December 21, 2021. IBSAT 2021 Exam was held on December 25. It will also be held on Dec 26, 2021, for the academic Session 2021. IBSAT Result 2021 has been announced on December 30, 2021.
Candidates aspiring to qualify IBSAT 2021 will have to further go through Group Discussion and Personal Interview as the next admission steps. The selection process of IBSAT 2021 will be held online between February 18 to February 27, 2022. Selection Briefings of IBSAT 2021 were started on January 08, 2022.
Important Dates for IBS Hyderabad Admissions 2021
| | |
| --- | --- |
| Events | Dates |
| Last date to register for IBS Hyderabad | Dec 21, 2021 |
| CAT 2021 | Nov 28, 2021 |
| IBSAT 2021 | Dec 25 & 26, 2021 |
| NMAT by GMAC 2021 | October 14 to December 27, 2021 |
| IBSAT Result announcement | December 30, 2021 |
| Selection briefing | January 8 to January 16, 2022 |
| Commencement of the selection Process | February 18 to February 27, 2022 |
IBS Admission 2021 Selection Process
The IBS Selection Process can be divided into four steps. Students aiming to study at IBS have to perform equally well at each step that is as follows:
Registration to IBSAT 2021
IBSAT exam
Briefing of Selection(Merit list declaration)
Group Discussion
Personal Interview
Parameters for Admissions at IBS Hyderabad 2021 Final Merit List

IBS Admission 2021 Group Discussion (GD) Tips
In order to crack the IBSAT GDPI Selection Process, here are some tips for you that will come handy and help you crack IBS Admissions 2021. To be well prepared for these two rounds, one must be thorough with studies from the beginning itself. A few GDPI topics for MBA interviews can be easily covered up while studying for the test. Let's see the ways through which one can easily crack GD-PI of the IBSAT examination.
1. Basic Preparation for GDPI
Prepare well enough to crack the selection process of IBSAT. One must be prompt with current affairs, business, economics, among other relevant topics. Reading newspapers regularly helps in keeping one informed about the happenings around the world. For group discussions, one must brush up topics of concern, current affairs and shall go through a variety of discussion forums to know about different topics to study on.
2. Respect Different Views yet Stay Adamant
During Group Discussions, one must allow the other person to speak on the topic in question. Respect every opinion as you would want yours to be discussed and respected as well. It is not a good practice to interrupt somebody while he/she is speaking. Wait for your turn and either call out your group according to individual names or by numerical or alphabets.
3. Do Not Take Anything Personally
During a group discussion, there are various topics on which debate may arise. But remember, it is a discussion and not a debate. So, never take comments or views personally. Be generous and polite towards other's views. You do not have to win in the eyes of others but yourself in front of the judges.
4. Read Newspaper
To really have good arguments in a Group Discussion one must be aware of what's happening in the surrounding world. Thus, it is a good habit to read a newspaper to stay updated with current affairs and important events. Reading news related to business and economics can benefit the candidate in many ways.
Also Read:List of IIM Colleges in India 2021: Ranking & Courses Offered
5. Speak First or End it
Candidates initiating the discussion or concluding it gets brownie points for their confident gestures. Thus, be active and prepared, if the judging panel asks for volunteers, don't hesitate to grab the opportunity.
6. Practise Everyday
Find friends with similar goals and hold a practice GD session every day, this activity will not only help you but others as well in the final GD session. This group activity will boost your confidence level.
7. Follow 3 Step Approach
To clear the IBS GD round, follow the three-step approach as soon as the topic is revealed, acquire knowledge, evaluate the topic to pick a side and convince others to come up to your side.
To know how to lead in the GD read the - Tips to Start, Lead and Conclude in GD
IBS Admissions 2021 Personal Interview (PI) Tips
During the Interview, here are a few tips to stay alert and crack it in a single go.
1. Awareness of Current Affairs
Current awareness is a part of the examination. One must be alert and aware of the topics of concern. In an interview, one could be asked about any topic, so be thorough with the news and information.
2. Be Your Natural Self
During an interview, it is advised to remain calm and compose instead of trying to be over-confident or nervous. Try to showcase your knowledge only when and where it is required. Staying natural will help you to ace the interview.
3. Be Thorough with Your Resume
The interviewing panel may put across questions while assessing your resume. Hence, it is advisable to be thorough with your resume. Promptness while answering the questions will be an added advantage. Every academic project or assignment must be read thoroughly once before appearing for the interview.
Also Read: IBSAT 2021 Last Minute Tips - Check What To Do in Last Few Days of IBSAT Preparation
4. Prepare Some Common Answers
To clear IBS PI 2021, prepare for the universal interview questions like -
Introduction

Goals

Strength and weakness

Aspirations

Academic Qualifications

Hobbies
5. Be Calm
If the interviewer places you in a difficult situation don't get uncomfortable or aggressive, try to remain calm throughout the session and be honest while answering every question.​
Also Read:Success Tips for IBSAT 2021
IBS Hyderabad MBA Eligibility Criteria
Candidates applying for admission at IBS Hyderabad needs to satisfy all the requirements decided by the college. The eligibility criteria for admission at IBS Hyderabad is provided below
Candidates must have completed graduation in any discipline with at least 50% marks

They must have studied English in graduation. Those who have not studied English in graduation will have to appear for TOEFL/ NELT/ IELTS examination

Final year candidates may also apply for admission at IBS Hyderabad
IBS Hyderabad Application Form
Follow the steps provided below to fill the application form of IBS Hyderabad
Visit the official website of IBS Hyderabad. 

Go the admission tab and click on "apply online"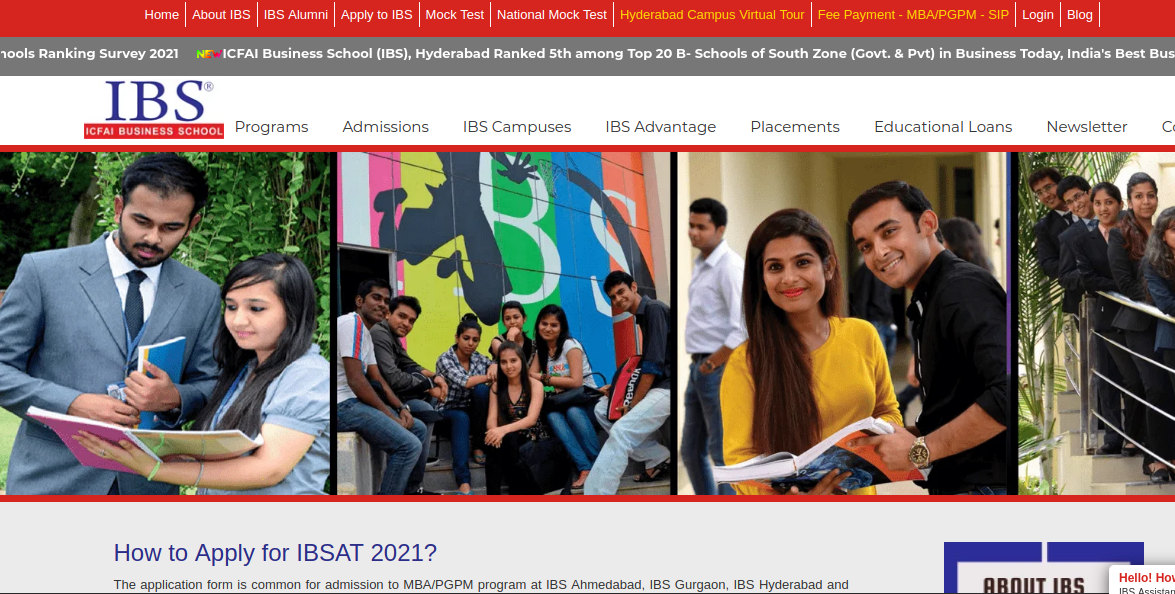 Click on the link showing "IBS Admissions"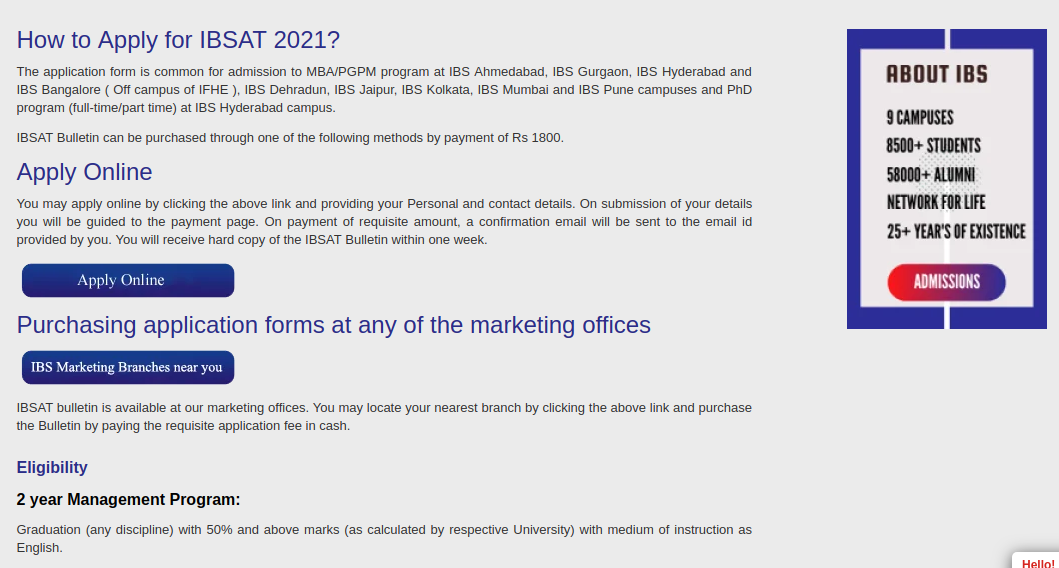 Click on apply online as shown in the picture below

Fill in all the details and click on submit button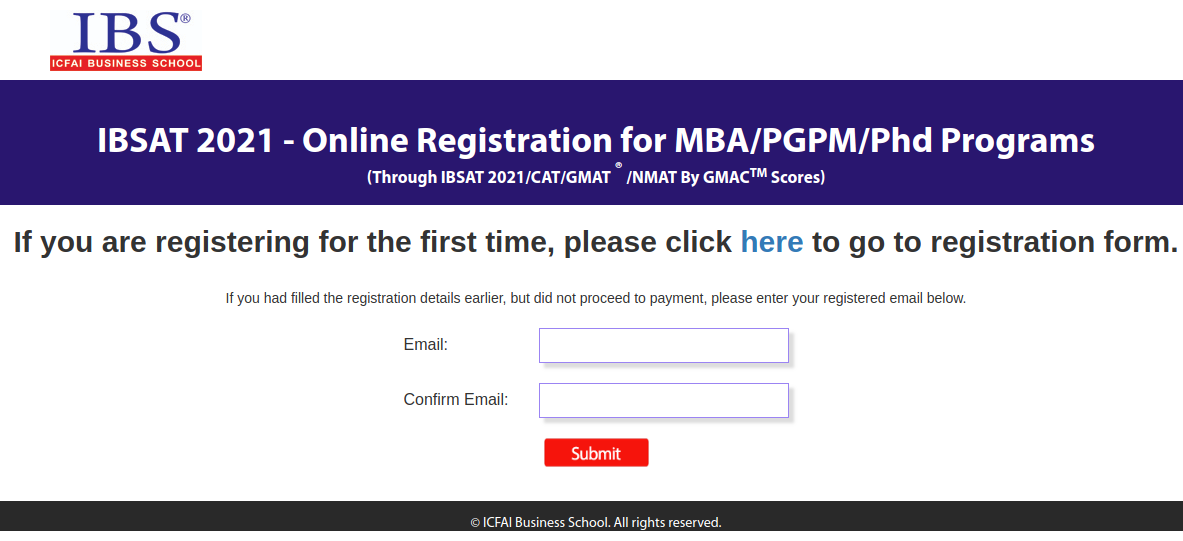 Make an online payment and print the payment slip for future reference
Note: Candidates who are not able to fill the application form online may visit the college to fill the application form. In that case, they will have to submit the fee via cash. They click here to apply for IBS Admissions 2021.
IBS Hyderabad Fees 2021
Check the table provided below to know the annual fee of IBS Hyderabad
| | |
| --- | --- |
| Program | Fee |
| MBA | INR 7 lakh per annum |
IBS Admission 2021 PI Important Questions
Here is a list of top 10 questions that can be asked by the interviewer, preparer them in advance:
Introduce yourself and describe yourself

What are your goals?

Who is your role model?

Where do you see yourself in next 5 years?

What motivates you?

How can an MBA or PGPM benefit you?

Explain your good and bad habits.

Elaborate your Work Experience.

What are your weaknesses?

What is your greatest achievement, so far?
It is a good exercise to practise and prepare for as many questions as possible, the more the better. Read the article - Common PI Questions for MBA 2021 to seep up your preparation.
Also Read:
We hope these tips will help you in some form or the other. To stay updated on the IBSAT 2021 Exam follow the IBSAT 2021 Result, IBSAT 2021 Books, IBSAT 2021 Mock Test, IBSAT Paper Analysis, IBSAT Answer Key, IBSAT Selection Process and IBS Counselling dates. 
Those who have any doubt related to IBSAT 2021 may ask questions on the Collegedekho QnA zone. 
Keep following CollegeDekho to stay Updated.