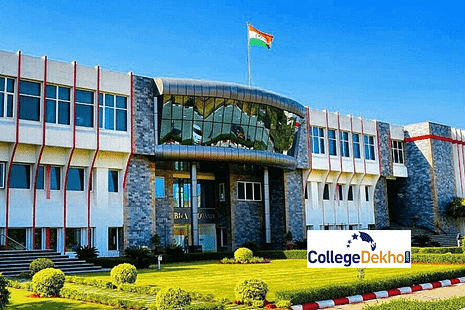 IIIT Kota CSE Cutoff 2023: One of the top IIITsto participate in the JoSAA counselling process is IIIT Kota. The Joint Seat Allocation Authority (JoSAA) commenced the JoSAA counselling process 2023 from June 19, 2023. JoSAA released IIIT Kota cutoff 2023 round 6 for CSE on July 28, 2023. The IIIT Kota CSE cutoff 2023 for round 5 was released on July 22, 2023 on the official website. Moreover, round 1, 2, 3 and 4 IIIT Kota CSE cutoff 2023 was released on July 1, 7, 13 and 16, 2023 respectively in the online mode. The IIIT Kota CSE cutoff refers to the mark that candidates are required to secure to be accepted for admission into the B.Tech CSE programme offered at IIIT Kota. It will enable the candidates to figure out the minimum score required for admission. The IIIT Kota CSE Cutoff is issued as opening and closing ranks.

Latest: 
Through this article, the IIIT Kota B Tech CSE aspirants will have a fair idea about the expected opening & closing rank ranges to secure admission. The IIIT Kota JoSAA cutoff scores of the previous years are available in this article. 
How to check your opening and closing ranks for the JoSAA 2023 Cutoff?
Candidates should follow the steps mentioned below to check the JoSAA Cutoff 2023:
Visit the official website of JoSAA i.e. josaa.nic.in 
Select the "OR- CR 2023" option which can be found by selecting the "eServices" option from the site
The screen will then display a fresh page
Select a round, an institute type, an institute name, an academic programme, and a seat type or category
Click the "submit" button now.
The JoSAA cutoff for 2023 will be displayed on the screen
IIIT Kota B Tech CSE Cutoff 2023
The IIIT Kota CSE opening and closing ranks 2023 has been announced for all 6 rounds by the authorities separately for each category after the JEE Main 2023 exam for both sessions is over. The cutoff will only be applicable for admissions into IIIT Kota, so applicants should carefully review the opening and closing ranks as per their category to determine their chances of admission to the CSE course offered at the institute. 
Round 1
Academic Program Name
Quota
Seat Type
Gender
Opening Rank
Closing Rank
Computer Science and Engineering (4 Years, Bachelor of Technology)
AI
OPEN
Gender-Neutral
12721
19195
AI
OPEN
Female-only (including Supernumerary)
18761
25937
AI
OPEN (PwD)
Gender-Neutral
807
917
AI
OPEN (PwD)
Female-only (including Supernumerary)
1176
1176
AI
EWS
Gender-Neutral
2831
3217
AI
EWS
Female-only (including Supernumerary)
4342
4645
AI
EWS (PwD)
Gender-Neutral
197
197
AI
OBC-NCL
Gender-Neutral
4924
7910
AI
OBC-NCL
Female-only (including Supernumerary)
10586
12214
AI
OBC-NCL (PwD)
Gender-Neutral
511
522
AI
SC
Gender-Neutral
1783
4401
AI
SC
Female-only (including Supernumerary)
4383
6432
AI
SC (PwD)
Gender-Neutral
168
168
AI
ST
Gender-Neutral
629
2312
AI
ST
Female-only (including Supernumerary)
2740
3143
Round 2
Academic Program Name
Quota
Seat Type
Gender
Opening Rank
Closing Rank
Computer Science and Engineering (4 Years, Bachelor of Technology)
AI
OPEN
Gender-Neutral
12721
20699
AI
OPEN
Female-only (including Supernumerary)
18761
28535
AI
OPEN (PwD)
Gender-Neutral
807
1157
AI
OPEN (PwD)
Female-only (including Supernumerary)
1650
1650
AI
EWS
Gender-Neutral
3109
3551
AI
EWS
Female-only (including Supernumerary)
4492
5145
AI
EWS (PwD)
Gender-Neutral
334
334
AI
OBC-NCL
Gender-Neutral
5954
8647
AI
OBC-NCL
Female-only (including Supernumerary)
10898
13323
AI
OBC-NCL (PwD)
Gender-Neutral
525
629
AI
SC
Gender-Neutral
1783
5063
AI
SC
Female-only (including Supernumerary)
4383
6671
AI
ST
Gender-Neutral
629
3223
AI
ST
Female-only (including Supernumerary)
2740
3764





Round 3
Academic Program Name
Quota
Seat Type
Gender
Opening Rank
Closing Rank
Computer Science and Engineering (4 Years, Bachelor of Technology)
AI
OPEN
Gender-Neutral
12721
20802
AI
OPEN
Female-only (including Supernumerary)
18761
28535
AI
OPEN (PwD)
Gender-Neutral
807
1157
AI
OPEN (PwD)
Female-only (including Supernumerary)
1650
1650
AI
EWS
Gender-Neutral
3109
3669
AI
EWS
Female-only (including Supernumerary)
4492
5145
AI
EWS (PwD)
Gender-Neutral
334
334
AI
OBC-NCL
Gender-Neutral
5954
8688
AI
OBC-NCL
Female-only (including Supernumerary)
10898
13323
AI
OBC-NCL (PwD)
Gender-Neutral
525
889
AI
SC
Gender-Neutral
1783
5134
AI
SC
Female-only (including Supernumerary)
4383
6671
AI
ST
Gender-Neutral
629
3362
AI
ST
Female-only (including Supernumerary)
2740
3764


Round 4
Academic Program Name
Quota
Seat Type
Gender
Opening Rank
Closing Rank
Computer Science and Engineering (4 Years, Bachelor of Technology)
AI
OPEN
Gender-Neutral
12721
20872
AI
OPEN
Female-only (including Supernumerary)
18761
28535
AI
OPEN (PwD)
Gender-Neutral
807
1157
AI
OPEN (PwD)
Female-only (including Supernumerary)
1650
1650
AI
EWS
Gender-Neutral
3182
3678
AI
EWS
Female-only (including Supernumerary)
4492
5145
AI
EWS (PwD)
Gender-Neutral
334
334
AI
OBC-NCL
Gender-Neutral
5954
8688
AI
OBC-NCL
Female-only (including Supernumerary)
10898
13323
AI
OBC-NCL (PwD)
Gender-Neutral
525
889
AI
SC
Gender-Neutral
1783
5213
AI
SC
Female-only (including Supernumerary)
4383
6671
AI
ST
Gender-Neutral
629
3362
AI
ST
Female-only (including Supernumerary)
2740
3764
Round 5
Academic Program Name
Quota
Seat Type
Gender
Opening Rank
Closing Rank
Computer Science and Engineering (4 Years, Bachelor of Technology)
AI
OPEN
Gender-Neutral
12721
20951
AI
OPEN
Female-only (including Supernumerary)
18761
28644
AI
OPEN (PwD)
Gender-Neutral
807
1157
AI
OPEN (PwD)
Female-only (including Supernumerary)
1650
1650
AI
EWS
Gender-Neutral
3182
3678
AI
EWS
Female-only (including Supernumerary)
4492
5145
AI
EWS (PwD)
Gender-Neutral
334
334
AI
OBC-NCL
Gender-Neutral
5954
8691
AI
OBC-NCL
Female-only (including Supernumerary)
10898
13323
AI
OBC-NCL (PwD)
Gender-Neutral
525
889
AI
SC
Gender-Neutral
1783
5233
AI
SC
Female-only (including Supernumerary)
4383
6671
AI
ST
Gender-Neutral
629
3362
AI
ST
Female-only (including Supernumerary)
2740
3764
Round 6
Academic Program Name
Quota
Seat Type
Gender
Opening Rank
Closing Rank
Computer Science and Engineering (4 Years, Bachelor of Technology)
AI
OPEN
Gender-Neutral
12721
22296
AI
OPEN
Female-only (including Supernumerary)
18761
29830
AI
OPEN (PwD)
Gender-Neutral
807
1289
AI
OPEN (PwD)
Female-only (including Supernumerary)
1650
1650
AI
EWS
Gender-Neutral
3447
4201
AI
EWS
Female-only (including Supernumerary)
4592
5281
AI
EWS (PwD)
Gender-Neutral
334
334
AI
OBC-NCL
Gender-Neutral
5954
9266
AI
OBC-NCL
Female-only (including Supernumerary)
10898
13780
AI
OBC-NCL (PwD)
Gender-Neutral
525
889
AI
SC
Gender-Neutral
1783
5382
AI
SC
Female-only (including Supernumerary)
4383
6671
AI
ST
Gender-Neutral
629
3386
AI
ST
Female-only (including Supernumerary)
2740
3764


IIIT Kota B Tech CSE 2022 Opening and Closing Ranks
The IIIT Kota B Tech CSE 2022 opening and closing ranks have been given in the following table - 
IIIT Kota B Tech CSE 2020 Opening and Closing Ranks
The IIIT Kota B Tech CSE 2020 opening and closing ranks have been given in the following table - 
| Quota | Category | Gender | Opening Rank | Closing Rank |
| --- | --- | --- | --- | --- |
| AI | OPEN | Gender-Neutral | 5342 | 22320 |
| AI | EWS (PwD) | Gender-Neutral | 229 | 10000 |
| AI | OBC-NCL | Gender-Neutral | 5541 | 7250 |
| AI | EWS | Gender-Neutral | 2963 | 4233 |
| AI | OBC-NCL (PwD) | Gender-Neutral | 470 | 3562 |
| AI | OPEN (PwD) | Gender-Neutral | 654 | 1528 |
| AI | SC | Gender-Neutral | 2635 | -- |
| AI | ST | Gender-Neutral | 1626 | -- |
IIIT Kota B Tech CSE 2019 Opening and Closing Ranks
The IIIT Kota B Tech CSE 2019 opening and closing ranks have been given in the following table -
| Quota | Category | Gender | Opening Rank | Closing Rank |
| --- | --- | --- | --- | --- |
| AI | OPEN | Gender-Neutral | 10952 | 23144 |
| AI | EWS (PwD) | Gender-Neutral | 69 | 10171 |
| AI | OBC-NCL | Gender-Neutral | 5165 | 6031 |
| AI | EWS | Gender-Neutral | 2290 | 3651 |
| AI | OBC-NCL (PwD) | Gender-Neutral | 421 | 3281 |
| AI | OPEN (PwD) | Gender-Neutral | 681 | 1378 |
| AI | SC | Gender-Neutral | 2024 | -- |
| AI | SC (PwD) | Gender-Neutral | 160 | -- |
| AI | ST | Gender-Neutral | 1307 | -- |
IIIT Kota B Tech CSE 2018 Opening and Closing Ranks  
The IIIT Kota B Tech CSE 2018 opening and closing ranks have been given in the following table -
| Quota | Category | Gender | Opening Rank | Closing Rank |
| --- | --- | --- | --- | --- |
| AI | OPEN | Gender-Neutral | 7425 | 24951 |
| AI | OBC-NCL | Gender-Neutral | 4579 | 11108 |
| AI | OBC-NCL (PwD) | Gender-Neutral | 305 | 6657 |
| AI | SC | Gender-Neutral | 2752 | 3570 |
| AI | OPEN (PwD) | Gender-Neutral | 678 | 2675 |
| AI | SC (PwD) | Gender-Neutral | 127 | -- |
| AI | ST | Gender-Neutral | 676 | -- |
About Indian Insititute of Information Technology (IIIT) Kota
Popular B Tech CSE Colleges in India for Direct Admission 2023
The list of some popular B Tech CSE colleges in India for direct admission are as follows -