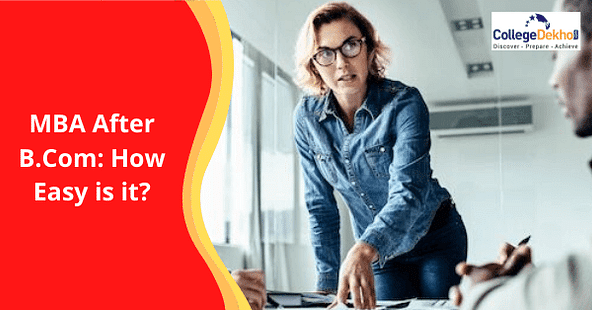 Business Schools (B-Schools) in India have been one of the popular choices for many aspirants of the field. Why? Studying a course in Business or any business-related field allows students to pursue a lucrative career, especially in the field of marketing, advertising and management. Especially at the postgraduate level, management courses such as a Masters of Business Administration (MBA) and Postgraduate Diploma in Management (PGDM) are among the popularly chosen programmes in India.
Now answering the question as to whether it is easy for B.Com graduates to get into one of the top B-Schools in India. The answer to that question is, Yes!... to an extent. While it may seem that these are two different degrees and disciplines altogether, there are more similarities between the two courses, B.Com and MBA or PGDM, than there are differences.
Let us look into some of the similarities and differences between the two degrees and how the combination of both the degrees, might just be the sweet spot for you.
Admissions to MBA in India
The answer to the question - is it easy for a B.Com graduate to get into an MBA programme? - lies in the admission processes of MBA in India. While an MBA programme is open to graduates of all streams and academic backgrounds, it may not be as easy to get into a top MBA programme in India.
This difficulty in taking admissions in one of the top MBA colleges of India is due to the highly competitive national and university level entrance exams such as CAT, MAT, XAT, CMAT, NMAT, etc. ALL MBA aspirants must secure a valid score in one or more of the MBA entrance exams in order to pursue PG managerial course in India.
While a majority of the B-Schools in the nation offering admission on the basis of entrance scores, you may also come across a few that offer admissions on merit-basis as well. You can check out the list of top B-Schools in India.
Name of B-School in India

Courses offered

MBA + All Specialisations

MBA:

Marking

Finance

Human Resource

Port & Shipping

MBA Finance/HR/Marketing/International Business

MBA Hospital and Health Management

MBA in Pharmaceutical Management

MBA in Rural Management

MBA International Business

MBA

MBA HR

MBA Family Business

MBA Social Entrepreneurship

MBA in Pharmaceutical Management

MBA in Banking

MBA Capital Markets

MBA in Law
Various statistical representations of academic diversity in an MBA programme in any one of the top B-schools in India show the majority of the course being pursued by B.Tech graduates followed B.Com graduates. MBA has been a course of choice for many aspirants from different academic backgrounds due to the impressive career scope.
Want to know more about the popular MBA entrance exams in India? Then click on any one of the following links for different exams.
Apart from entrance exams, the candidates will also be asked to sit a set of selection processes outlined by different competent authorities. Among the selection processes, candidates will be asked to sit for a Group Discussion and Personal Interview. Based on the performance of the candidates in these parameters and any other parameters defined by the competent authority.
These defined admission and selection processes make it relatively hard but equally fair for all prospective candidates to take the chance at pursuing a PG course in management. However, with proper preparation for the admission processes, the candidates will easily be able to pursue the course.
Also Read: MBA FINANCE vs MBA HR
Eligibility Criteria for MBA in India
In order to pursue any MBA programme in India, an aspirant will be required to have qualified the requisite eligibility criteria for MBA in India, as per the guidelines of the college offering the course. While each college will define their own eligibility criteria for the course, a common trend is followed across India, which is as follows:
All candidates should have a valid undergraduate degree in 10+2+3, 10+2+4, or 10+2+5 format. The degree should have been offered by a UGC or AICTE recognised institution in India.

Candidates from all academic streams, such as Engineering, Science, Commerce, Management, Arts & Humanities, Pharmacy, Medical, Paramedical, Law, etc are eligible for the programme.

Depending on the admission policy of the concerned college, candidates must have either appeared for national-level entrance exams such as CAT, MAT, GMAT or University level entrance exams such as IPU CET, SNAP, DUET, etc, or an equivalent entrance exam accepted by the individual college.
While it can be difficult to get admissions to an MBA programme in one of the top B-Schools in India, one may question the difficulty of the subjects covered under an MBA programme. Let's check out the subjects covered under both B.Com and MBA in order to understand if pursuing a different discipline after B.Com would be difficult.
Also Read: University of Hyderabad MBA Admission 2022-24
Entrance Exam Syllabus & Exam Pattern for MBA?
One of the major hurdles in taking admissions to an MBA programme in India is to clear a highly competitive entrance exam. In order to crack such an entrance exam, aspirants are required to prepare properly and be up to date with the latest current affairs. While the examination itself may not be difficult, the high competitiveness and the sheer number of applicants for an MBA course can cause panic and nervousness among the aspirants. Check out the following entrance exam syllabus and exam pattern for MBA, commonly followed in different entrance exams.
Any MBA Entrance exam would consist of four major sections including language comprehension, Quantitative Data Interpretation Skill, Logical Reasoning and General Awareness/knowledge. Here are some of the topics and subjects that you may be required to cover in order to crack any entrance exam for MBA in India.
| | |
| --- | --- |
| Language Grammer Based Questions | Sentence Correction and Completion |
| Probability | Algebra |
| Simple and Compound Interests | Percentages |
| Analytical Reasoning | Non-Verbal Reasoning |
| Indian Constitution | Social Reasoning |
| Major Corporate News | Analytical Essay Writing |
| Data Sufficiency | Critical Reasoning |
Why Should You Pursue an MBA after B.Com?
One may question as to why pursuing an MBA after graduating from a B.Com course in India. There are plenty of reasons why one should pursue an MBA course after B.Com, ranging from an easy to grasp curriculum to career scope and extremely attractive annual packages.
Check out the top five why you should pursue an MBA after B.Com in India
Therefore, taking into consideration that all students, irrespective of the academic background and a fair and equal opportunity through national and university-level entrance exams, admissions to any one of the top B-Schools of India would be easy. Further, the subjects and course similarities between the two courses make it far easier for B.Com graduates to be able to crack an MBA entrance exam and pursue an MBA programme altogether.
Also Read: Low Score in XAT? Check List of MBA Colleges in Ahmedabad
Related Articles
Click on the links given below to know more:
Thus, it is easy for a B.Com graduate to enrol under any one of the MBA programmes offered in the Top B-Schools in India. If you are interested in taking admission to any one of the MBA colleges, then you may fill out the Common Application Form, available on our website.
If you need any other facts regarding the exam, write to us through the QnA Zone. You can also contact our toll-free number for students (1800-572-9877) for any queries related to admissions.
Stay tuned to CollegeDekho for more updates and current information.